Hialeah Educational Upsets Southridge In Shootout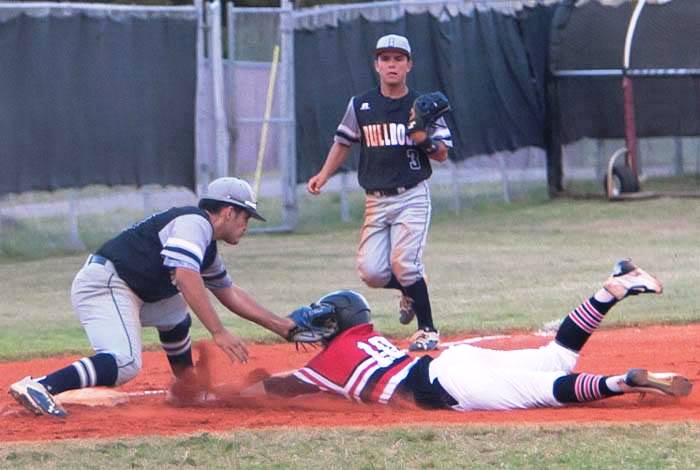 Photo Gallery
A five-run fifth inning broke a tie game open and led the visiting Hialeah Educational Academy Bulldogs to a 6-3 victory over Southridge, in Saturday's HSBN March Madness Shootout Black Bracket opening game. JC Rodriguez was the offensive sparkplug on the night, going 3-for-4 with a double and three RBIs.
The Bulldogs (6-7) will next take on the top seed of the Black Bracket, the Westland Hialeah Wildcats, in the quarterfinal round Tuesday morning in Pompano Beach.
The first four batters reached base safely for Hialeah Educational in the top of the fifth. Raymond Mendez and Brandon Puig both singled and Daniel Iglesias walked to load the bases. Emilio Ferrer then drove in a runner the hard way after getting hit by a pitch, Bryan Pazos worked an RBI walk and JC Rodriguez delivered the dagger to the heart with a liner into right field for a bases-clearing double.
Bulldogs starter Jose Gonzalez had an effective outing to earn the win. Gonzalez went the first five innings to leave with the lead after allowing one earned run on six hits and four walks while striking out three.
The Spartans (8-9) grabbed the lead with their first swings in the bottom of the first. Alex Andalia walked and Jose Tabares lined a double to left field to drive him in.
The Bulldogs answered back to tie things up in the third. Anthony Navarro singled to get it going, before being erased on a fielder's choice that landed Pazos at first. A wild pitch allowed Pazos to move into scoring position, and Christopher Mendez lined an RBI single to right to bring him around third and across the plate to tie the game up.
Southridge made on final rally bid in the seventh. Giulianny Perera reached on an error and Branden Abreu and Elijah Eusebe were both hit by a pitch to fill the bags. Reinaldito Valdes then worked an RBI walk and Abreu scored off a wild pitch.