Rodriguez Perfect In Columbus' Win Over Westland Hialeah
Photo Gallery
Columbus senior shortstop Christian Rodriguez went 4-for-4 with a home run and a double, and drove in four runs to help power the Explorers to a 9-2 win over visiting Westland Hialeah in a non-district game Thursday.
Rodriguez, who will play his college ball at Wake Forest, was a triple shy of hitting for the cycle. But it was his three-run homer in the fifth inning that put the game out of reach for the No. 3 ranked team in the latest HSBN Miami-Dade Power Rankings.
The 9A-15 regular season champions improved to 17-1 for the year. Westland Hialeah (8-8) took a 1-0 lead in the third inning before Columbus answered on their second time through the lineup. Rodriguez delivered a run-scoring single in a three-run third inning that gave Columbus the lead for good.
"I'm really happy for him; he's worked hard," said Columbus manager Joe Weber.
Rodriguez worked hard to get his pitch in the fifth inning, before stroking a three-run blast.
"I was just trying to drive the ball to center field," Rodriguez said of his special day at the plate. "Lately I haven't been squaring up the balls that I've wanted to. So today I was really just focused on squaring it up to center field, and I guess the game just took over and I got a couple to land."
Rodriguez said he couldn't remember a better day at the plate but is certainly thankful that he's getting hot at the right time. His homer landed well over the right field fence.
"I had confidence that if he put the curveball over, I was going to put it in play," said Rodriguez. "And then I saw him leave a fastball over the plate. Once I got it, I knew it was gone, but I wasn't sure if it was fair or foul. I was glad I was able to bring in some runs, get us a bigger lead. I'm just glad I'm starting to pick up the bat now here at the end of the season right before we get into the playoffs when it matters.
The run production was more than enough to make a winner out of lefty starter Chris Gonzalez, who worked four innings, allowing just three hits and one run while striking out five. He didn't walk anyone, although he did hit a batter. It was a somewhat abbreviated outing by design.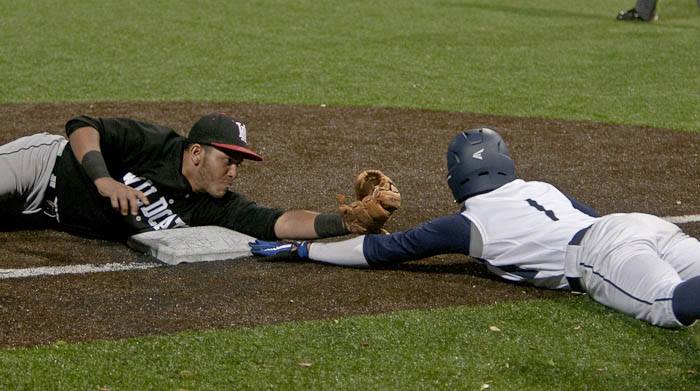 "Right now, at this point, we're cutting down innings on starters," Weber said. "The next five or six games are all basically scrimmage games to get ready for the playoffs. We're finished with the district play so now we can back off our arms and really rest them up to keep them sharp and ready."
Explorer relievers Anthony Arguelles and Christopher Mederos were certainly ready when called upon. Arguelles, a junior right-hander, went two innings facing the minimum. He struck out two and walked one, but that was erased by a double play.
The Explorers collected 11 hits, two each from Matthew Alfonso, E.J. Doskow (double, RBI), and Christopher Bohrer (triple, 2 RBIs). Mike Mas also added a hit for the Explorers, who tacked on three more runs in the sixth inning.
The Wildcats scored first on singles from Gilberto Diaz, starting pitcher Michael Uz and Evander Hernandez. They were the Wildcats' first and only three hits of the game, aside from a seventh-inning solo homer from Ronaldo Martinez.
"I have a young ballclub," Westland Hialeah manager Jose Alvarez said. "I pitched two sophomores and a freshman. So it's an experience for them. It's a nice environment for a game. You don't get to play on a field like this every day. So they'll learn and hopefully it will pay off for the future."