Defending Region Champ Westland Hialeah Goes Down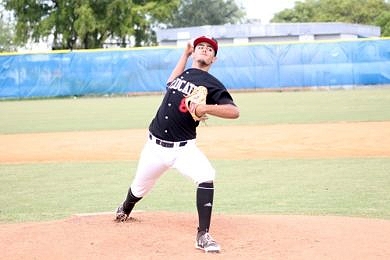 Photo Gallery
The Nova Titans had a young squad coming into 2017, and by all accounts, were a year away from contending for a state title. Those accounts went out the window on Tuesday, as the Titans rolled to a 9-0 8A regional semifinal win over Westland Hialeah behind ace Trace Moore.
"We have a lot of young guys coming back next year in our lineup, and we have Trace back," said Nova Manager Pat McQuaid, after the team's win. "But they came along nicely this season, and Trace has been having a great year on the mound, so anything is possible."
What was possible Tuesday was Moore consistently mixing up his fastball and off-speed pitches while throwing a complete-game shutout. The Wildcats came in with a high-powered offense, but Moore was able to induce fly ball after fly ball in a big ballpark, something that was the strategy coming in.
"Trace went one stretch where he had 35 straight shutout innings," said McQuaid, "And that was broken with an unearned run. Now, he is back on another streak, so that could have been over 50 innings. He really has been tremendous all season long."
Kevin Madera started the game for the Wildcats and was equally strong through two innings. In the third, the Titans' offense made adjustments their second time through the lineup and finally broke through.
Isaiah Goodman hit a one-out single, followed by a Matthew Patella base hit. After a second out, Gabe Pauslon hit an infield single, loading the bases. Goodman then scored on an error, setting the stage for the biggest at-bat of the game.
Jordon Campbell worked the count to 3-1, and then hit a two-out single up the middle, extending the lead to 3-0.
"I was unhappy with Jordon's first at-bat when he tried to bunt for a hit and popped out," said McQuaid. "But his second at-bat, he did a good job of coming back and getting a big hit for us at that stage of the game."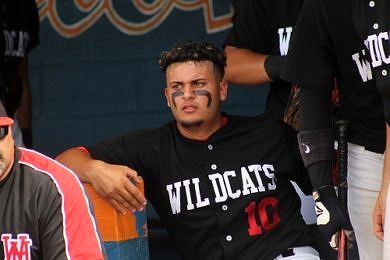 The Titans tacked on one more run in the inning, and suddenly a tight game was turned into what seemed like an insurmountable lead for the Titans with Moore on the mound.
In the fourth, Nova added all the security they needed, adding on three runs. For there, it was just a matter of how many pitches it would take Moore to finish off his masterpiece.
"It is the same mindset whether we are up one run or six runs," said Moore. "But, it definitely makes it a little easier when you have a big lead. You don't have to worry about being so precise with your pitches. With us, it doesn't matter much, because the guys play good defense behind me no matter what the score is."
That team attitude is what has the Titans on the brink of an 8A state final four appearance. Standing in their way, however, is longtime nemesis and rival St. Thomas Aquinas. Even before the Titans knew the Raiders would be their opponent next week, they knew who they wanted in the regional final.
"Oh yeah," said Moore. "We want St. Thomas."
His teammate agreed.
"Of course we want to play St. Thomas," said Campbell. "They are a great team, and they are our rival. It is always great baseball when we play them, and at this time of year playing a rival will be fun."
The Raiders made that match-up a reality later Tuesday when they defeated Atlantic 3-2.
As for the Wildcats, they end their season with a disappointing loss, but that is not what will define this season for the defending regional champions.
"We obviously had a lot of success last year and graduated a lot of guys," said Westland Manager Jose Alvarez. "Today you have to give credit to Nova. They came in with a plan and executed better than we did. We start almost a whole team of underclassmen, so we will be ready to go next year. From where we started the year, to where we are now, we have to consider this season a success in how these players responded and kept getting better throughout the year."