Pace Blasts Four Home Runs, Sends Message In Regional Win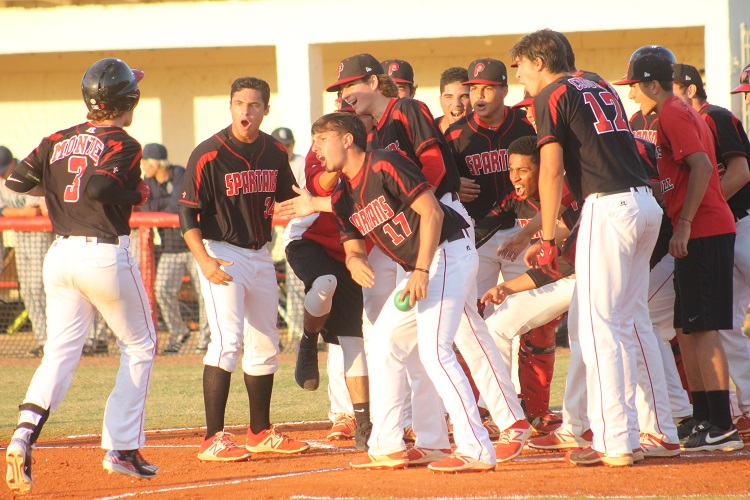 Photo Gallery
When the district championships were complete, the regional quarterfinal game most baseball fans pointed to with intrigue in Miami was Gulliver Prep traveling to face Monsignor Pace. Gulliver was upset in the district final against Key West, setting up a match-up with Pace a week earlier than most expected.
That meant that Pace had to face Raiders' ace, Robert Touron, one of the top pitchers in Miami. With Manuel Rodriguez on the bump for the Spartans, the game figured to be a low-scoring pitchers duel. But baseball can be funny when it comes to predictability.
Pace unleashed an offensive explosion, hitting four home runs on the way to an 11-6 win.
"We have a strong offense that can produce a lot of runs in a hurry," said Pace Manager Tom Duffin. "While nobody expects to have that type of night against one of the top pitchers in the area, it doesn't surprise me that our offense came through. They've been hitting the ball like that the entire season."
The high-powered offense was certainly a shock to Raiders Manager Manny Crespo Jr.
"You never expect with Robert on the mound that a team is going to barrel him up like they did tonight," said Crespo. "You have to tip your hat to them; they are a good hitting team and they showed that tonight."
Gulliver actually took the early lead in the game. After Pace second baseman Mike Montes hit a first inning home run, the Raiders answered with three runs in the top of the second. The three runs came courtesy of three hits, doubles from Kevin Maura and Lucas Costello, and a single from Adrian Del Castillo.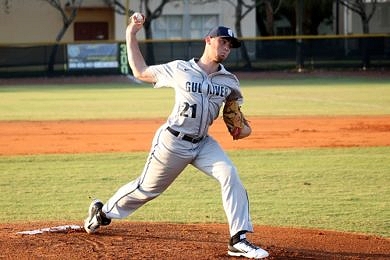 "We scored those runs early and it looked like it was going to be a different game," said Crespo.
The Spartans, as they did all night, immediately had an answer. Ken Gonzalez reached on an error, and after two outs, Brandon Cruz launched a two-run home run, tying the game at three.
"Our approach was to just go up there aggressive and attack balls in the strike zone," said Cruz. "We know we have an offense that can strike at any time, so we didn't get too down after they took that 3-1 lead."
In the third, the Spartans sent 11 batters to the plate, and scored six runs, on just two hits. Jeter Downs started the scoring with a solo home run to left on a pitch he appeared to be fooled by, but Downs had enough power to drive the ball out of the park.
Two errors and a bad hop single helped the Spartans open up a 9-3 lead by the end of the frame.
Both pitchers had uneventful fourth innings, and Gulliver cut into the lead in the fifth. Del Castillo singled, and Raymond Gil hit a two-run blast, trimming the lead to 9-5.
Again, Pace had an answer. Bryan Diaz singled, and nine-hole hitter Anthony Sanabria hit the Spartans fourth home run of the game, stretching the lead back to five.
"We have the ability to hit from everywhere in the lineup this year," said Sanabria. "I just got a pitch I could handle and put a good swing on it."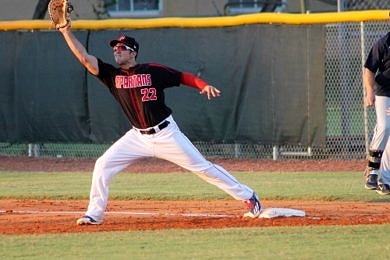 The rest of the game was just about maintaining the lead, which Alex Sierra did by throwing three innings of relief, allowing only two hits in the process.
Pace, who came into the playoffs as a heavy favorites to return to states in Class 5A, had passed their first regional test, and next up will be a semifinal game with district foe iMater, who defeated Key West 9-1 on Tuesday night.
"At this time of year you can't take any team for granted," said Duffin, when asked how he would keep his team from overlooking their next opponent. "The teams that overlook opponents at this time of year end up going home. We are confident we can play with anybody, but we have to continue to do the things that have made us successful all season if we want to reach our goal."