University's Allen No-Hits Palmetto In 9A State Semifinal
Photo Gallery
University School's Logan Allen was the worst kept secret of the 2017 state tournament. The senior left-hander came into Friday's 9A state semifinal against Miami Palmetto following a dominant season in which he turned heads with his brilliant pitching. Facing a tough, and scrappy Palmetto lineup did nothing to faze the impressive southpaw, as he delivered his greatest performance in his final career high school start by throwing a no-hitter that led University to a 4-0 victory that advanced the Titans to Saturday's 9A championship.
Palmetto executed with a solid game plan and did not make it easy, but found that none of that mattered against a special talent like Allen. All week long the team had heard about the ace it was facing, but also knew that this was a special Panthers team this season that faced a lot of great pitchers to get there.
"I have no disappointment, none whatsoever," Palmetto manager Danny Smith said. "We are the only team left from down in our area that's here, and I'm very proud of our guys. They worked and there are some guys in that dugout that even though we didn't get a hit or one base runner, there's some guys that are dirty, and they are tired physically and tired mentally. I'm proud of my guys."
As is so often the case in no-hitters, the defense got its chances to back its starter by making big plays. Senior outfielder Cameron Robinson delivered in that role by making an impressive catch on a liner to right field from Alex Castaneda in the fourth inning that kept the no-hit bid intact.
"In my mind I was thinking that I've got to get to that ball," Robinson said.
Very few balls were even put in play, as Allen retired 10 batters via strikeout. He issued a walk late in the action to lose the bid for a perfect game, but obtained the no-no in part thanks to Robinson's big contribution.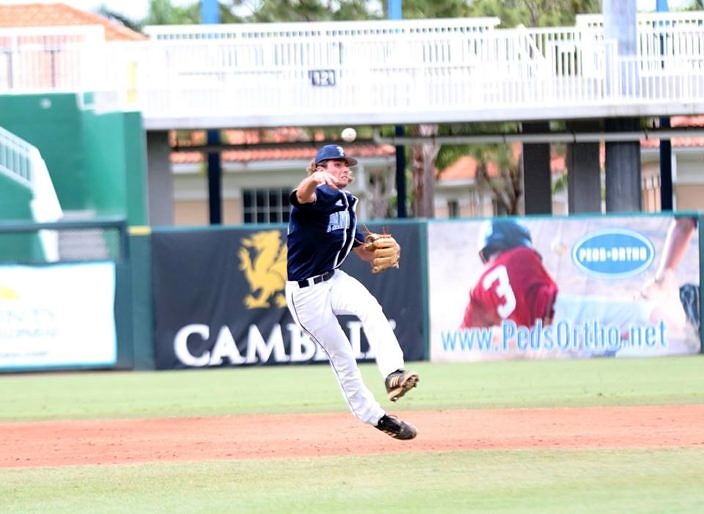 "I've told my guys since day one, that if you want to play Division I baseball or play Major League baseball, those are the kind of guys you've got to beat. That kid can pitch," Smith said. "When you've got a guy like that who can carry your team, they deserved to win the game."
It was a day that the Titans will always remember, and Allen made it that much more special a memory even before he ever took the mound by giving his club all the runs it ultimately needed with a solo home run to left field in the top of the first inning.
"Having that cushion as a pitcher gives you that confidence that you can go out there and pitch and if a guy gets on it is not as stressful," Allen said. "You go up early, you set the tempo for the game, and it set the tempo for our bats too. Everyone hit pretty well today, and being able to get that started was special. I don't really hit home runs, so to get one in a game like this in my last high school start on the mound is big for me."
Although the Titans got to Palmetto starter Matthew Turner with the lead and a bases-loaded jam, the left-hander worked his way out of trouble to escape having surrendered only the one run. The Panthers' ace battled to keep his club in the contest, while they worked to make adjustments to try and figure out Allen.
"He was dotting his curveball and hitting his spots," senior Eddy Arteaga said. "Then he was hitting his spots with his fastball. You would get another view, and then he would back-door you with the curveball again, maybe a couple of times, and then come back at you with the fastball. He hides the ball and he hits his spots."
University extended the lead with a three-run fourth inning that provided a much larger cushion. Timothy Dixon and Jesus Ruiz both singled to start the inning, before Dixon was caught out when Turner fielded a bunt from Michael Sinopoli and fired to third to erase the lead runner. Jackson Roberts worked a walk that loaded the bases, before a passed ball allowed Ruiz to cross the plate. Allen then delivered again with the stick by lining a single to right field that plated two base runners.
The result brings an end to a very special season for Palmetto. The club reached the state Final Four for the first time in a decade and only the second time in program history, and more than that the Panthers played the game all season at a high level against elite competition. The team's fan base was as supportive as ever, as the players rewarded that loyalty with passionate baseball at its finest.
"We've been working for ever since last year when we were knocked out in the first round of districts, and we've been building for this," Turner said.
Turner is one of 13 seniors that now departs the program, having left an unforgettable legacy behind.
"The one thing I always say is that you have to be intelligent and you have to be athletic, and one thing I do have is some intelligent players and some athletic players," Smith said. "That's what makes this team good. A lot of teams you can put a group of guys together and they won't gel, but this team did. That's why we are here. I've got a good baseball team, the best I've ever had. I don't know if we'll ever get a team like this again, and I'm proud of them."