Santa Surprises Cross Creek Students To End Holiday Toy Drive
Photo Gallery
Monday afternoon Santa Claus arrived with a motorcycle escort and delivered toy gifts to students at Cross Creek School in Pompano Beach. Thanks to the generosity of the South Florida baseball community, dozens of children enjoyed Christmas gifts they never expected to receive. With assistance from the Pompano Beach baseball team, HSBN arranged for Santa to personally come by and hand out the donated gifts to the children.
For years High School Baseball Network has teamed with the baseball community for a Christmas toy drive for the Joe DiMaggio Children's Hospital Foundation, and again this year everyone responded generously to make a huge difference to so many young ones. Again this year, HSBN also reached out to local families in need and the Cross Creek students, as well as the donation to Joe DiMaggio Hospital. The immense generosity helped us reach more families in need to help make sure no one was forgotten this year.
The joy of Christmas morning was felt during Santa's ceremonies, as most of the Cross Creek children excitedly ripped open their toys and immediately began enjoying them. The Creek staff know the challenges that some of these kids face. Not all of the students have great home lives and some do not even have parents. The holiday season may not mean the same thing, until Santa arrived to remind them all just how much he cares about them.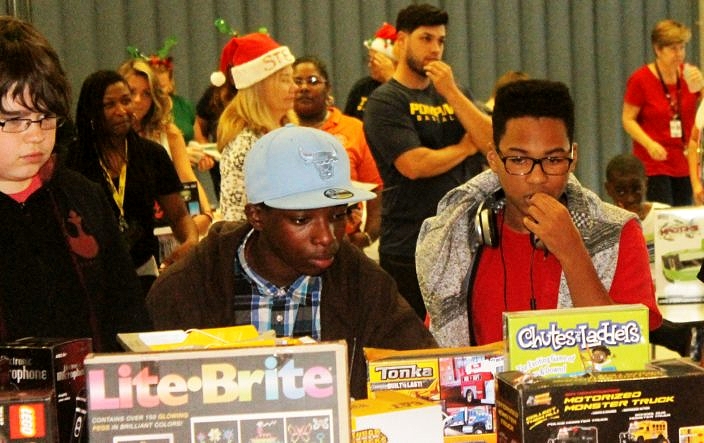 "The gifts that they got today might be the only gifts that some of these kids get for the holidays," said Joe Giummule, a Cross Creek teacher and also the Pompano Beach baseball manager.
Contributions again came from so many on this holiday season, with an incredible amount of large and popular gifts donated. The baseball teams from Coral Gables, Coral Glades, Douglas, Hialeah Educational Academy, Jupiter, Monarch and Western filled toy boxes full of gift donations that totaled over 500 toys. Giummule and the Pompano Beach baseball team then helped arrange Santa's visit to Cross Creek School.
Francis McCovern spent this entire year growing his beard so that he could bring the joy of Santa to thousands of kids this holiday season. Santa was chauffeured to the school thanks to Richie Millett and Cloud 9 Limousines, who arranged for a private limo for Mr. Kringle. Ralph Notaro and 9 Digit Media then provided Santa a motorcycle ride around the campus to surprise the students. It is this type of community effort that makes a difference in the lives of those less fortunate.