Pace Comes Up Short Against Calvary In Opener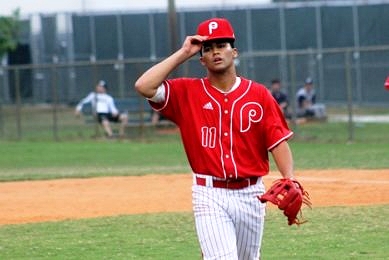 The Calvary Christian baseball team has been to states two years in a row. They won the 4A championship two years ago, and fell just short last year of repeating. So forgive them if they came out Monday in the Falcons Challenge at Flanagan with a chip on their shoulders, as many preseason rankings had them ranked lower than their opponent Monsignor Pace coming into the 2018 season.
The Eagles sent a message that was loud and clear in the opener, using a disciplined hitting approach, and a strong pitching performance to defeat the Spartans 6-3 in front of a large crowd.
"We have been talking about this game since Friday of last week when we started getting ready," said winning pitcher Roberto Pena. "We wanted to make a statement, and show we are one of the better teams in the area."
Pena was instrumental in the win on Monday. He started the game, and threw 5.2 innings, allowing only three hits, on his way to the win.
"I knew early on that I had the stuff to throw well today," said Pena. "I made a couple of mistakes that they were able to hit out, but other than that I felt good."
Pena was facing what many considered to be one of the more potent lineups in Miami in Pace. The Spartans, however, were unable to get on track against Pena.
"He threw a lot of strikes, and commanded the plate," said Pace Manager Tom Duffin. "Our hitters hit a couple balls hard, but the difference in the game was they came up with big at bats in big moments, and we didn't."
The first inning was a microcosm of how this day would play out for the Eagles and Spartans. Ben Rozenblum kicked off the season with a double off Pace ace Yordani Carmona. Dante Girardi then moved Rozenblum to third on a ground out to the right side. Raynel Delgaod followed with an RBI sacrifice fly.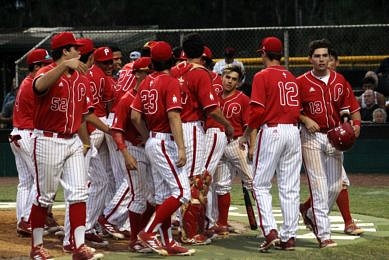 In their half of the first, Pace had a similar opportunity. Lead-off man Luis Tuero reached on a two base error, and moved to third on a Sammy Infante ground out to second. After Michael Montes was hit by a pitch, Pena induced a pop out to short, and got Carmona to tap to first on a 3-1 pitch, ending the threat.
"That first inning was a big momentum swing," said Duffin. "They had a guy on, moved him over, and drove him in with the sac fly. We had a guy on, and popped out, and then rolled over a 3-1 pitch that was ball four. Our hitting will come around, but today we didn't do the little things needed to win a ballgame."
Calvary Manager Alan Kunkel agreed that the run in the first inning set the tone.
"When you have two teams that have as much hype as we had, scoring the first run of the game is always a big advantage," said Kunkel. "That first run changed the game, and gave us some confidence."
The Spartans did not back down, getting a home run from Infante to tie the game at one.
With the season in its early stages, Carmona was pulled after allowing only two hits and one run in his four innings of work.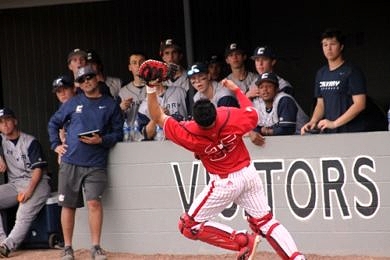 In the fifth, the Eagles top of the lineup again provided strong at-bats. With one out, Rozenblum was hit by a pitch. Girardi singled, and Rozenblum scored when the throw got away. After Reynel Delgado walked, Christian Scott singled the other way, and Girardi scored. Delgado also scored when the throw got away from right field. Suddenly, the Eagles had opened up a 4-1 lead. After tacking on another run, Calvary was suddenly in control.
"Having the big inning in the fifth obviously changed the game," said Kunkel. "We had some good at-bats. We knew coming in that the only way to beat top pitching is to have the approach be up-the-middle. And today we did a good job of that."
Pace threatened again in the sixth, cutting the lead to 6-3 on a two-run home run by Kenny Gonzalez. At that point, Kunkel went to one of his stable of arms, Timothy Watkins. The senior proceeded to throw 1.1 innings of perfect baseball, striking out all four batters he faced.
"We have a lot of good arms," said Kunkel. "My challenge will be finding enough innings for all of them. But each of them are ok with throwing their couple of innings and helping the team win."
While Calvary heads into their next game riding a high, Pace will be regrouping.
"For whatever reason we always seem to struggle in this tournament," said Duffin. "But I thought Carmona through the ball well, and our hitting will come around. It's only game one, and we know this is a process. We are still figuring some things out."