Manager Jerry Albert Wins 300th As Belen Rolls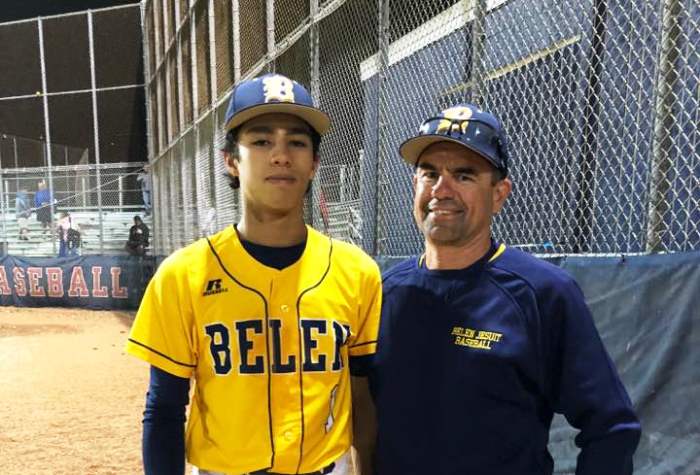 The Belen Jesuit Wolverines came into Tuesday's match-ups with Westminster Academy as one of the hottest teams in South Florida having won eight of their last nine.
Instead of coasting, the Wolverines again had their foot on the pedal, as they used a 13-run fifth inning to down Westminster Academy, and more importantly, pick up career win number 300 for Manager Jerry Albert.
Many players contributed through the years to Albert's success, and on this night, one of the key contributors was none other than Albert's son, Armando Albert. The younger Albert went 2-for-4, with a double, three RBIs, and two stolen bases.
Having Armando be part of the 300th win is something Albert reflected on after the game.
"It was nice to be able to share this moment with Armando," said Albert.
Armando was not the only Wolverine who came up big at the plate for Belen. Humberto Torres had three hits and three RBI's, and sophomore Christian Eiroa was 2-for-2, had a grand slam, and scored four runs.
For Belen, the win continued a week in which the offense has exploded for 30 runs in two games, In a win over LaSalle Monday, the Wolverines racked up 13 hits and 12 runs. Versus the Lions Tuesday, they posted another 13 hits, with six of those being for extra bases.
After starting the season 0-2, many were wondering what had happened to a team that was predicted to be at or near the top of 7A-16. Since those three losses, however, the Wolverines have found another gear, winning nine of their last 10.
Belen will now embark on their annual trip up North to play in the Catholic Challenge, hosted by Bishop Moore. Albert is excited about the way his team has turned things around heading into next week.
"The team is playing great as we head up to Orlando next week," said Albert.
For the Wolvernine's skipper, the winning spanned what has become one of the longest careers here in South Florida of any current manager. Albert started his winning over at Coral Springs Charter, and has continued his success at Belen, where his teams have reached regionals five of the past six years, including a state final four appearance in 2016.
While the wins in South Florida are nice, Albert has gained the respect of many of the coaches in South Florida with his approach to guiding the young men he coaches. For Albert, that approach started long before his South Florida days.
"Can't include all those great JV wins at Malloy (in New York) in the career record," said Albert. "Although they are just as important as any to me."
Belen, ranked #10 in this week's HSBN Miami Power Rankings, currently sits at 9-4, and has a one game district lead over Miami Sunset and Doral. The Wolverines can lock up the top seed in the district down the stretch with wins over Sunset and TERRA Institute.