Sunday Morning Chat: Miami Beach Manager Juan Cordero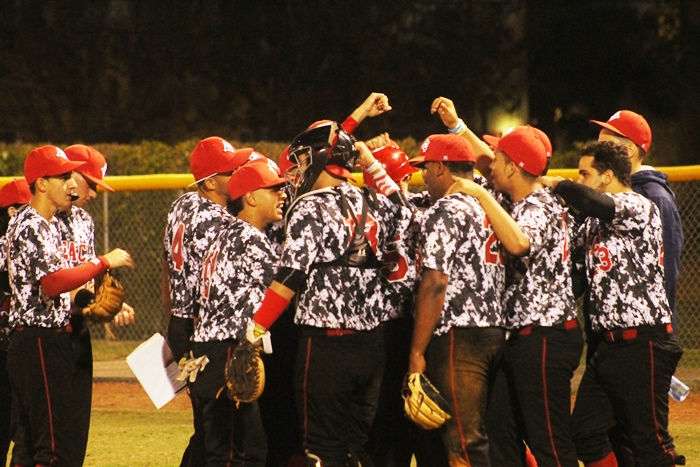 Juan Cordero, along with his trusted staff, has spend the past few years trying to get Miami Beach back to elite status here in Miami. This year, the High-Tides are hoping to put together thye hard work of the staff, and turn their season into something special.
HSBN's Anthony Uttariello caught up with Coach Cordero early this season. Let's see what the Beach coach had to say…Enjoy!
Anthony: Alright, we're here with Coach Juan Cordero from Miami Beach. Coach, start off, tell us a little bit about your baseball background.
Coach Cordero: My baseball background, I've been coaching high school baseball now, it's almost 13 years. Eight, nine years with Pace, and now I'm in my third year, fourth year with Miami Beach High School.
Anthony: You took over this Miami Beach program a few years ago with the hopes of building it into a state contender. This is the year all your hard work the past few years, could pay off. So, what are your expectations for this team, these days?
Coach Cordero: Well, we try to do it the right way. We try to bring in kids early and give them a lot of playing time as freshmen and sophomores. That way, when they are juniors and seniors they have a lot of varsity experience under their belt, and they're able to handle big games like the one we had yesterday (Pace Preseason game).
And you can see it, they don't get rattled when we face big teams. They're a very cohesive unit. They're a tight family. I don't carry, I never carry a JV, I only always carry a varsity. 16, 18 players, and they jell very well, we play together almost exclusively, and that's what makes them a very unique team.
Anthony: Talk a little bit about the sustainability of that, because a lot of programs, they get kids as freshmen and then they take that group all the way through. What do you do when this group leaves? How do you maintain the level you guys have achieved?
Coach Cordero: What we do is, the majority of my kids, I'd say 80% of my kids now are juniors, so next year when they become seniors, I usually get a batch of just sophomores and freshmen come in, because they know the following year they will get a lot of playing time. So that's what usually what happens.
It's usually two or three years of the same people. Then they start coming in, like this year we had four freshmen come in. They're good freshmen. To play at this level, they have to be. We try to get good kids here. Pretty humble, hard working people from good families. We try to raise them to be men when they get out of here.
Anthony: How much easier is it for you to run a program like that, because most teams do utilize their JV squad. But for you to keep your numbers at 18 to 20, and you don't lose guys to transfers. Also most of your guys are playing hard all the time, for fear of losing their jobs. So how much does that help you guys, doing it in that sort of manner?
Coach Cordero: I think it's more loyalty. Be loyal to your players and coach players up. I think it's a lost skill, a lost art form that's happened over the years that they many coaches want to win immediately and bring in new guys. It's just, work harder with your guys and try to extract the best you can out of them. Try to put them in the best position to win, to succeed.
That's not just not on the field but also in the classroom and at home with their parents. And that's what we do, we try and make them the best ballplayer they could actually be with the skills they have. Not everybody's is going to be a Division I player. Not everybody's going to be a top prospect, a pro prospect. But you know, if we can get them into a good Division II school and try and make them a good team unit, you can win some games.
Anthony: Speaking about that loyalty, I was going to hit on this later, but you led me into it now. You keep your guys together pretty much though the summer, through the fall, it's something very rare these days with most guys playing in all these travel programs. Is that something you talk to the parents and the families about before they even enter your program? And secondly, how do you accomplish keeping these players year-round and not having them playing for other teams.
Coach Cordero: What we do is, we try and keep the players together. We try to have them play in the summer, the fall, as a group. Of course there's going to be a couple of showcases where some of players are going to go to to get themselves some exposure, which is fine with us, we don't mind. But we try to say 75% of the games for them to stick around and play with us. And that, believe it or not, creates that bond, it creates that family bond.
It's a small, tight group, they eat lunch together, they work out together, they condition together and they do everything they can together. During the fall we have other coaches, I can't be there a lot in the fall, but we make sure the players stick together, because we want that family union to be there.
Back in the 80s and 90s that's how it used to be. Some may have had to leave in the fall but most of the time the team would stay together. And that tight cohesiveness is what you need to be able to get through hard innings and you kind of feed of each other as players. How the pitcher's pitching (in/out) and how the catcher is moving, the little things that develop from playing together. Without us having to coach you and tell you how to move. And they have a feel for it and that's something we've developed in the two, three years we've been together.
Anthony: Not many people know this but, a lot of what goes on here at Beach, you fund yourself, year-round. So, how rewarding is it to you, to know that you can give back in that kind of way, to your team?
Coach Cordero: Well, basically when it comes to what I do, there is some help that comes from the parents and fundraising. We do do a lot of parking sometimes at the high school. We're one of the few high schools that benefits from having a high school next to the Miami Beach Convention Center. So when there's an All Star game at the convention, or a boat show or something like that, we benefit from doing parking. So we do get from the school. Its not always Mr. Cordero for the other stuff.
But sometimes, I'm blessed to have a good career as an attorney and I'm blessed to be able to help out the kids. And I know, some of the parents, my kids don't come. . . they're not private school kids. It's Miami Beach, there's a lot of kids that are from single parents that work really, really hard. If I can help pay for some tournaments, for getting their uniforms, for going to Marlin's Stadium, or Sarasota for a tournament, I try to. If it's a good year, I don't mind doing it, it's a charitable deduction for me and I'm all about trying to help them out.
If what we're doing is getting kids out of the streets, you know, making sure they work really hard, they're staying in a productive environment, and God willing moving to the next step, going college somewhere, wherever that may be, it depends on their talent, but that's our goal.
To me, I tell everybody, when I was a kid I played Hialeah Corey League back in the day when Ricky Gutierrez played there, Alex Fernandez played there. All these guys played there at one time or another. And there's a lot of people that dedicated a lot of time for us to go out there and play and get a whole lot of us Latin kids out of the streets and out there playing ball when they're seven, eight, nine, 10 years old. A lot of us became very successful. I could go on and on about these guys, but they all did well and they all started from there.
So, I'm grateful to have had that experience. To have all those people care about us and it's something that we can do in return. I see a lot of these coaches, that are here, they coach high school, Ricky, those guys. They came back to do the same thing. Give back to the community, and that's what we care about. It's about giving back to the kids. If I can touch 16 lives every year then, God has blessed me.
Anthony: What's the best feeling that baseball has ever given you?
Coach Cordero: It's always seeing these kids leave here two years down the line, three years down the line, come back with whatever they're accomplished. Seeing that they've grown up to be good men. And then you see them eventually want to do what we did, start coaching and helping the Little League club or at the JV level. And seeing that next generation coming around. You know, that there is someone to take your spot when it's your time to put up the cleats and watch from the stands. So, it's good to see that you've done a good job.
Coach Nunez, Coach Garcia, Coach Santos work hard to get the kids to where, their time is going to come and hopefully do it the right way. Have fun, do it the right way, do it respectfully, be respectful. Try to achieve good things in life, be good with your parents. Do all of the things you are supposed to be doing in life. That fills your heart, doing the right thing. And that for me is the main thing. To make sure that kids are growing up to be good men, no matter what it is.
Anthony: You just hit on this a little bit, but you don't even have kids in the program at this point and you're still giving back.
Coach Cordero: [a proud chuckle] I have a beautiful 19 month old daughter. I waited until my 40's to have a kid and I love her to death. Maybe this year, I'll have a boy if I can. If not, I'm happy with, whatever, but, I've always been coaching. Previously I coached little league with my nephew for a bunch of years. And I've always been around baseball. Even before high school, I always helped with little league.
And family members that are going through high school, like Hialeah or whatever program they're going through, I was always helping them out, outside the school. I had an opportunity here a couple of years back. I was approached by Coach Duffin, a good friend, all of us played together here growing up. It was a great opportunity so I came here to coach and I enjoy it. Then I moved on to Beach.
So yeah, going back to that subject, I don't have a kid in here but I consider them all my kids and they know that they can call me at any time, and they do. When they are having headaches, they usually do call me. But, I'm always here for them.
Anthony: So speaking of Duff, your season started this preseason with a statement win over Pace. You guys are looking like you were ready to go from the start. Looking like you were ready to make a statement. Where did that come from?
Coach Cordero: We have just been, like I said, it's a little bit easier when you're dealing with a smaller unit. When you have a small team, they've been working together and kind of grinding it for a couple for years. That gives us a little bit of a head start when it comes to the beginning of the season. Pace has a great team. They have amazing pitchers. Their whole team is good. Those are all good hitters, players. We're just lucky. They had an off night, we had an on night. That's how I see it. Duff gave us the opportunity to come play out here. He's a great guy. The right program. A program that everybody should want to emulate and get to. He has a nice, great facility here. Great coaches. They do a great job with the kids and it was a nice little game.
Anthony: Give me something you do away from the field that your players or others in the community would be surprised about.
Coach Cordero: Probably like everyone else down here in South Florida. I'm a big flats fisherman guy. I like going in the flats in the Everglades. Believe it or not, how I got hooked on that,
was because of Duffin. Because Duff actually took us, the coaching staff, in my third year here. It was like a thank you for coaching. He took all the coaches out to go flats fishing that year and ever since then I go out and my wife goes with me. It's quiet because it's in the Everglades. We go back to Florida Bay, its great peace and quiet, nice fishing. And that's one of the few hobbies away from the field that I enjoy. I enjoy it dearly.
Anthony: Alright, last question. This season is setting up to possibly be a special one for you guys. Regardless of game outcome, in your mind, what would make your season successful?
Coach Cordero: Well, we're in a great district, where we have Miami High, Coral Park, South Miami and Coral Gables. All coached very well by Mr. Ernie Patron, which is a great coach Mr. Bonilla is a great coach, Mr. Carnicero is a great coach and Mr. Cuervo, who is another great coach. We are fortunate to have a district where we have great coaches and great teams. And each year you have at least one number one pitcher on each team. Our goal this year is to make it to regionals, either as the district champion or runner-up, and God willing, that is the goal. To play smart baseball. Try to minimize the errors. Pitch to keep batters off balance. And be a humble cohesive unit. That's our goal.
We came close last year, but Kenny from Coral Gables threw a hell of a game and knocked us out.
We have to avoid injury, because we, like I said, we're a small team, we can't afford that many injuries. So hopefully we stay healthy, and everybody does their thing. Play smart and we're in a good position to win in the District playoffs. But like I said, we're in a very, very good district, a historical district. We are one of the oldest district's in all of Dade county. It's going to be a fun year. A fun little run.
Anthony: Allright. Thank you coach for your time.
Coach Cordero: No problem, Thank you.