Four Run 7th Carries Pace To Fifth Straight Win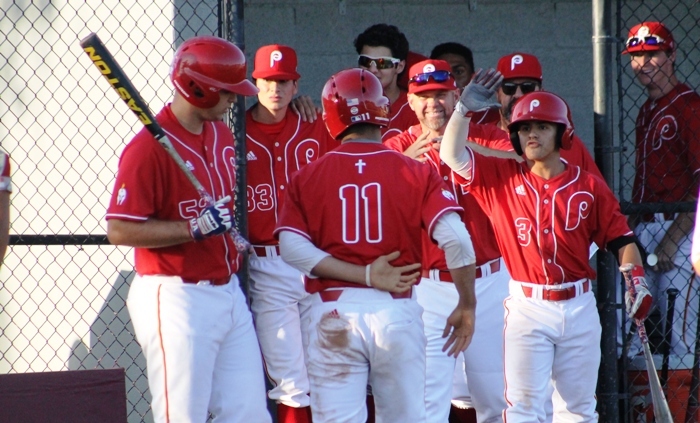 If there were any doubters who were rejoicing in Monsignor Pace's early season struggles, the Spartans are one win at a time putting those doubters on blast. On Wednesday afternoon, Pace used a four-run seventh inning to complete a 6-3 come-from-behind win over Broward powerhouse Douglas.
Make no mistake. The current version of the Pace team is united, hungry, and playing some of their best baseball of the season.
"It has taken us all some time to adjust to each other," said Pace Manager Tom Duffin, when speaking about the new players the Spartans incorporated into this year's team. "I had to figure out who they were and how best to utilize their skills, and they had to learn how I do things. So that took a while, but we have been figuring some things out lately."
What they figured on on Wednesday was that they could spot one of the best teams in Broward a three run first inning lead, and still come back and seize the game.
"They are a great team," said Duffin. "They hit us early, but Luis did a great job of settling down after that inning and keeping the score where our offense could get rolling. We came up with some good at-bats in that last inning."
The Luis Duffin was referring to was junior starting pitcher Luis Gonzalez. The Eagles jumped on Gonzalez right away when John Rodriguez led off the bottom of the first with an opposite field home run. Brandon Auerbach and Coby Mayo hit back-to-back doubles, and when Jonathan Strauss hit a sacrifice fly to right, Douglas had a 3-0 lead.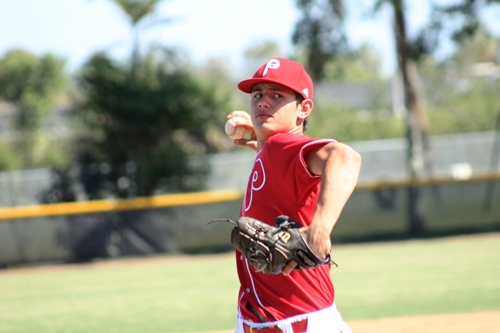 From there, Gonzalez settled in and threw 4.2 innings of shutout baseball.
"That first inning, I missed my spots on a few pitches, and they hit the ball hard," said Gonzalez. "After that, I was able to get in a little rhythm and hold then down until our offense could come back."
That comeback would not come easy, as Douglas had Kevin Heinrich shutting down the hot Spartan bats. Heinrich was able to keep Pace off the board through four innings. He came out for the fifth, but walked MC Sagaro and Luis Tuero. A Sammy Infante double and a Micke Montes sacrifice fly later, and the lead had been cut to 3-2.
Things looked to be getting worse for the Eagles when Yordani Carmona drilled a ball headed down the right field line until first baseman Andrew Jenner snagged the ball and turned it into an inning-ending double play. Despite the two runs, Douglas Manager Todd Fitz-Gerald liked what he saw from Heinrich in his four innings of work.
"He threw the ball well," said Fitz-Gerald. "He had a few good innings, and we made a few nice defensive plays to get out of a couple jams."
Gonzalez was doing the same on the other side. The Eagles had several opportunities to blow the game open, but each time Gonzalez was able to wiggle out of the jams.
In the seventh, the Pace offense woke up. Infante led off with a walk, and after a failed sacrifice bunt, Kenny Gonzalez singled up the middle. Robert Moya then tied the game with a single to left. After a base hit from Carmona, pinch-runner Albert Hernandez scored on a passed ball. Michael Machin then completed the four-run rally with a two-RBI single to left.
"We just kept staying focused and we knew eventually if we kept hitting the ball hard some of those would fall in," said Carmona. "We stayed together and never gave up, and eventually we were able to come through."
Staying together was not something that came easy earlier this season, and the Spartans struggled to gel their returning players with the newcomers. That process, however, is almost complete, and the results have shown on the field, as Pace has won five of their past seven games.
"We are starting to put everything together," said Carmona. "We had a goal when we started of winning a state title, and that goal has not changed. When the playoffs start, we will be ready to go."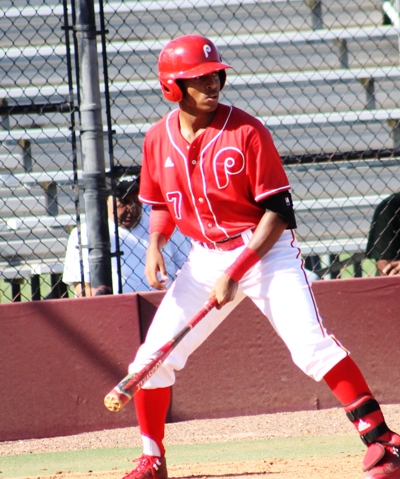 Those playoffs will have to go through a tougher than usual 5A-15, and Duffin knows no matter how well his team is playing, anything can happen when the district tournament starts.
"I like our team, but there is nothing you can take for granted in this district," said Duffin. "Every team in the district has a horse or two they can throw at you, so nothing is guaranteed."
The Eagles, who are still in the process of working through what has been an emotional roller coaster of a season, also appears ready for postseason play.
"I liked the way we came out today, scoring those three runs in the first against a very good team," said Fitz-Gerald. "We still have to get some guys healthy, but we are headed in the right direction. We have three games left, and then before you know it we will be in the district playoffs. At that point, the learning is done, and we will either thrive or not."