Westminster Christian Falls At The Hands Of Heritage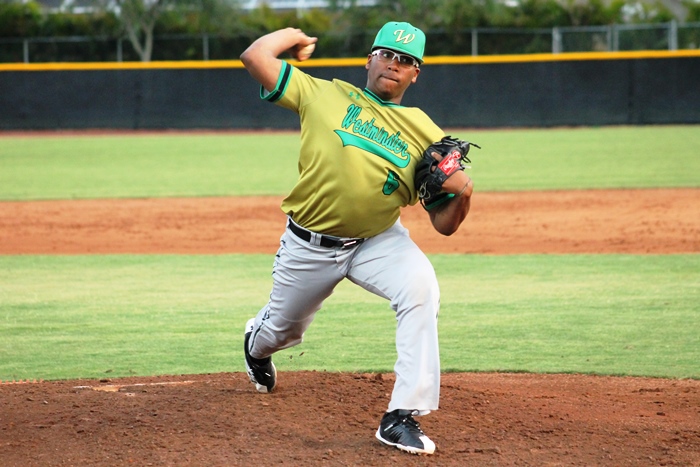 There has been a lot of stress and frustration the past few years for American Heritage Manager Bruce Aven and his Patriots team. In 2018, however, the Patriots look loose, polished, and ready to show the state that they are a team of destiny.
Breaking out the lumber like they had earlier this season, the Patriots pounded out eight hits, producing nine runs, in a lopsided 9-1 win over traditional Miami powerhouse Westminster Christian.
"When we were away we got a little away from ourselves offensively," said Aven. "Swings got a little big. So the past few days we had the screens out and were working the middle of the field, getting them to re-focus. And tonight they came out with that purpose at the plate and hit some balls hard."
Heritage, which has spent the past few years losing heartbreak games to district rival Archbishop McCarthy, now looks like a different team, with a different mindset. The players look like they are having, well, fun.
"With this group it all starts with the senior leadership of Tristan (Casas) and Cory (Acton),' said Aven. "They play the game the right way, because they love being out here and playing the game. They don't care about the scouts in the stands, they just do their job. And that trickles down to everyone. It is easy to be relaxed around this group because they all play the game the right way. They make mistakes, like any players do, but they do the right things on the baseball field."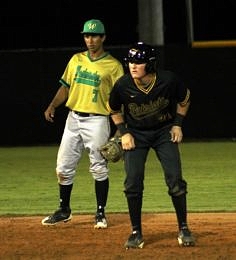 That attitude was visible early on in this one. Patriots starter Ryan Cabarcas fell behind in the second inning, surrendering a solo home run to Westminster's Bruno Ghisellini. It would be the only run, and one of only three hits Cabarcas would give up in his five innings of work.
"Ryan did a good job tonight of using his fastball," said Aven. "His slider was off a bit early, so he went to his fastball more, and he was able to locate. Then, as his slider developed throughout the game, he started using it more effectively. It was a good outing for him."
As for the new-look, relaxed Patriots. The offense quickly eliminated the Warriors lead in their half of the second.
Gavin Casas led off the inning with a home run. That was followed by a Matt Ruiz single and Jordan Carrion triple. Singles by Kolbe Aven, Enrique Bradfield, Acton, and Tristan Casas all contributed to a five run outburst, and a 5-1 lead.
It was an unusual inning for Warriors ace Jamar Fairweather.
"Jamar didn't have his best stuff today," said Warriors Manager Emil Castellanos. "He had that one bad inning. We were one bad hop away from turning a double play and ending the inning. Those things happen in baseball. It just wasn't our day."
Once they had the lead, Cabarcas went back to doing his thing, and by the time he left the game after the fifth, the Patriots had built a 9-1 lead, on the strength of an Acton home run and some patient at-bats.
Heritage's team concept was again on display in the seventh, when Max Stasio, who had pitched one inning coming into the game, set down the Warriors lineup in order.
"These guys have all taken to their roles, no matter what that role is," said Aven. "We carry 35 guys this season, 15 seniors, and I haven't had to deal with one complaint over playing time. That all starts with a great group of parents, and great leadership from the players. Max came in and did a great job with what we asked him to do tonight and get those final three outs."
For Cabarcas, the difference in this year's team and past teams is easy to identify.
"We are close," said Cabarcas. "We do things together, and we like being around each other. We love being on the field and we all have each other's backs."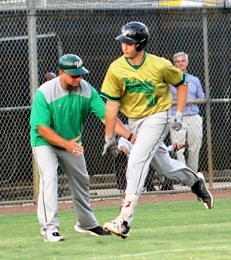 Acton, who was around for some of the past heartache, also sees the difference.
"It's easy to point to the older guys and the leadership," said Acton. "But the young guys have done a great job of following the lead. They have come in and are doing their jobs. That makes it easier for everybody. We are all on the same page."
As for Westminster, this game serves as yet another in the long line of competitive games Castellanos schedules for his team during the regular season.
"These games, they are all a learning experience for the playoffs," said Castellanos. "It's nice to have a good looking record, but I would rather play as many of these top teams as we can put on the schedule. You don't learn anything from winning 15-0 games. You learn from being in tight spots and having to deal with pressure and adversity. Like I said before. It's one game. We will put it behind us and move on to the next one."