Congratulations Pace's Tom Duffin On Win #400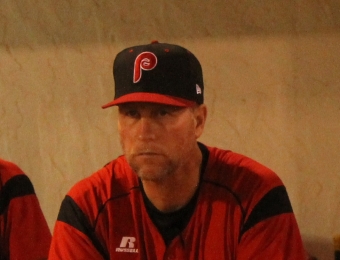 Manager Tom Duffin has been a mainstay in the Monsignor Pace dugout for two decades. On Tuesday night, his team advanced to the regional semifinals, a familiar place during his tenure, with the program, with a 4-2 victory over Gulliver Prep.
Duffin has been a friend to myself, and HSBN, from day one of our journey, and we want to personally congratulate him on this tremendous accomplishment.
So Duff, here is some of the appreciation shown to you from your current and former players, fellow coaches, HSBN, and other members of the high school baseball community, on your 400th win. Enjoy!
"As a former player and student of coach Tom Duffin. He not only is a father figure in a young man's life but he is a teacher of life. I have been apart of his coaching staff for the past 12 years. Coach Duffin has taught his players to never let anyone beat them in life, and you have to put your heart and soul into everything you want to achieve in life." – Christian Gonzalez
–
"A proud moment for coach Duffin always means a proud moment for Monsignor Pace as well, and that is my favorite part about this accomplishment. Every one of those 400 victories came right there at Pace, where Coach Duffin has led decades of teams. Through tradition and legacy the program has enjoyed tremendous success over these years, the baseball field on campus is a staple in the Miami-Dade baseball community and the memories over these years are countless. I have always particularly appreciated your honesty and the trust that you respect someone enough to always tell them the truth. It has been a pleasure and a privilege to cover your team for HSBN these past seven years and I look forward to seeing what is still in store this season and in the years ahead. Congratulations Coach Duffin and the Pace Spartans!" – Rick Duteau, HSBN
–
"Great job on your 400th victory. Congratulations keep it rolling." – Emil Castellanos, Manager, Westminster Christian
–
"Congratulations, Tom. I am not happy about some of our teams adding to your 400 wins over the years but it has been great competing against you, your staff and players for a very long time. I was fortunate to coach with you and get to know you many years ago at the FACA All-Star Game, and I wish you continued luck. Go win another 400!" – Jason Hamilton, Manager, Cardinal Gibbons
–
"As Tommy's high school coach at Pace, there is not another player or coach I admire more. No one, and I mean no one, works harder than he does. He took that work ethic from player to coach. Most of all, he does it the RIGHT way. As a coach you always look back on many things you are proud of, and the one that stands out most is my honor of coaching Tommy. His game-winning walk-off hit in the 1985 state championship will never be forgotten. Tommy thank you for being a big part of my life, someone I will always love. Congrats." – Coach John Messina
–
"Congratulations Coach Duffin on win #400" – Florida Christian Baseball
–
"Duff has been able to maintain a consistent level of excellence at Pace for the past 20 plus years. He is an excellent coach and an excellent family man. Congrats." – Jerry Albert, Manager, Belen Jesuit
–
"Duff, congrats on this great honor. We have had some great games going back many years. I wish you all the best and continued success." – Fitz
–
"Coach Duffin, Congrats on getting #400! Since you took over the program at Pace my junior year until now, you have always done it the right way and with class. Very blessed to say I was part of it for four years. I know you have great coaches around you but your leadership is what makes the program so respected. As a head coach myself now, I try to input as many things in to my program that you taught us." – Willy Baez aka "Willybmen", Manager, Hialeah Educational Academy
–
"One of many great accomplishments throughout your career, congratulations on win 400! I wish you nothing but the best except when you play Pompano!" – Joe Giummule, Manager, Pompano
–
"Over the years I haven't had the opportunity to coach against Coach Duffin besides one time during a fall league game, so I believe I did not receive the full Duffin coaching experience :) However, my cousin did play all 4 years under coach Duffin, and we'd always talk about what it takes to be a Pace Spartan. Furthermore, however you slice it, the mathematics behind reaching the 400 win plateau is a testament to having a structured, hard nosed, winning culture and program. It's evident in the colleges and universities Pace players attend after graduating high school, and those who have continued on to play professional baseball, that what Coach Duffin has accomplished isn't simply due to longevity. Congratulations. – Wesley Morejon, Manager, Braddock
–
"Congratulations Coach Duffin on this amazing achievement. Pace has been a powerhouse in high school baseball under your leadership. Enjoy this accomplishment. It is well-deserved." – Joey Marcos – Manager, Miami Sunset
–
"Congrats Coach Duff! Great accomplishment!" – Tony Gallo, Manager, Palm Beach Central
–
"TD, Congrats on 400! It takes a lot of time, hard work, a special commitment, and dedication for you to achieve this milestone. I'm very happy for you and know you will win many more before it is all said and done." – Ray Evans, Manager, Flanagan
–
"Coach, I want to take this time to congratulate you on your 400th win. To know that my son contributed to some of those wins is an honor." – Armando Sierra, Manager, Sagemont
–
"Congrats Duff on your 400 victory! It couldn't happen to a greater man!" – Edwin Bonilla, Manager, Alonzo Mourning
–
"It was blessing to be given the opportunity to Coach at Pace with Coach Duffin back in 2007 through 2015. I had decided to coach high school baseball and be a part of the game I loved once again. In the almost 8 years I spent seeing him be the field General that took Pace to multiple District championships and State Championship runs, I was able to understand the complex inner workings of being a Varsity Baseball High School Head Coach.

Moreover, Duff had the incredible ability to squeeze every ounce of talent from 20 unique young individuals in a manner that they would play as a beautiful symphony on the field. This task was not easy, yet, Coach Duffin finds a way to make this happen year in and year out. Furthermore, I believe one of the brilliant attributes of Coach Duffin's coaching style is inclusion. In inclusion, I refer to how we would sit before and after every game to round table with all the great coaches on his staff on how we should approach each particular game.

It was in the details that makes him a special coach. Meticulous planning throughout the season to ensure the team is taking its most perfect stride to victory when it mattered most. In addition, his relentless quest for excellence and unmatched love for everyone of his players that is reflected in the countless scholarship athletes that have left Pace to become great members of our society. It is this that makes Coach Tom Duffin one of the better high school coaches of our generation and a pillar of our baseball community. Finally, It is with great pleasure that I and my staff at Miami Beach High School congratulate Coach Duffin on his 400th win." – Juan Cordero, Manager, Miami Beach
"To a great friend, congrats on your 400th win." – Pepe Ortega, Scout, Chicago White Sox
"I am honored to be part of your 400th win. You deserve it, and I am very grateful to have you as a coach and a mentor." – Yordani Carmona, Winning Pitcher for 400th win.
"400 wins. 3600 student athletes have come through your program. Some would say you are old school, because you demand respect for the game, respect for the officials, and respect for oneself. But above all, you live your faith on and off the field. Congratulations." – Valarie LLoyd, Dean of Students, Dean of Athletics, Monsignor Pace.
"We are so proud of all of your accomplishments. You are an amazing coach. But most importantly, you are a man of faith who stresses to have these young men grow to be men of character, honor, and integrity. We are honored to have you as part of our Pace family." – Ana Garcia, Principal, Monsignor Pace
"Congratulations on a milestone accomplishment." – Manager Oddibe McDowell, McArthur
"Coach Duffin, you have been a force to be reckoned with for players and coaches alike in your years at Pace. Since I played high school ball at Florida Christian from '04 to '07, I know you have been dominating the scene. From players like Gio Gonzalez, Jose Jimenez, Tommy Mendoza, Chris Marrero, Adrian Cardenas, and many more, it seems like you get all you can out of your guys. I want to congratulate you on your 400th victory and hope my coaching career is but a glimpse of what yoyrs has been. Keep going sir, and again, congratulations." – Manager Chris Leon, Coral Reef