Miami Beach Powers Way To 9A-14 Championship Game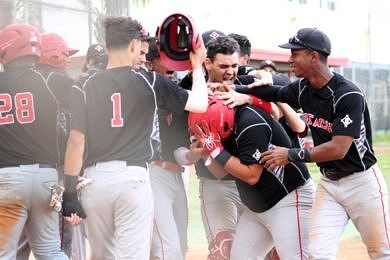 For five innings, Tuesday's 9A-14 semifinal between Miami Beach and Coral Gables looked like it would be another classic game from two programs that provided their fans to 4-3 and 3-2 Cavalier thriller wins during the regular season.
Then, in the top of the sixth and seventh innings, the Hi-Tides offense made sure that there would be no miracle comeback in this one. Marcus Garcia, playing with a heavy heart after the loss of a family member this week, almost poetically, launched a grand slam in the sixth inning. That was followed in the seventh by a three-run home run off the bat of designated hitter David Castillo.
The end result was Miami Beach avenging their two regular-season losses to the Cavs in epic fashion, an 11-3 win that sends Beach not only to the district final on Wednesday, but to regionals next week.
"They have one heck of a program and coaching staff over there," said Hi-Tides Manager Juan Cordero. "We felt we were in both games we lost earlier this year, and we had a game-plan coming in that these guys executed. Our bats came up big there with those home runs from Marcus and David, and we were able to get the job done."
The game was expected to be a pitcher's duel between aces Nolan Santos of Beach, and Juan Osario from Gables. Early on, it looked as though the Hi-Tides may have squandered some opportunities. They put 12 runners on base in the first four innings of the game, but were only able to cash in with three runs during that time.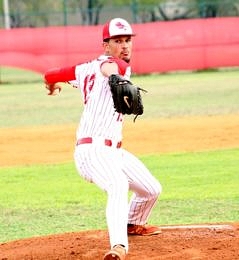 While Beach was putting runners on, Osario was efficient in wiggling out of jams.
"It was a difficult day today out there for us, and that happens sometimes in baseball," said Cavaliers Manager Ernie Padron. "Juan battled. He has been great for us all year, and today he battled out of some spots and gave us a chance to stay in the game."
In the fifth, it looked like deja vu for the two teams. In the first meeting of the season, Beach held a 3-2 lead before Gables scored two runs and took the 4-3 decision.
Wednesday, Gables mounted one of their only threats of the game off Santos, scoring two runs and loading the bases with two outs. With a 3-2 count, Santos was able to induce an inning-ending popout, and the score remained 3-2 Hi-Tides going to the sixth.
"Nolan pitched well today," said Cordero. "He did what we asked him to do. After the fifth, he was at 90 pitches, so we were taking him out of the game."
Facing a mounting Cavs comeback, and having to possibly hold on without their ace on the mound in the final two innings, the Beach offense decided to take matters into their own hands, scoring seven runs in the final two innings, and turning a possible heartbreak situation into a rout.
"It was an emotional day for me," said Garcia, who hit the grand slam in the sixth. "I had a purpose to be out there playing with that went beyond baseball. And to be able to hit that home run and help my teammates win, and to be able to do that for my family. It was emotional."
The Hi-Tides came into the season with high expectations, but struggled early, losing two of their first four. The team then rebounded, but came into the playoffs having lost three of their past four. Once the playoffs begin, however, the slate in wiped clean, and Beach took advantage of their opportunity to advance.
Beach is one of the few teams in South Florida that play together year-round, and the closeness and camaraderie could be seen Tuesday afternoon.
"We are a close team," said Santos. "We didn't start the season the way we wanted to. But with everything that has happened, we knew what we were capable of. The pressure is not off now, because we still have the district championship tomorrow and regionals next week. We just want to keep playing."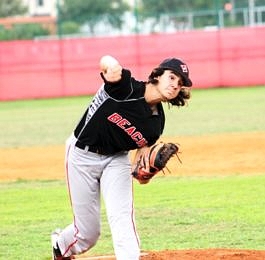 As for Gables, their first season under new manager Padron is complete. Padron, who has been through many of these elimination games in his long coaching career, was more focused on his seniors than his first season as a whole.
"You never really know what to say," said Padron. "You are almost at a loss for words because you hurt so much for these kids that put so much time and dedication in. For the seniors, they are hurting. It is always tough when you lose that last game and your high school career is over, and as a coach, I just hurt for them."
Miami Beach will face top-seeded Coral Park in the district final Wednesday. The Rams beat the Hi-Tides twice during the regular season, by a combined score of 20-2.
Regardless of the outcome of that game, the two teams will face off with either Hialeah or Hialeah Gardens in the regional quarterfinals next Tuesday.