Pace Powers Way Back To 5A State Finals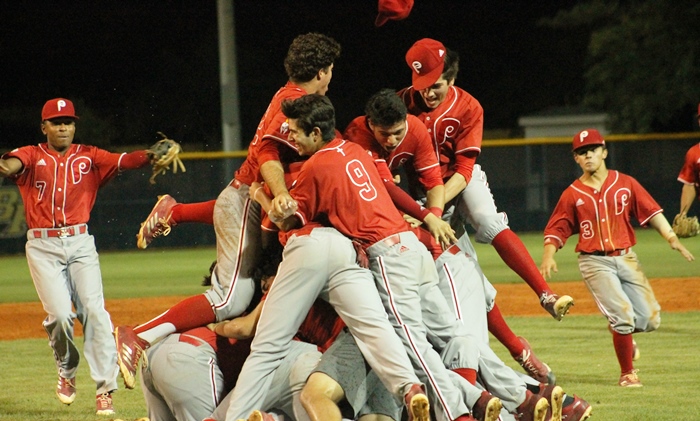 Early in the season, many other 5A teams in Monsignor Pace's regional were salivating over the idea that Pace, with all of their talented players, were struggling to find a rhythm and a cohesion.
On Tuesday night, the Spartans had the last laugh, as their bats exploded for 10 hits and 10 runs in a 10-4 regional final win over North Broward Prep that sent Pace back to the state championship series after a year hiatus.
"With the way this season started, I am unbelievably proud of how this team worked to find their way and grow as a team," said Manager Tom Duffin. "These are very talented players, and it took a while for them to learn about how we do things, and for me to learn who needed to be where on the field and in the lineup. But after Spring Break, it all started to come together."
What came together on Tuesday were the Spartans bats. Sammy Infante started the adrenaline rush that came out of the Pace dugout all night long with a home run in the first inning. In the third, Mike Montes and Kenny Gonzalez hit back-to-back blasts, and the offense cruised from there.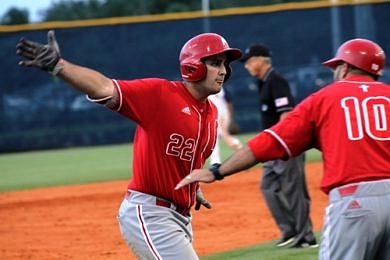 "Our offense has been clicking for a while now," said Infante. "Once one of us gets going, it seems like we all feed off each other and the whole offense starts rolling. That is what happened tonight."
Coming in, it appeared as though the game would be a pitchers duel with North Broward's Parker Foss and Pace's Victor Mederos. That duel never materialized, as the teams put up a combined eight runs in the first three innings. Despite the 5-3 Spartans lead after three, both managers thought their pitchers threw well.
"I can't say anything negative about Victor because he was able to bear down and get us out of that first inning with the score 2-2," said Duffin. "If he doesn't do that we could have been looking at being down 4-2."
For Eagles Manager Brian Campbell, the game came down to some simple.
"We were up against a very good team tonight, that played a very good game," said Campbell. "I didn't think our pitchers threw the ball bad, but their offense was just hitting balls hard all night. Sometimes that happens. It doesn't diminish what this team accomplished or how proud of how they grew throughout the year."
The game might have grown into a complete shootout if not for Pace reliever Luis Gonzalez. The senior came in, and while giving up a solo home run to Xavier Edwards that cut the lead to 5-4 in the fourth, struck out 13 of the 18 batters he faced.
"That has been my role all year," said Gonzalez. "I come in after Yordani or Victor in a close game, and it's my job to keep us where we are in the game. Tonight I knew I was coming in after Victor, and it happened earlier than we expected, but I was ready."
The Spartans offense received support throughout the lineup. Eight of the nine starters had hits, and all nine reached base safely. Nine-hole hitter MC Sagaro had one of the biggest hits of the night, a double to lead off the third inning with the score tied 2-2, when Pace took the lead for good with the Montes and Gonzalez homers.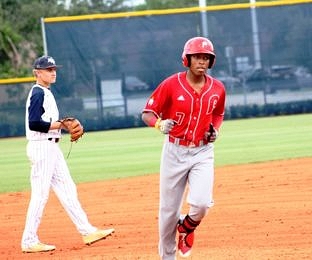 "Our offense did a great job tonight of hitting the ball gap to gap," said Duffin. "That is what we teach, and they executed all night, as they have been during this run we are on."
That run includes Pace winning 12 in a row and 13 of their last 14. Up next for the Spartans is a return trip to Fort Myers, as perhaps the hottest team going to states. The past two times Pace has been at states, they have come close to winning a state title, but had their seasons end in dramatic heartbreak fashion.
Still, Duffin does not see a need to do things differently this time around.
"At this stage of the game, everyone at the state finals can play," said Duffin. "We aren't going to change what we do. We have to control our emotions, and play our game. Not everyone can win. That is what makes this time of year great. We are going to get a good week of practice and be ready to go when we get to Fort Myers next week."