Monsignor Pace Brings 5A Title Back To Miami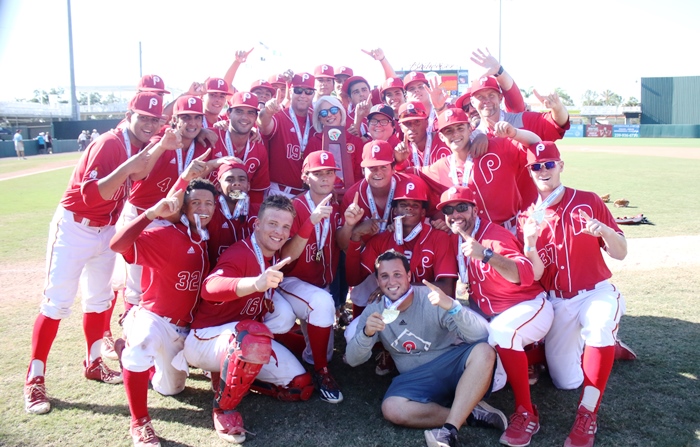 The 2018 version of the Monsignor Pace Spartans will be remembered for their late-inning heroics. The team made sure to cement that legacy in the 5A championship, battling back from a 4-1 deficit with eight runs in the sixth, on their way to a 10-4 title clinching win.
"I kept looking at the scoreboard and seeing all the hits we had, waiting for us to break through," said Pace Manager Tom Duffin. "That whole sixth inning had a bunch of key at-bats, but Vic's triple really swung the momentum and the game."
"Vic" would be Spartans starting pitcher Victor Mederos. The sophomore made his presence known in the semifinal win with a two-run home run, and he broke open the state final Saturday afternoon with a soaring triple to left-center.
"In my first at-bat I went out and chased a few bad pitches," said Mederos. "In the sixth, I got back to my right approach and waited until he came in to me. From there I was able to drive the ball and come through for my teammates."
His teammates were a mixed bag of players, both career Pace players, and others who came over to the program this year. Early on, the team struggled to find an identity, with top talented players clashing while feeling themselves out.
Then, the Spartans went on a Spring Break trip, and that is when Duffin and the coaching staff pulled a Remember the Titans moment. Duffin broke up the cliques on the team, and placed players strategically in their room assignments.
"We had to try something," said Duffin. "What we were doing up until that point was not working. So we took a play out of the Hollywood playbook. And it paid off, because guys starting realizing their teammates weren't that bad, and were actually good guys."
From there, the Spartans came back from Spring Break and started what would become one of the hottest winning streaks in the state, heading into the playoffs red hot.
As was the case throughout their winning ways down the stretch, Pace received contributions from throughout their lineup in the state final game.
Nine-hole hitter MC Sagaro, known for his defensive prowess, had two hits, and was on base four times, starting several key rallies for Pace.
"Thanks to Coach Duff (Duffin), we changed my swing and after Spring Break I started doing what I was supposed to do," said Sagaro. "Early in the year my swing was too long, and once we shortened it, I got back to doing what I do, which is put the ball in play and make things happen."
Another player who made things happen was two-hole hitter Sammy Infante. The Spartans third baseman had a key double in the eight run sixth inning.
"We have a thing here that they call me the motor," said Infante. "When I get going, the whole offense gets going. So I have to do what I do and get everything started."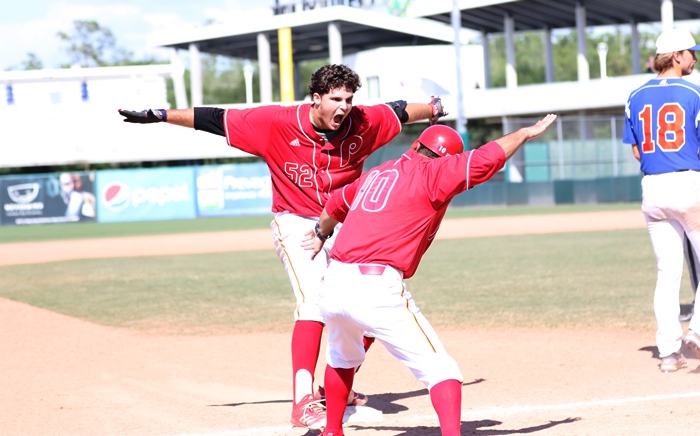 Pace jumped out to the lead in the first, but then watched as the two-time defending champion Bulldogs scored four runs in the first three innings. The big blow was a Hunter Barko two-run home run.
Starting pitcher Nathan Skinner battled his way through 4.1 innings, scattering eight hits. Eventually, Pace was able to wear down the Bolles pitching staff, scoring one run in the fifth, and then dropping the eight in the sixth. The sixth inning runs all came with two outs.
"We were cruising along, everything was going our way there, and then the bottom just dropped out there in the sixth," said Bulldogs Manager Mike Boswell.
Even with the game out of reach, Boswell was pleased with what his seniors have given his program.
"It's a tough spot for the seniors," said Boswell. "They are used to winning these things, and then you are facing a situation where you either go out as three-time champs, or you lose your last ever high school baseball game."
Unfortunately the latter happened, with Bolles unable to mount a rally in their last two at-bats against Pace reliever Luis Gonzalez.
From there, all that was left for the Spartans was a celebration that has eluded recent previous Spartans teams.
"This really started back with that 2016 team," said Duffin. "They lost a nine-inning state final heartbreaker to Bolles, and the guys coming back vowed that if they got back, they would finish the deal."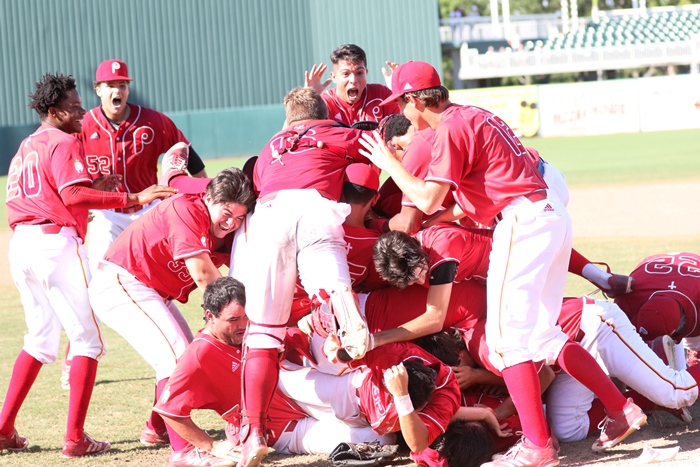 One of those players was senior Mike Montes.
"We worked all year to get our chemistry right, all knowing that this was the moment we could achieve," said Montes. "It feels great to bring the trophy back to Pace."
Duffin had similar thoughts about what bringing the championship back to Pace means.
"It is such a family atmosphere," said Duffin. "As you get older you start thinking about when is the time to move on. But it's the players and the family at Pace that keep bringing you back. I don't even wear my championship rings. This is all about the players, and no matter what they do in their lives, they will always have that title of state champion to look back on."