Columbus Honors Weber's 500th Win; Blanks Key West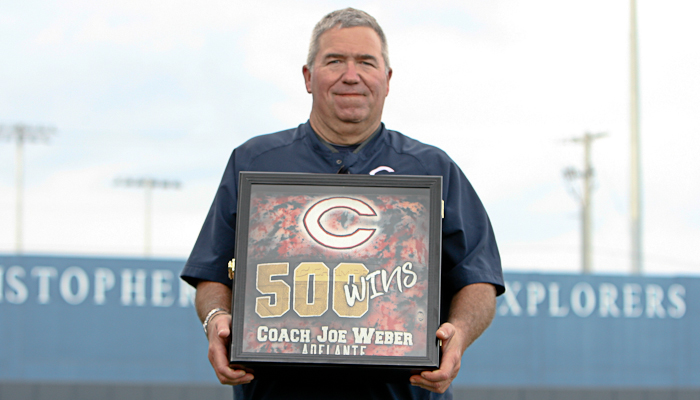 The Columbus Explorers celebrated manager Joe Weber before, during, and after an 11-0 win over visiting Key West on Tuesday afternoon.
Weber was honored before the game in a ceremony celebrating his recent 500th win as manager at Columbus.
"It's cool when you sit back and think about it," Weber said of the milestone, "but it's not like winning a state championship or seeing one of your players sign a college scholarship. But it was cool in the fact that I did it all at one place. And I played here myself, so for me it was always about coming back home. And when you work at Columbus it's like a family. I can't explain it. It's an environment that's like no other."
The Explorers celebrated on the field, scoring in every inning and shortening the game to six innings by the run-rule when Jonathan Velasquez belted a walk-off three-run homer in the bottom of the sixth inning.
Just as dominant as its offense, Explorers pitchers Jonathan Gonzalez and Anthony Vega mowed down Conchs hitter, combining on a one-hit shutout.
Gonzalez threw four perfect innings, striking out three, in honor of his manager.
"He's helped me from my freshman year to now," said the junior lefty in praise of Weber. "I've changed a lot. I've improved. Mechanics, my mind, stay mentally focused into the game," Gonzalez said of the specific areas in which Weber has helped his game.
Vega worked the final two innings, striking out two, while giving up a lone single to Key West's Brendan Roney, who was the only baserunner of the game for the Conchs, who fall to 5-7.
"I was throwing a lot of strikes, my off speed was working, curveball, change up," Gonzalez said of his perfect outing. "It was a good team win. I had a lot of defense helping behind me.
"I felt good. I've got to get the first-pitch strikes going a little better. But everything was good."
JP Herholtz paid tribute to his manager with a perfect 4-for-4 day at the plate to lead Columbus' 12-hit attack.
"He just knows everything about baseball," Herholtz said of Weber. "He's a great coach and a great mentor, a hard worker, good work ethic. I just try to learn all I can from him."
The junior first baseman has been on a tear since changing his approach at the plate starting with the Ferguson game early this month.
"I started off the year a little so, worked on it and stayed through it and kept grinding, just putting the ball on the bat," Herholtz said. "Instead of trying to lift everything and trying to hit everything out, just trying to hit line drives, trying to put the ball in play. That's really helped me out.
"Coaches told me to get on top of the ball, try to hit line drives, after that it's been all good ever since."
Jorge Braceras added two hits and drove in three runs for the Explorers, who extend their win streak to seven games and improve to 9-2 for the season. Alex Rodriguez walked twice, scored twice, stole a base, and also drove in a run.