Key West Rallies Three Times In 5-3 Win Over Barron Collier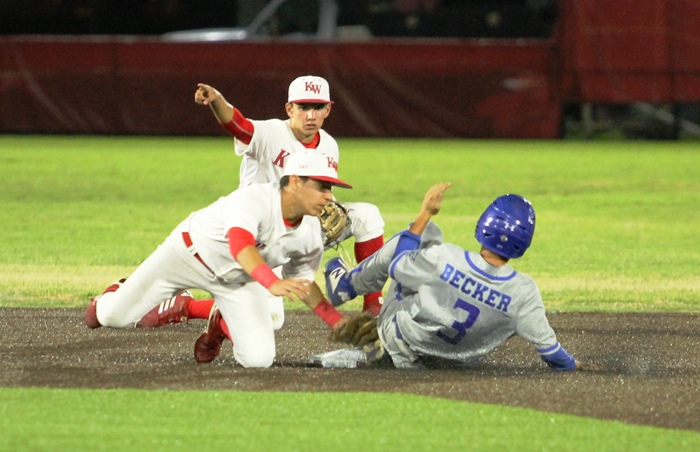 One never knows what is coming when the friday night lights go on in Key West. On this Friday, the Conchs were serving Sloppy Joe's, Lobster Macaroni Salad, and on the field, the dish of the night was comebacks.
The Conchs rallied from three separate deficits against visiting Barron Collier, eventually scoring three runs in the bottom of the seventh to defeat the Cougars 5-2.
"This is how it goes down here," said Key West Manager Ralph Henriquez. "Teams are always excited to come down here because of this atmosphere, and then the games start and you never know what is going to happen. Tonight, we executed well and grew up a bit as a young team."
This years version of the Conchs have only two starting seniors, so growing pains have been part of the process. Against the Cougars, however, Key West looked like a team that has the ability to put it all together on any given day.
Barron Collier took a 1-0 lead in the first when an Aiden Bennett groundout scored Matt Lord.
The Conchs answered in the second when Preston Herce doubled and scored on an error, tying the game at one.
The teams exchanged runs in the third, and again in the fifth.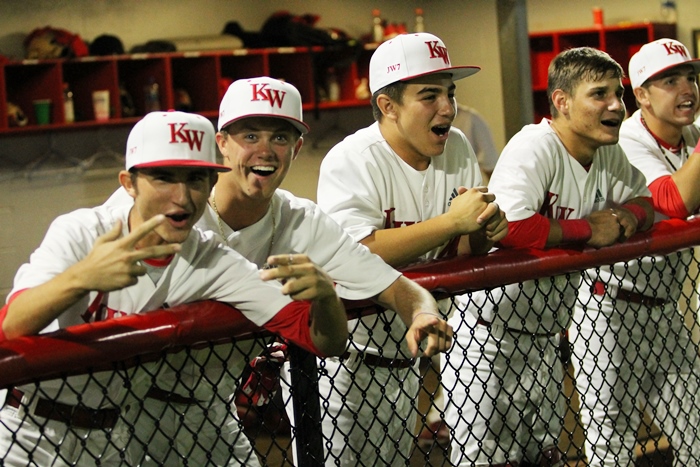 Conchs starter Dane Black worked out of several jams in his 4.2 innings of work, with the help of team leader Brendan Roney. The Conchs catcher threw out several Cougars runners on the bases, to either slow, or end threats.
On the other side, Barron Collier's Tom Balboni was generally in control, throwing 72 pitches in 4.1 innings, giving up only one earned run.
"Our pitchers did what they have been doing all year," said Barron Collier Manager Charlie Maurer. "This is how our whole season has been. Our pitchers keep us in the games, and we have been unable to get the offense going consistently."
In the bottom of the sixth, Key West did what it has done so many times at home, used the energy in the stadium, combined with their aggressive offensive approach, to generate runs.
Black led off the inning with a walk, followed by a Caspian Packard single. With runners on first and third and nobody out, the Cougars' Sean Means struck out the next batter.
Mike Alfonso then singled in what would become the winning run.
"I was just trying to go up there and hit the ball hard," said Alfonso. "Honestly, I wasn't looking for any certain pitch, I just had the mindset that I had to get the job done for my teammates."
After Alfonso's single, Curtis Knowles dropped what would become the Conchs third bunt base hit of the game, loading the bases.
An error followed, and suddenly Key West held a 5-3 lead. The pressure the Conchs offense showed all night was something the team stresses.
"We know our game is to use our speed," said Roney. "When we execute, we are a real good team. We just have to execute more consistently. Tonight we played our game, and we got the result we were looking for."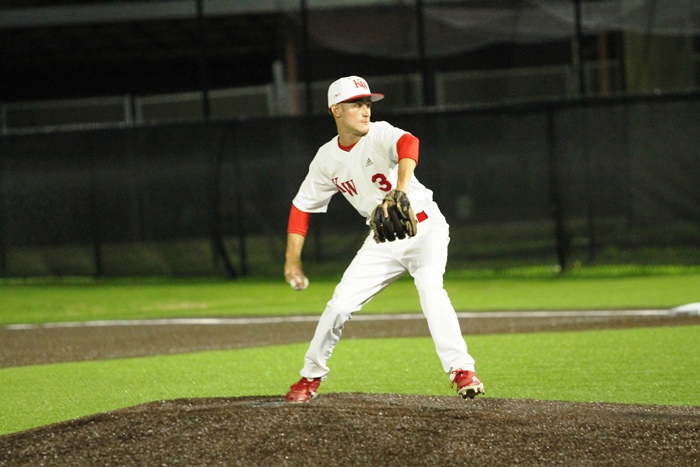 The Cougars, traveling from the West Coast of Florida for the weekend series, knew what they were up against.
"We knew that their style is to play aggressive," said Maurer. "That wasn't something that caught us off guard, but we didn't handle the situations well. We had opportunities to win tonight, but we couldn't come through with that hit that we needed. It is how our whole season has been going so far."
The good thing for Barron Collier is that they get another shot at the Conchs on Saturday night.
"Hopefully we can put this one behind us and come out tomorrow and play a better game," Maurer said. "You don't get too many chances to play a team again right after they beat you, so tomorrow will be another good test for us."
For Key West, Saturday will serve as just another in a long line of back-to-back home weekend games.
"Teams love coming down here to play in this atmosphere," said Henriquez. "Sometimes we get an opportunity like we have now to go after a sweep, and sometimes teams come down here and sweep us. That is the beauty of playing teams twice in a row, you can really strategize. It's unlike when you just see a team for one game and then don't see them again. This is a lot more like real baseball."