Mederos And Pace Walk Off Park Vista In Wild Frenzy Opener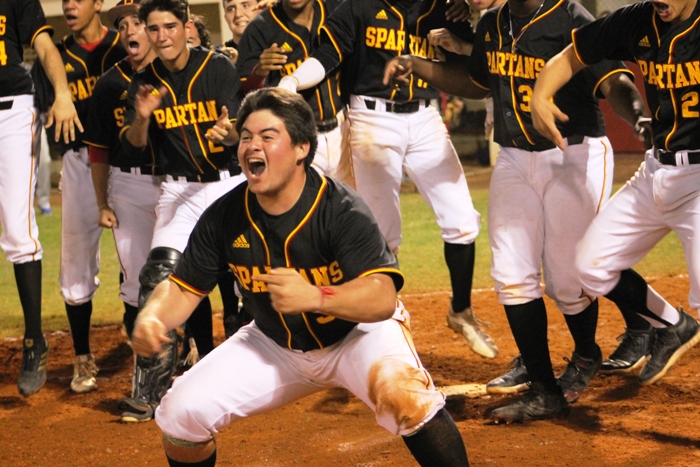 When the name of the HSBN First Pitch Frenzy came into existence, never was it imagined that the name would be so literal. In one of the more wild season openers in recent memory, defending 5A state champion Monsignor Pace rallied with five runs in the bottom of the ninth to defeat Park Vista 9-7.
The game ended after Victor Mederos, who helped the Spartans come from behind in last year's state semifinal, blasted a walk-off, three run home run to left field, sending the Spartans faithful into a frenzy.
"That was wild," said Mederos. "It doesn't matter how many runs we are down, we are never going to give up. Tonight was an example of that. To come from behind against a good team like that (Park Vista), that is a great way for us to start the season."
The defending champs appeared to be cruising early in the game, staking themselves to a 4-0 lead after four innings. After scoring two runs in the second, Sammy Infante hit a two-run home run in the fourth.
The Park Vista offense had been stagnant, unable to produce any runs off Pace starter Luis Gonzalez. The senior, who normally is a reliever, was forced into the starting role with several of the Spartans top arms nursing injuries.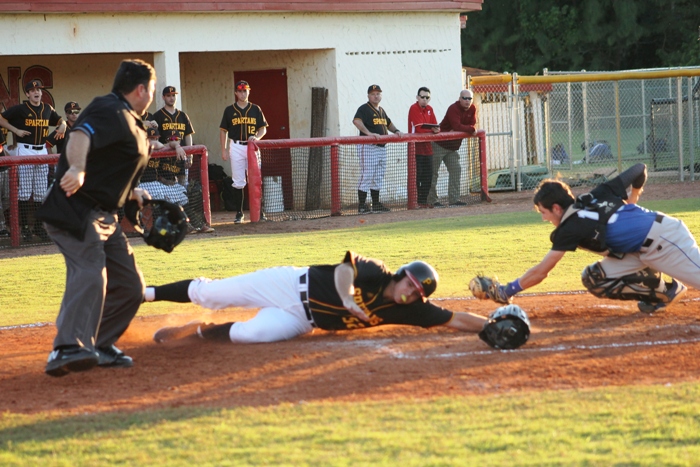 "Luis did an outstanding job today," said Pace Manager Tom Duffin. "For him to be someone who usually comes out of the bullpen and be thrown into a start, he did a great job."
In the fifth, the Cobras finally broke through offensively. Consecutive singles by Adrian Ojea, Nolan Schanuel, and Taylor Clapp cut the lead to 4-2.
The score stayed that way until the top of the seventh. Austin Fawley led off the inning with a single, followed by an Aidan Maloney walk. After an Ojea sacrifice, Schanuel launched a ball to deep right-center, which center-fielder Albert Hernandez tracked down.
An error allowed Fawley to score, and a wild pitch brought in Maloney with the tying run.
The game remained tied into the ninth inning. Park Vista used a patient approach at the plate to grind out three runs, and take what seemed at the time like an insurmountable 7-4 lead.
With both teams playing it cautious with their pitching staffs, Park Vista turned to Dylan Murray to close out the game.
Infante and Edinson Renteria walked to lead off the inning. Darian Fumero then doubled, scoring Infante. Renteria had to be pulled from the game after coming up hurt advancing to third on the double.
Robert Moya walked, and Michael Machin hit a sacrifice fly to center. With one out, Mederos stepped to the plate.
Wasting no time, Mederos launched a ball to left, and the Spartans erupted, knowing instantly that Mederos had hit the walk off.
"This team never quits," said Infante, who had two hits, two runs, two walks, and two RBIs in the game. "We have all been playing together for a long time now, and we know no matter what happens in a game, we can come back. We all contributed today. It was a good team win and a great way to start the year."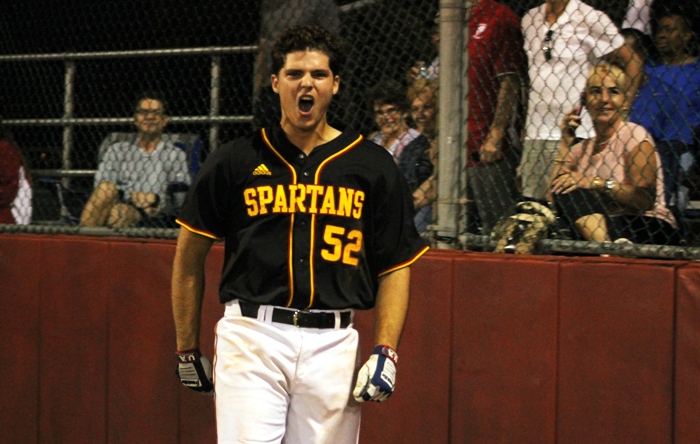 For Pace, a team that usually starts slowly the first week, the win was a sign of what the identity of the team has become.
"These guys know they can win if they play to their abilities," said Duffin. "Keeping that focus is important. Everyone forgets that while we have a lot of guys back, we also lost three of our biggest bats from last season. I am proud of the way this group battled today, especially after they got down in the ninth."
Even with the loss, Park Vista Manager Larry Greenstein was hard-pressed to find any fault in his teams performance.
"That was about as good an opening game as Im sure any of us have seen in a long time," said Greenstein. "We have a bunch of guys who were starting or playing in their first varsity game today, and I thought they did some amazing things. Things they haven't even shown us to this point. The way they battled back from four runs down against a state champion, I couldn't ask for anything more."
Greenstein continued.
"Are there things we have to clean up? Absolutely. I'm sure every team feels that way at this point in the season. But this early, the most important thing is getting good competition, and learning from each game."