Riviera Prep Defeats Doctors Charter For First Ever District Win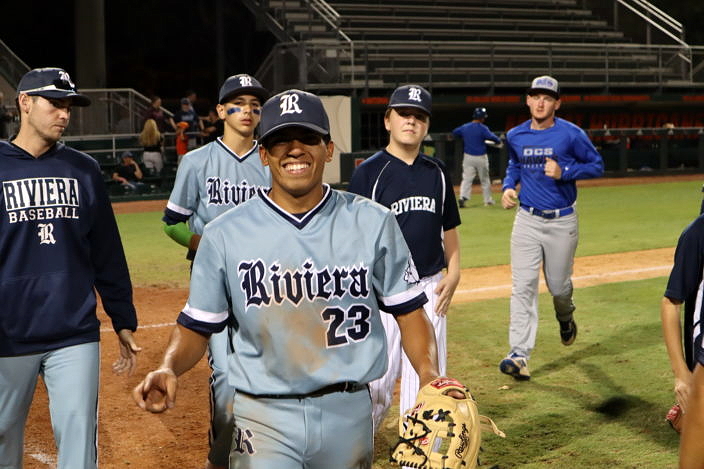 Luis Angarita took the mound Monday night and the Riviera Prep sophomore put on a dazzling performance against Doctors Charter, throwing a complete game, as the Bulldogs won their first-ever district game 2-0.
HSBN cameras were in the house at Mark Light Field at the University of Miami to broadcast the Miami Game of the Week live through it's new YouTube channel, HSBN Live! Angarita stole the show early, working out of several jams and then cruising en route to the victory.
Watch The Broadcast Replay Here on HSBN Live!
An emotional Angarita, from Venezuela, and despite being away from his parents who had to leave the country, sent a message to them and to all Venezuelans after the game.
"We are going through a really tough situation, but thanks to HSBN Live!, my family is watching me pitching tonight and I just want to tell them that I miss them and I love them with all my heart," said Angarita. "And to all the people back in my country: Venezuela los amo, vamos pa'lante."
Angarita allowed only three hits, two of them infield singles, while striking out eight with no walks.
"I felt great. I'm so passionate about this game. I just want to keep helping my team to win games, no matter if is pitching or hitting. This was my first complete game and I'm beyond happy".
Bulldogs Manager Emilio Fernandez, before the game, asked for five good innings from Angarita but the young man had other ideas after the fifth.
"Luis was amazing," said Fernandez. "He is going to be one of our leaders. If he performs like that every time he goes out there, we're going to have a chance to win always. He give us that stability and gives the other guys the chance to relax a little bit. I'm so proud of him and the team. We just started this program and we just want to continue to make improvements."
The Bulldogs scored their first run in the bottom of the second, thanks to an infield hit by Farris Abusad, a stolen base, and a hit by Ely Halton, scoring Abusad. The second run came in the fifth, with two outs thanks to a defensive error and an RBI single by third baseman Damian Flowers.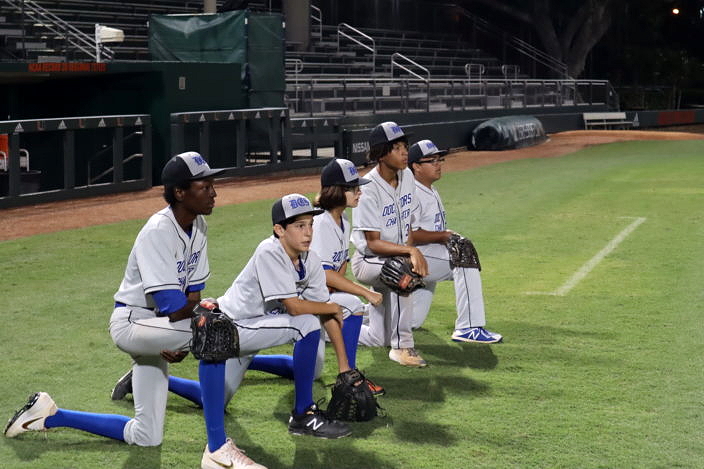 As good as Angarita was, Hawks starter Charlie Calli matched him for most of the night. Calli, who was the best hitter and pitcher for the Hawks last season, threw five innings, allowed two runs, one of them unearned, striking out eight and walking two.
"I love the way our team competed," said Calli. "Overall it was a great game. We are ready to go back to practice tomorrow. I know we'll play these guys again, so we're going to have that game marked on our calendars because we want to beat them."
The Hawks did have their chances in this one, but struggled to hit with runners in scoring position. Their biggest threat came in the fifth. They had runners on the corners with only one out, and their first baseman Nathaniel Vincent dropped a safety squeeze bunt between the mound the the first base line, but Angarita himself, threw to the plate and got Chaz Royo trying to score.
Hawks manager Pete Sass, who also has a young team, was pleased with the effort.
"We fought well," said Sass. "It was a pitching duel. I'm proud of how we played but too many base running mistakes cost us the game. We are a young group and we'll keep on learning."
These two teams will face each other again on April 4th at Pepper Park.