Hialeah Educational Drops District Game To Calvary Christian
The Calvary Christian Eagles extended their winning streak to 15, after defeating the Hialeah Educational Bulldogs 8-1 Tuesday night.
A great pitching performance by Andrew Painter, and a great offensive night by the Eagle bats carried Calvary to victory.
"I thought we came in and played well," Eagles Manager Alan Kunkel said. "I thought we had some really good at-bats. We were able to tack on some extensive leads to gives a cushion, and then our pitching staff did what they needed to do."
The game started with a bang right out of the gate, as Dante Girardi blasted a homerun over the left field fence on the first pitch of the game. The Eagles would score again in the top of the first on some creative baserunning to take an early 2-0 lead.
HEA starter Joseph Delgado kept the Eagle bats quiet in the top of the second and third innings to keep his guys in the ball game.
But in the top of the fourth inning, the Calvary offense exploded for five runs. RBI singles by Ty Hollandsworth, Ben Rozenblum, and Mykanthony Valdez helped Calvary take complete control of the game. They tallied one more on a pinch-hit homerun by Tyler Knierim in the top of the sixth inning. Rozenblum, who led the way for the Eagles offensively with three hits, was asked about his teams approach at plate.
"We've had a good game plan all year. stay in the middle of the field, and good things happen," Rozemblum said. "We've had a chance to face a lot of lefties this year, so just being familiar with the way arms run, and having a coach who throws bp from the left side, helped us get locked in."
The Bulldogs got their own rally going in the bottom half of the fifth inning, as Carlos Castillo got things started with Triple to centerfield, and later scored on an RBI single by Chris Mendez. Unfortunately for them, some basrunning mistakes bailed the Eagles out of that inning.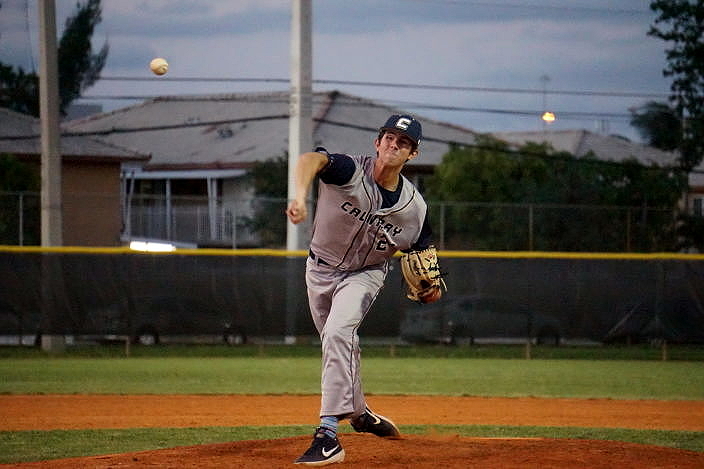 The one run was all the Eagle pitchers surrendered, as Painter threw five innings, giving up one run, on four hits, while striking out seven. Reliever Andy Arca shut the door, throwing two scoreless, and only surrendering one hit.
"We try to do the same thing every game," Painter said. "Go out there, be confident, trust your catcher, and do your thing out there."
Calvary now looks to break the tie for the one seed against Westminster Academy tomorrow afternoon.
HEA will try to bounce back against Chaminade-Madonna to stay in the mix in the district standings.
"We will probably see these guys again down the road," Bulldogs Manager Willy Baez said. "Good thing is we have another big district game tomorrow, so we have to get forget about this one, and be ready Chaminade."