Miami Springs Heading To States at 27-1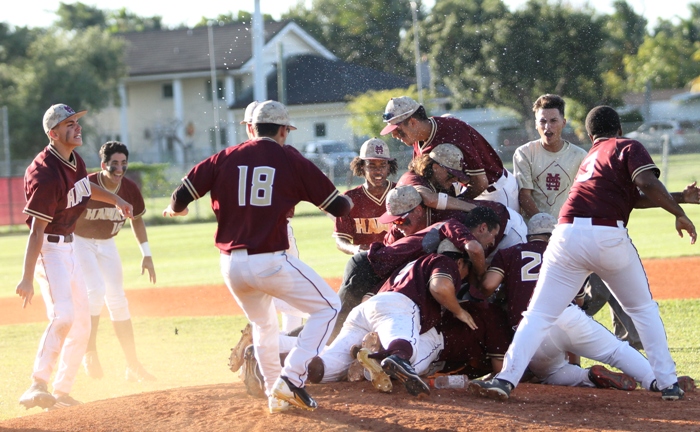 All season long Miami Springs has had to listen to people around the baseball community tell them that their record was a product of their schedule, and that their 26-1 record was a mirage. After Wednesday afternoons vintage performance in an 11-5 6A regional final win over Eu Gallie, it is the Golden Hawks who will get the last laugh as they head to the state final four in Fort Myers.
"We didn't listen much to what people said all year," said Hawks Manager David Fanshawe. "We were here every day, and we knew what kind of team we had. Today was a game we played just like all of our games this year, with big hits, strong pitching performances, and a team that plays together on every play."
Springs, playing in front of a raucous home crowd, most of which stormed the field after the game to celebrate with players, made sure that the Commodores felt out of their element from the start. The Hawks put up three runs in the first inning, keyed by a Laz Hernandez double and a three-run home run off the bat of Jose Llavore.
"I just can't explain this feeling," said Llavore. "We did what we have been doing all year, scoring runs early and then turning the game over to our pitching staff. This feels amazing, to have all our friends, family and friends out here and to be going to states."
The three runs would be more than enough for junior lefty Carlos Rey, who pitched the regional quarterfinal win over Archbishop McCarthy, and help the Commodores to (Blank runs) in this one. Rey used a mixture of fastballs and off-speed pitches, working corners the entire day.
"I know what I have to do when I get on the mound," said Rey. "Look at this place right now. This is amazing. To be part of the first team to get to states is such a great feeling. I can't even explain it."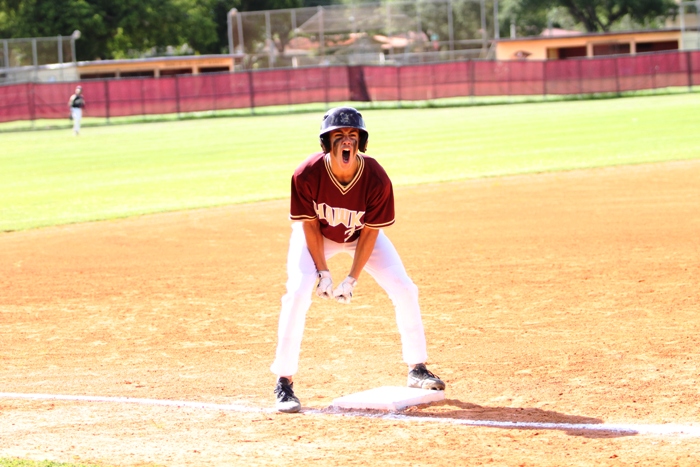 In the bottom of the third the Hawks added to their lead when Rey tripled, and Llavore drove in Rey with a fielder's choice groundout. Freshman Jason Torres followed that up with a home run blast of his own, the Hawks second of the game.
The fourth inning saw Eu Gallie score their first and only run of the game off Rey. Michael O'Keefe and Sean Williams had singles, and Colby Velazquez drove in O'Keefe with a base hit. Rey, however, was able to work out of the jam allowing only the one run.
In the sixth, Rey again got into a jam, and was pulled. Eu Gallie ended up scoring four times, and cutting the lead to 6-5.
"It was hot out there today, and I just got a bit tired there in the sixth, but luckily our offense came through again after that inning."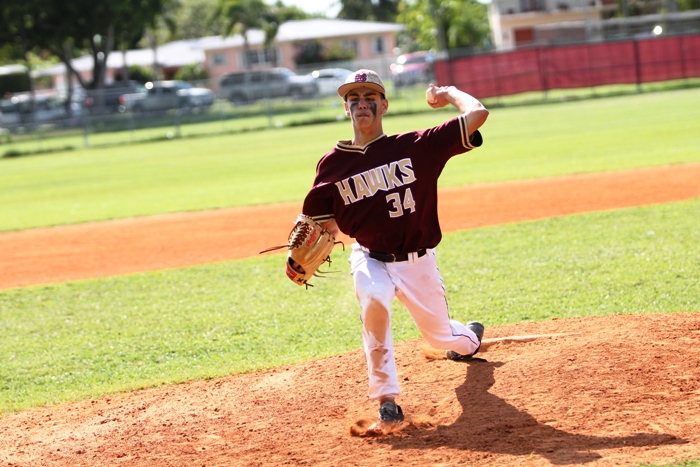 Just when the momentum was turning, the Hawks matched the Commodores four runs in the top of the inning, with four of their own. From there, it was simply a matter of getting the final three outs before the celebration began. For Fanshawe, it was not the first time he has been in this spot, winning several state titles during his time at Miami Brito.
"I told these guys all year to follow what I say, because I had been there before," said Fanshawe. "And to their credit, they listened. To be able to be the first team from Miami Springs to make it to states, and to do it with this team is real special. This is something we all will never forget."
The Hawks will now get some time to process their regional title, before getting to work preparing for their state semifinal match up with Tampa powerhouse Jesuit. Should the Hawks get past Jesuit, they could be facing another perennial power in Mosley in the final. While the road will be difficult, it is nothing Springs hasn't seen before.
"It doesn't matter who our opponents are," said Fanshawe. "These guys believe they can win, and they have backed that up all year long. We are going to take a couple days to enjoy this win, and then we will get to work preparing for states."