Miami Springs Walks Off Heritage To Reach 6A Regional Finals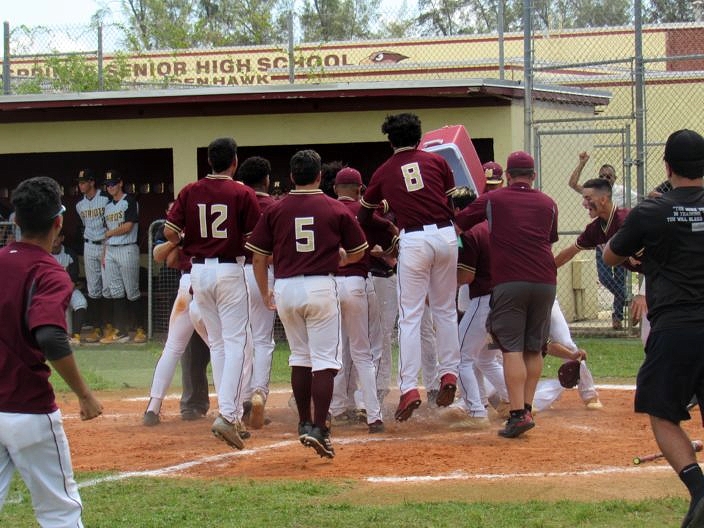 When a team comes into a regional semifinal game with a record of 24-1, and is considered a major underdog, there tends to be some major bulletin board material. Such was the case Saturday afternoon for Miami Springs.
The Golden Hawks came into their 6A regional semi against American Heritage with most believing their magical season would come to an end. As recently as two weeks ago during the HSBN South Florida Playoff Preview special, several of the panelist suggested that Springs' record was a product of a weak schedule.
On Saturday, those panelists, along with dozens of other fans all got to eat their crow at the same time as the Golden Hawks defeated perennial 6A powerhouse American Heritage 4-3 on a walk-off solo home run from Jason Torres.
"My guys didn't back down today and we battled today like we have all year. In the seventh I knew our boys would come through Jason has come through all year for us, this is a great moment for this program." Miami Springs Manager David Fanshawe said.
Miami Springs had to host their regional semifinal at 9AM due to Heritage's graduation later in the afternoon. Complicating matters for the Hawks was the fact that the seniors had prom on Friday night.
On the mound for the Golden Hawks was one of those seniors, Erick Argote. The lefty went five innings, allowing three earned runs.
"Today wasn't a normal day for me. I'm sick and have been going to the bathroom in between innings, and last night was our prom. So we all came out here on short rest against a team that is supposed to be better than us and we did the right things to get the job done today." said Argote'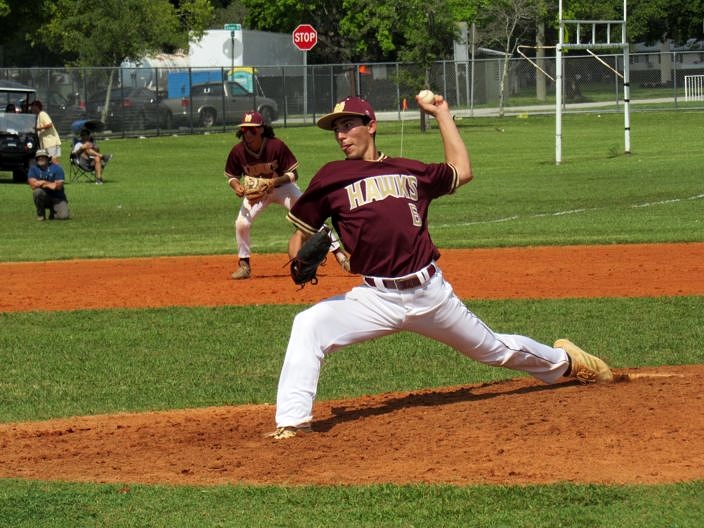 As for Torres, he had three of the Hawks six hits, one of which being the game-winning home run.
"I've been dreaming of this moment since we beat McCarthy, and to get it done the way we did today is amazing. We are all pumped," said Torres.
American Heritage actually grabbed the lead early on with a run in the top of the first inning, as Matt Ruiz connected for the first of his two home runs on the day. Ruiz lined a 2-1 pitch over the left field fence for the 1-0 lead, and he added his second solo shot to tie things back up at 2-2 in the top of the fifth. Still, the one man Heritage offense was not enough in the end.
"It's frustrating today; this happens to everybody but about seven or eight teams, and we tip our caps to those guys," American Heritage Manager Bruce Aven said. "At the end of the day we weren't as good as them on the mound, hitting or base-running. We all put a lot of work in this year; it was state championship or bust for us. For us not to perform when it's time to perform stings, and we'll see how our guys build from this."
Miami Springs took its first lead with two runs in the fourth. Jose Llavore walked and Torres followed with a single to left. Llavore was erased at third off a sacrifice bunt from Bruce Yanez, and Nicholas Fuentes then walked to load up the bases. Anthony Godinez worked the count to earn an RBI walk that evened the score, and a sac-fly RBI off the bat of Justin Steffen then pushed the Hawks ahead.
It was Torres who delivered in the bottom of the fifth to again tilt the seesaw in favor of Miami Springs. Carlos Rey led off with a walk and advanced off a wild pitch, and Torres clubbed a base hit to left to send Rey around third and across the plate for the 3-2 advantage.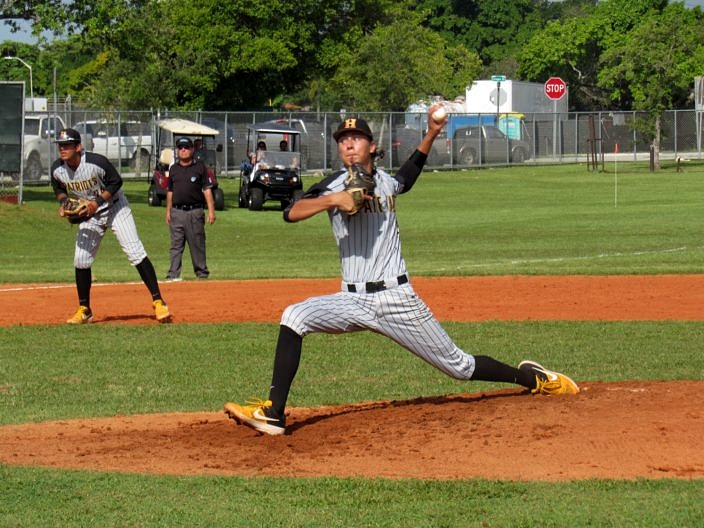 The Patriots responded again in the sixth to make it a tie ball game once again. Giuseppe Ferraro walked and was replaced on the bases by Justin Quintana, who came home thanks to an RBI single from Jordan Carrion.
But in the seventh, Torres sent the home team fans into a frenzy with his solo blast.
"A lot of people doubted that we could win this game," said Fanshawe. "But we have been playing really solid baseball all year and we knew we had a chance. I am happy to see the guys rewarded for all the things they have done right this year, and it feels great to have a chance to go to states with a regional final game at home here on Wednesday."
The Hawks will face Eu Gallie, who upset Rockledge on Saturday night. The winner will represent the region in the 6A final four next week in Fort Myers.