Miami-Dade Sweeps All Star Games At Marlins Park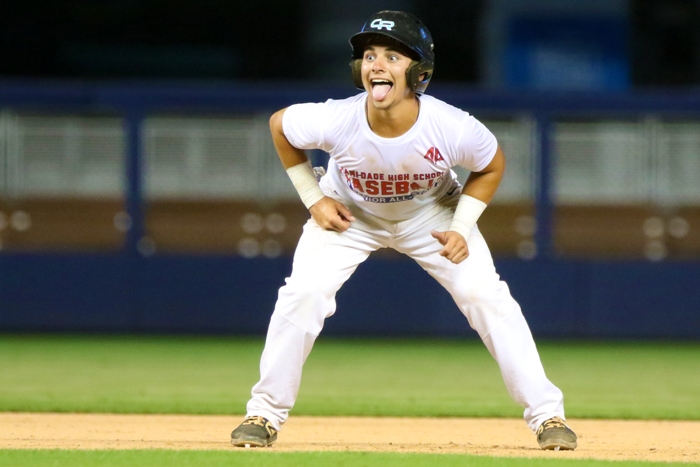 Public Game Live Broadcast
Private Game Live Broadcast
HSBN Broward & Miami All-American Photo Gallery
HSBN All-Stars Photo Gallery
All-Star Game Action Photo Gallery
Zach Neto put the finishing touches on an unforgettable day on Tuesday, as the Coral Park shortstop hit a walk-off double that lifted the Miami-Dade Public Team to a 5-4 win over the Broward Public Team, in the HSBN Senior All Star Games & Awards Event held for the first time ever at Miami Marlins Park. Every season Miami and Broward seniors look forward to the annual event hosted by HSBN, but none were more excited than this year's group in being the first HSBN all stars to close their high school careers playing together on a Major League field.
With the game tied in the bottom of the tenth inning of the Public Game, Neto came to bat with two outs and two runners on base. Nick Garcia reached with an error and Charles Kavilir was hit by a pitch to set Neto in position to be the walk-off hero. Had the future Campbell University shortstop gotten out, the game would have ended in a tie, having reached the final inning regardless of the score. Instead Neto jumped on the first pitch that he saw and drilled it deep to center field, plating Garcia and bringing all of his all star teammates rushing onto the field to celebrate the dramatic victory.
"It feels good. I was ready for that first-pitch fastball and I got it and I tore it," Neto said. "It's a blessing that in my last high school game I got to play with a bunch of my friends down here in Miami, and now it is off to better things at Campbell and I'm going to miss these guys. Thanks to HSBN, this is a blessing to be at Marlins Park. I didn't know most of the guys but I got to know them and they are my close friends now, just from talking in the dugout and when I hit the double and they expressed all those feelings for me."
Feelings of excitement were expressed on every face at the ball park, after a tremendous event that provided a fitting conclusion to the carers of such talented ball players. The win completed a sweep on the day for Miami-Dade, after the Private Team stormed to a 15-3 win in the afternoon action. Both games were also broadcast on HSBN Live and can be watched again for the rest of time.
The day also included award presentations on the field between most innings, as Miami's All American award winners were honored and recognized. Monsignor Pace's Albert Hernandez won the Hitter of the Year award, Belen Jesuit's Alejandro Torres won the Pitcher of the Year award, Westminster Christian's Kevin Martin won the Player of the Year award and Miami Springs manager Dave Fanshawe won the Coach of the Year award.
"This is a good atmosphere, and I enjoy seeing the kids in the dugout in awe of this place. I've been around the game a long time and I'm in awe of it myself," said Sagemont manager Armando Sierra, who was one of the coaches for the Broward Private Team. "The kids are all smiling and enjoying it and I love the conversations I am hearing in the dugout. This year my team made it to states and got to play there at Hammond Stadium, but that is still a Spring Training field. This is an MLB field and this is where the pros play."
Many of the HSBN all stars played like pros themselves. The Public Game was umpired by Lucious Moore, Noah Jones and Manny Salazar, and it was a tight battle all the way leading up to its dramatic finish to provide tons of thrills to the throngs of fans that filled the seats at Marlins Park in support of their favorite players.
Public Game Box Score
The Miami Public Team opened the scoring and held control for much of the early action. In the bottom of the second Yassel Pino smoked a shot into the left-center field gap, and he then showcased excellent and aggressive base running with no hesitation rounding second and sliding into third with a lead-off triple. Idair Garcia then did his job by mashing a shot deep to center for a sac-fly RBI.
Broward Public evened things back up in the fourth. Tyrone Bell was hit by a pitch and then gave way to courtesy runner Ray Rivera, who stole second and then scored when Jordan Shulman reached on an error.
Miami answered right back in the bottom of the fourth. Raymond Gonzalez singled to center and advanced into scoring position on a pitch in the dirt. Giovanni Rojas singled to left to drive Gonzalez in and retake the lead, and Anthony Nunez later supplied a sac-fly RBI that plated Rojas for a 3-1 lead.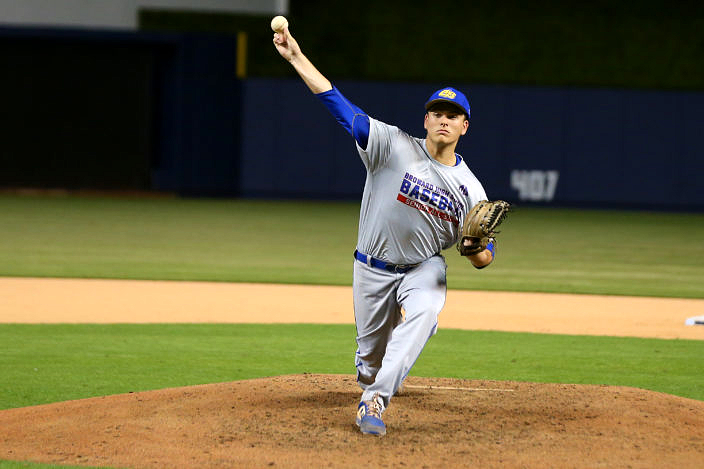 Broward answered back to eventually grab the lead. In the sixth, Makai Simons hustled up the line and beat out a slow roller for a base hit that later rewarded his club with a run thanks to a fielder's choice RBI from Ray Rivera. A contingent of former Nova Titans then struck in the eighth to put Broward ahead for the first time. Jared Campbell crushed a double into the left field corner and then scored on a passed ball to tie it up. Twin brother Jordan Campbell followed with the farthest hit of the day when he destroyed a pitch deep to left field and raced around the bases for a triple. Jaden James followed with a liner to shallow right that gave Broward a 4-3 lead.
Miami evened things back up in the bottom of the ninth. Raymond Gonzalez manufactured the run by himself, as he walked, advanced on a passed ball and then scored on a wild pitch to tie the game and set the stage for the exciting ending.
Each game featured a large batting order and a large pitching rotation. Fans waited for their moments with their players, some having traveled quite far to enjoy the game. Perhaps no fans journeyed quite as far as those in support of Key West's Callan Carn, the Miami Public pitcher who faced two batters in the seventh.
"It's a great experience and it's an honor to come up and represent Key West," Carn said. "We are a small town and we love baseball and we play hard and compete. We have a good team down there and we had a good year this year. It's been a fun experience at Marlins Park. It feels good to see the support we have down there. Even in an All Star game that I only threw two-thirds of an inning they still came out in support. It means a lot."
Carn left with a unique moment that could only have happened at Marlins Park, even though it almost never happens anywhere. After retiring the first batter on a 6-3 ground out, Carn got the next batter out when he hit a ball straight up so high in the air that it actually hit off the retractable roof and came down to be caught by a fielder. Though seldom seen, such an instance is a ball in play.
"I threw him a two-seamer and he got up under it and hit it a mile high," Carn said.
Private Game Box Score
Although the final outcome was not nearly as close, the Private Game provided just as many thrills and excitement. After Jaden Cameron announced to the fans that it was time to "Play Ball" to kick off the game, umpires Manny Gonzalez, Pablo Cabrera and Alec Sotolongo signaled the start of play of the inaugural HSBN All Star Game at Marlins Park.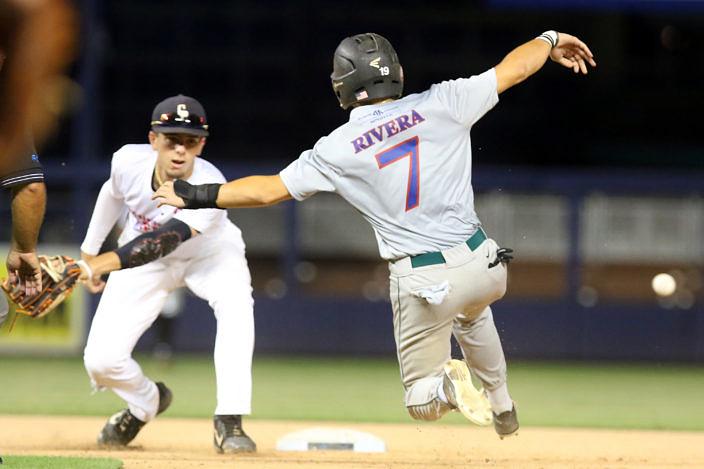 It did not take long for the high-scoring show to begin, as the Broward Private Team struck for all of its runs to take a 3-0 lead in the top of the second. Kevin Hirsch singled past third and was then in motion on a hit-and-run that helped him go from first to third on a single to right by Nick Vera. A passed ball scored Hirsch and Kyle Kuramoto bounced an RBI single past second. Kuramoto swiped second and Diego Mendoza was hit by a pitch to then initiate a double steal that resulted in a throwing error and Kuramoto coming home uncontested.
The Miami-Dade Private Team answered back in the third to grab the lead and never let it go. Myles Berlowitz walked and Anthony Arancibia reached on a fielder's choice, and Adrian Figueroa drove in both runs with an excellent piece of hitting. Figueroa held back and sliced the ball just fair over first base and deep into the right field corner, and he raced all the way around to slide into third base with a two-RBI triple.
"I was just trying to be aggressive," Figueroa said. "I knew the first pitch I saw might be the best pitch, and he threw me a fastball down the middle. There can't be any better pitch than that, so I waited back on it. Middle-oppo is my game and it felt amazing, just the best feeling in the world. Once opportunity came I lived up to it. I have family here watching and they saw that one at bat that changed the game."
Miami then struck for the lead. Addiel Quintana sent an RBI single to left, Steven Diaz drilled a base hit that struck the pitcher and left the defense with no play and Adrian Rodriguez stayed back on a hanging curveball and drove it to right field for an RBI double that scored Quintana. Diaz also managed to cross the plate after the defense bobbled the ball.
The Miami boys kept plugging away to add to the lead. Noah Frye laced an RBI single past the shortstop to score Anthony Reyes in the fourth, Nick Calero supplied a similar RBI single before Albert Espinosa then plated a pair with an RBI single that capped a five-run fifth and Frye came up big again by driving in two more runs with a single to left in the seventh. Luis Ruiz doubled deep to left on one of the farthest hits of the day in the eighth, before then scoring on an RBI single from Robert Sotolongo, and Robert Curbelo closed out the scoring with an RBI double deep to center that drove in Calero in the bottom of the ninth.