Coral Gables 5-Run 4th Inning Powers Win Over Keys Gate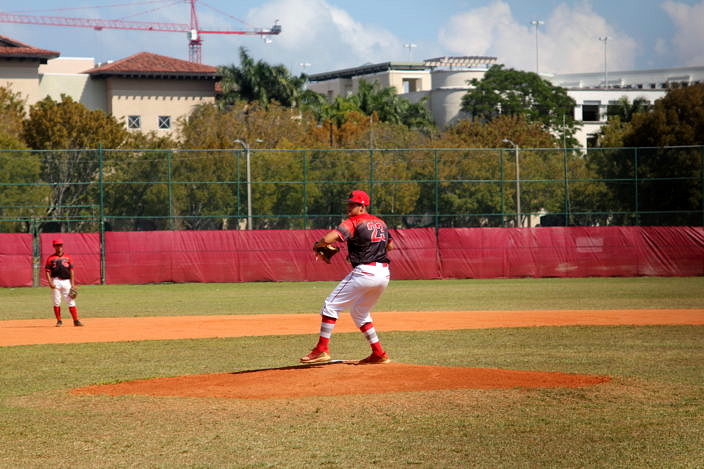 Keys Gate Charter came out firing from the 1st inning and led early, until a five-run 4th for Coral Gables put the Cavaliers in control, leading to a 6-3.
Gables starting pitcher Johnny Quintana pitched solidly and kept the Cavaliers in the game. He went four innings, allowing two earned runs, one walk, and four strikeouts. For the Knights, left-handed starting pitcher Horacio Cruz pitched well, but a costly 4th inning came back to bite him. Cruz pitched four innings, allowing five earned runs on six strikeouts.
"We didn't do a good job at locating our pitches today and Gables took advantage," said Knights Manager Rich Benavides. "Our pitchers couldn't get the breaking pitches over and we put them in good spots to hit on 2-0 pitches and 2-1 pitches. They're high school hitters. They're gonna hit the fastball."
The Knights got off to hot start in the game. The first batter of the game, Alejandro Calalpa doubled to right, who then followed that by stealing third. Hector Hernandez then grounded out to first scoring Calalpa from third for the first run of the game.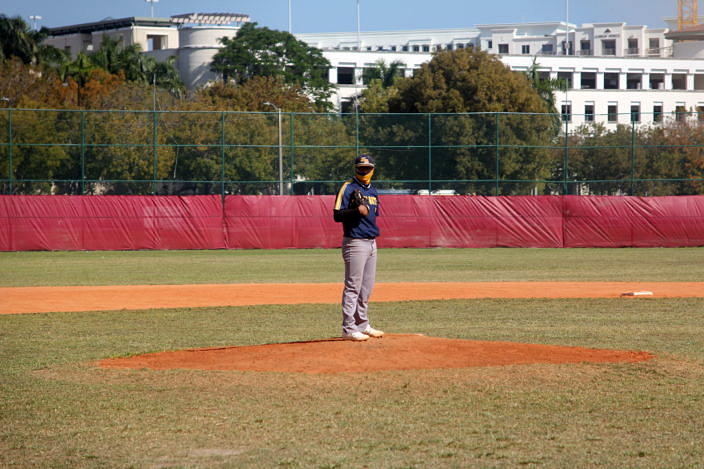 Then, in the top of the 2nd, after back-to-back hit by pitches Emilio Rivera scored on a passed ball. Calalpa came to hit once again and drove a single to right scoring courtesy runner Brasen Corum. Score was suddenly 3-0.
Things would remain that way until a 4th inning rally was started by the Cavaliers. Leadoff hitter Jose Modrano singled, then advanced to third on back-to-back passed balls. Senior catcher Andres Arzola followed by ripping a line drive single, scoring Modrano, and cutting the lead to 3-1.
Following a walk and a single, the bases were loaded and another walk made it a 3-2 game. Right after that was a hit-by-pitch to Jose Ruiz scoring Roman Reyes tying the game at 3-3.
The biggest hit on the afternoon was by Morina who knocked in a two-run single to give the Cavaliers their first lead of the afternoon 5-3.
"A game like this, how it started off, was meant for us to lose. But our team is mentally tough and we wanted to come out and play with a chip on our shoulder," said Arzola. "Everybody got a little frustrated in the first few innings but we found some motivation and just ran with it. We all played hard and look how it turned out for us."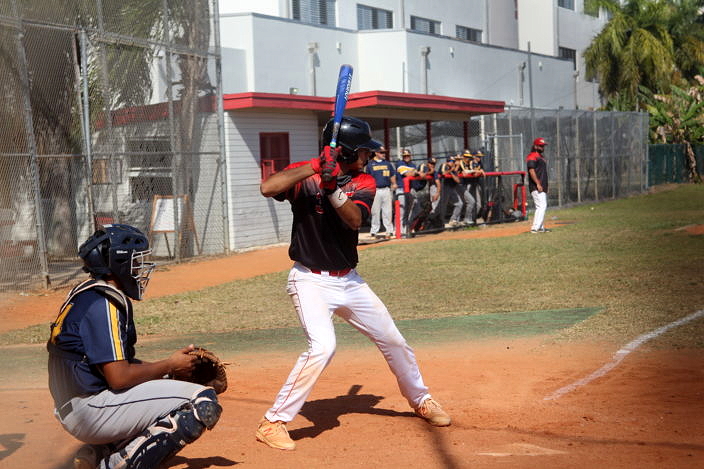 The Cavaliers would add on another run in the bottom of the 5th following a Ruiz RBI single scoring Arzola amking it 6-3 and that's how the game would end.
"For a team that's as banged up as we are, we showed a lot of mental toughness today," said Cavaliers Manager Ernie Padron. "Our starter (Quintana), took the ball today despite having a nagging oblique injury and that says a lot about a guy like him. Our guys put together some quality at-bats late and resulted in a win for us."
The Cavaliers (5-6) will get right back on the field Thursday afternoon at 3:30 pm, as they play the Ferguson Falcons (4-7) at home.
The Knights (3-6-1) will have a long break before returning to action as they will take on Hialeah Educational Academy (2-10-1) April 6 at 6:00 pm.