Country Day's Murphy Flirts With No-Hitter; Beats Miami Beach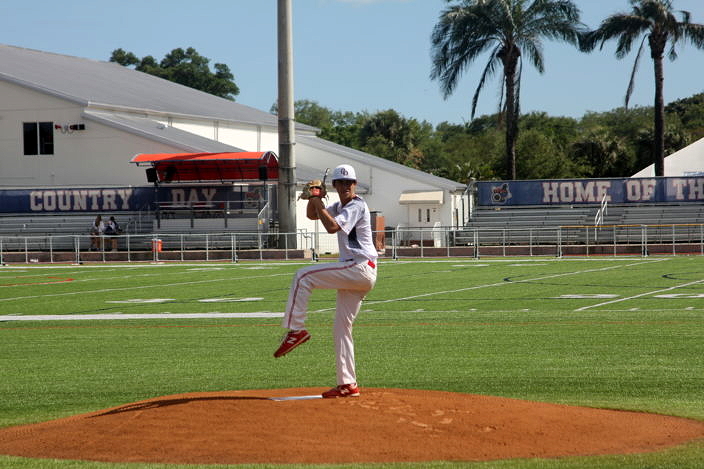 Monday afternoon Miami Beach and Miami Country Day treated fans to a classic pitcher's duel as starting pitchers Dhillon Murphy and Alexander Allocco went toe-to-toe combining to allow just three hits total.
Murphy went 5 2/3 innings of not allowing a hit before Andres Romero doubled to left breaking up the no-hitter, the Hi-Tides only hit on the afternoon. He also only allowed three walks on eleven strikeouts, as the Spartans escaped with a 1-0 win.
"I felt pretty good about my performance today, my team helped me a lot to get me where I needed to be," said Murphy. "I just wanted to attack the zone and pound my pitches. My brother was on the other side so I had to show him what I was made of."
Ironically, that brother was Hi-Tides lead-off man was Avi Murphy, who was hit by a pitch on the second pitch of the game. After that minor hick-up, Dhillon settled on the mound retiring the side on two strikeouts and as the game progressed, his presence on the mound was felt.
"He was a bit shaky in the first two innings of the ballgame allowing base runners on walks, but he's a senior pitcher and he's done really well for us all year," said Spartans Manager Chuck Sennett. "There was a little bit of a sibling rivalry going on today, but Dhillon was able to settle down and lead us to victory."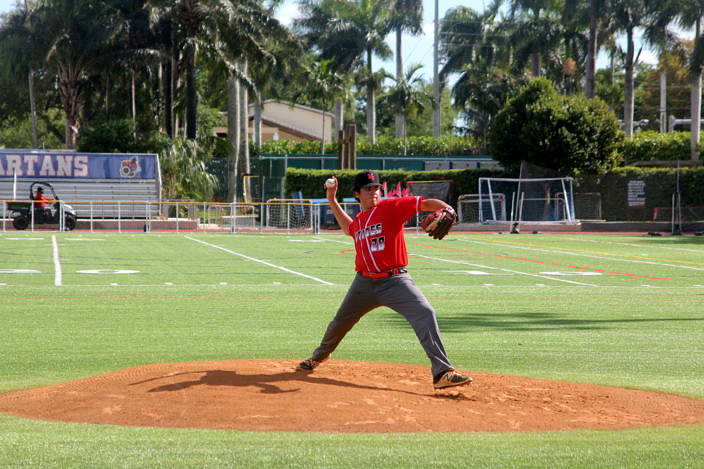 For the Hi-Tides, Allocco was just as dominant on the mound going six innings, allowing two hits on one run and five strikeouts.
The game remained scoreless until the bottom of the 2nd when Lukas Peterson hit a one out single to center. Then, proceeded to steal 2nd and 3rd. Freshman third baseman Tanner Sennett then grounded out, allowing Peterson to score from third with the games lone run.
"It's a shame that our offense just could not get it going for us today. (Allocco) threw a complete game on 66 pitches," said Hi-Tides Manager Charlie Garcia. "We're young, we have to try and mature a bit, we had a few runners on throughout the game and we couldn't do what we needed to at the plate."
Allocco, a sophomore, raised some eyebrows both on the Spartans side and his own team.
"Alex is a young kid with a lot of top-end stuff. He works very hard, good student, and is extremely coachable. He's got really good potential." said Garcia.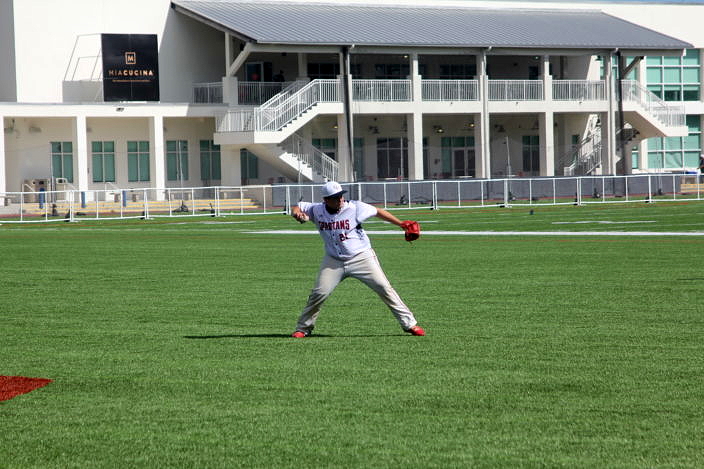 In the top of the 7th, senior closer Zac Wyka shut the door in order as the Spartans improved to 7-4 on the season.
The Spartans have a little break before look to stay hot as they take on Ransom Everglades(7-2) on April 7th, at 6:00 pm on the road.
For the Hi-Tides (2-6) they'll look to shake this loss of by taking on their district rival South Miami(4-8) Wednesday at 6:30 pm in their home park.