Pace Drops A Pitchers Duel 2-1 To Heritage Delray
Two of South Florida's top high school programs met Monday Night in a cross county contest at American Heritage in Delray Beach. The Monsignor Pace Spartans (9-6) made the trip north from Miami to take on the American Heritage Stallions (10-7) and showcase some of the region's most talented ballplayers.
Tremendous pitching from both sides kept the score low, but in the end American Heritage squeezed a 2-1 victory out of just two hits by making big plays when they mattered most.
Spartans starting pitcher John Cabarello set down the Stallions in order for the first three innings. The right hander kept the ball low in the zone and alternated speeds effectively to record five strikeouts in five innings, holding Stallions to merely two hits all night.
American Heritage countered with ace pitching of their own, starting senior left hander, Carsten Finnvald to keep the Monsignor Pace offense quiet. Finnvald deployed a strong, heavy fastball and an acute off speed arsenal to frustrate Spartan hitters, striking out seven en route to the win.
"My approach was to get ahead early and then try to change speeds. I got good movement and located some big pitches in some big spots." said Finnvald who locked in whenever the Spartans threatened. "With no one on, I like to be aggressive with the fastball. I try to keep the ball low and use my off speed stuff with runners on base."
The Spartans manufactured their only run in the third inning to take the lead 1-0. Speedy freshman Jeter Polledo reached base on an infield single with two outs. A hit and run situation would advance Polledo to third on an Adrian Dominguez single to right field putting Spartan runners on first and third base.
The Spartans then pulled off a perfectly timed trick play double steal to score that involved Dominguez tripping halfway to second base to draw the throw from the pitcher and allow Polledo to take off for home.
American Heritage did not reach base until the fourth inning when senior Nick Romano stroked a double into the right field corner with two outs. Romano would score on an error to tie the game at 1-1.
Next inning, Marco Lopez-Esser sent a flare into right field for a single. Freshman Zavier Hatfied was inserted to run for Lopez-Esser and immediately made an impact by dashing into scoring position on a ball thrown in the dirt to the catcher.
Hatfield scored the go ahead run on another Spartans error on a ball that was tailor made for an inning ending double play. The mistake put the Stallions ahead for good.
American Heritage relief pitcher Jason L'Etoile closed the game out to earn the save. E'Toile benefitted a spectacular defensive play by left fielder, Tommy Digiorgio, who made a game saving throw to snipe a runner at third base in the top of the seventh inning to stop the comeback.
"This is how you have to win some games. It's a win to be proud of. We have good defense and good pitching but we got out hit eight to two so to scratch out a win against a very good team like that is great. The difference was that we made plays when we had to. " said American Heritage Manager Carm Mazza, who credited Monsignor Pace as one of the toughest opponents the Stallions faced all season.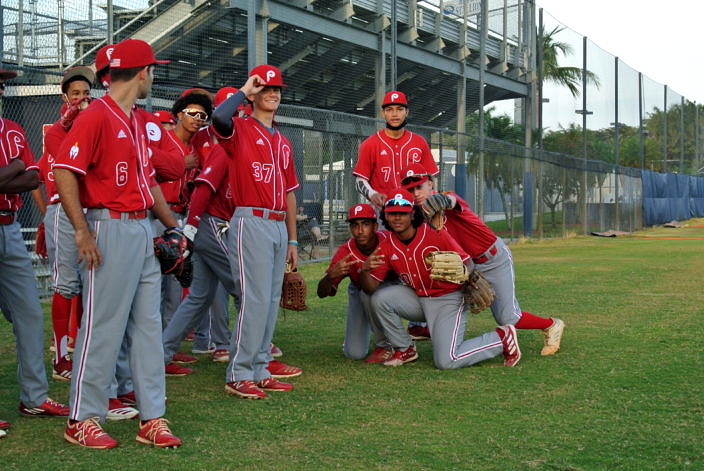 Monsignor Pace Interim Manager Chuck Lyman was disappointed with the loss but was encouraged by the team's progress on offense.
"That's a tough loss. I thought our pitcher was lights out. He only allowed two hits to a loaded lineup. It makes for a tough hour bus ride back to lose a game like that but We will use this as a building block game. Our team has been averaging about four hits per game lately so to get eight hits off quality arms like American Heritage has is a step in the right direction. We pack our schedule with difficult teams like this, but it makes us better."
Monsignor Pace gets a chance to improve on Wednesday when they face Somerset Academy (9-8) at home 7PM. American Heritage will endeavor to win their third straight on Wednesday 6:30PM when they visit the Jupiter Warriors (2-7).