A Heart Poured On To The Field: DJ Breighner 4/26/1969 – 4/22/21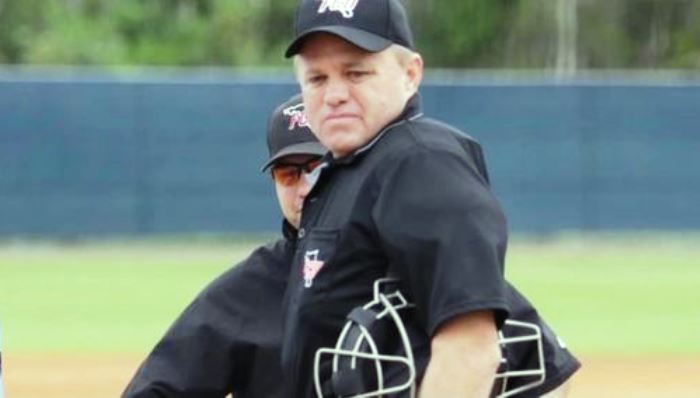 Written by HSBN Special Contributor Jason Abreu:
With two runners on and two outs in the bottom of the ninth in a scoreless contest, the winning run came in from second, and in pre-celebratory fashion, missed home plate with the game winning run.
The subsequent runner was called out, fury ensued from the coaches, and all eyes were on the official – who made the correct call. Who was the plate umpire who called him out? D.J. Breighner, Jr.
Of all officials, DJ looked forward to closely contested competitions, game oddities, and situations that would allow for extended reviews, conversations, and elaborate discussions of the game which he treasured.
On April 22nd, just four days shy of his birthday, the baseball community heard of the untimely passing of beloved baseball commissioner, umpiring legend, and high regarded official D.J. Breighner, Jr.
The news sent shockwaves to all in the baseball community well beyond South Florida. This news was much like an unexpected curveball, after seeing a consistent flow of fastballs. DJ's impact to the baseball community transcends understanding. His love for officiating, training, and ensuring high quality officiating is what sets him apart from anyone else. No one, absolutely no one, would love being out there on the field more than DJ.
Every game represented the opportunity to see new opportunities, to become a better official, and to make relationships that would last a lifetime. From the scissor stance he used for years, to avoiding light blue shirts at all costs, DJ knew where he belonged – on the field.
From the moment he stepped on the field, the smiles were contagious, and everyone knew a good time was to be had.
"DJ was always about the game and making sure the kids always got his best. He always would get to the game early and get the games balls ready. DJ was a true professional on the field and a great friend off the field," said Coral Gables Manager Ernie Padron. "He will be missed. We lost a true servant of our game."
Padron was among the tousands mourning the sudden loss of their friend.
"DJ – our association is indebted to you for your countless hours of dedication, commitment and perseverance to make our group better, stronger and positive. Our work is a testament to what you poured your heart onto and for that, we are deeply appreciative. Thank you for being transparent, thank you for giving us the opportunity, and thank you for being you. Forever with us," wrote the Greater Miami Athletic Association Baseball Officials Association in a statement.
Since an early age, DJ had an affinity for baseball. A game watched by many, but understood my few, DJ sought every opportunity to be challenged by the game, improve on his skill, and analyze each pitch, play and situation in attempt to prepare for the next one.
Due to DJ's humbleness, it is difficult to provide a perspective on his career, yet one word comes to mind – impressive. DJ officiated for over 30 years, beginning in youth baseball, extending into high school and college associations. He served as local association president and assignor, and league organizer for countless summer and fall ball tournaments throughout the state.
His ability earned him a multitude of playoff games including the high school state finals, the Junior College World Series and most recently, the Division II World Series. DJ's work was recognizable because he poured his heart out to the game he loved so much.
Off the field, DJ was a kind, quirky, fun-spirited individual, but most importantly, a friend. A friend and mentor to other officials who often counted on his support and feedback to master the trade they too loved. DJ was known to bring multiple gears for his partners as he always wanted "to look the part" – which was half the battle.
DJ's spirit is what truly is missed the most. His candor, authenticity, and transparent on-the-wind remarks is what set him apart from anyone else – never offending, always building, making us stronger and wearing his officiating heart on his sleeve.
The life and legacy of DJ is like a baseball game. DJ was in the pinnacle of his career, celebrating many accomplishments, treasuring the moments with colleagues, and developing the next generation of officials.
Jaja Q says it best, "Life is like a baseball game. When you think a fastball is coming, you gotta be ready to hit the curve."
DJ is survived by his mother, sister, niece, and nephews, as well as hundreds of members of the baseball community and thousands of memories. As the 2021 baseball season enters the final stretch, we remember DJ's words, "Have fun out there and play ball."
DJ – thank you for all you did.