Lofgren Throws Gem; Gulliver Shuts Out Southwest 6-0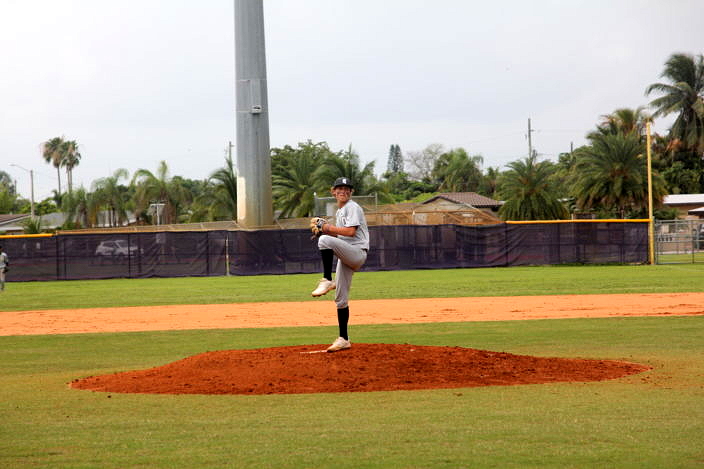 Things have not gone the way things usually go for the Gulliver Prep Raiders in past years in 2021. But, on Wednesday the Raiders shut out the Eagles 6-0 and manager Manny Crespo was pleased with the way his club played.
"We've played an up and down season thus far, due to the fact that we have a very young team on the field. Although that's not an excuse," said Crespo. "To see them come together and play the way they're supposed to be playing come playoff time, is special to see. I'm excited."
The Raiders were led to victory off an almost complete game (pitched 6 2/3 innings, with nine strikeouts) by Brixton Lofgren. Crespo described Lofgren as someone they can rely on come playoff time.
"He's our guy, our ace," continued Crespo. "It's been like that pretty much the whole season. This performance by him was not surprising to us at all. We expect him to go out and compete the way he did every single time he takes the mound."
For Lofgren, the approach for the day was easy.
"I wanted to come in to the game and be efficient, keep it simple," said Lofgren. "Having an elite defense behind me helps a lot, knowing that every single ground ball or fly ball that's hit will be caught makes it easier on me."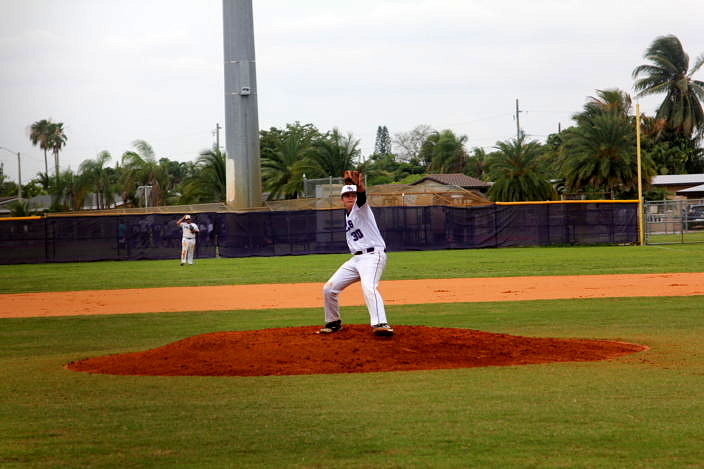 The Eagles starter Isaiah Espinoza was hitting his spots and kept his walks to a minimum, but the Raiders just barreled up his pitches and were able to cash-in when they needed it. Espinoza went five innings allowing five earned runs and five strikeouts.
Sophomore George Lombard got things going for the Raiders in the top of the 2nd inning by sending a 1-2 pitch over the right field wall for a solo home run. Later in the inning, after a single by Luca Tosca, Javier Barrenechea joined the home run party by hitting a two-run home run to the opposite field giving the Raiders a 3-0 lead.
After a middle-infield error to start the top of the 3rd, Luis Aparicio hit an RBI double over the centerfielder's head extending the Raiders lead to 4-0.
In the top of the 4th after a one-out double by Barrenechea, Milo Suarez laced an RBI double to left field. Later in the inning Suarez was able to score via a wild pitch to make it 6-0 Raiders.
Lofgren started the bottom of the 7th for the Raiders was able to get himself two outs before he was pulled after throwing 95 pitches. William Bettridge then came in to get the final out and was able to do so after Matthew Fernandez lined out to Lombard to end the ballgame. Giving the Raiders a 6-0 victory.
Lombard, who went 1-3 with a home run, spoke about how much Lofgren means to them: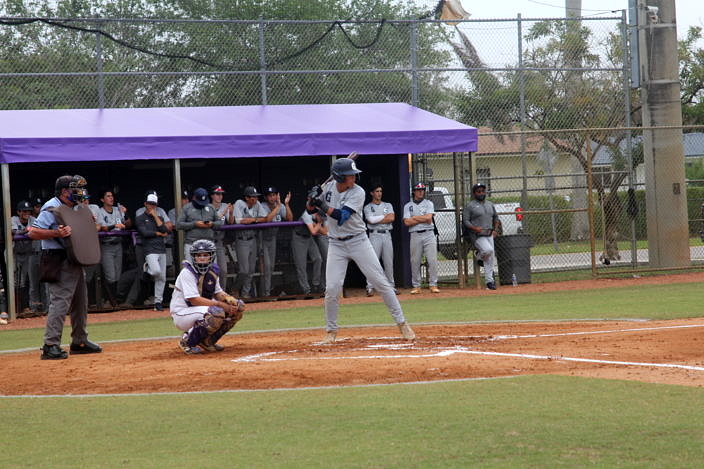 "He's our leader and he's been dominant all season long," said Lombard. "He knows what he has to do when gets out there and never fails us."
Although the Eagles were shutout, manager Mandy Peleaz kept a positive attitude with his club about moving forward.
"Espinoza did a great job on the mound getting ahead and hitting his spots, unfortunately Gulliver is an extremely well coached team and they didn't let up," said Peleaz. "We hit the ball well today, but we just couldn't get that big hit to put us in the game."
The Eagles (11-9) will be closing their season out at home Thursday night at 7 pm against the Reagan Bison (12-12).
The Raiders (11-9) will end their season on the road versus the Coral Shores Hurricanes (6-11) Friday night at 7 pm.