Columbus Holds Off Coral Reef, Advances To Regional Semis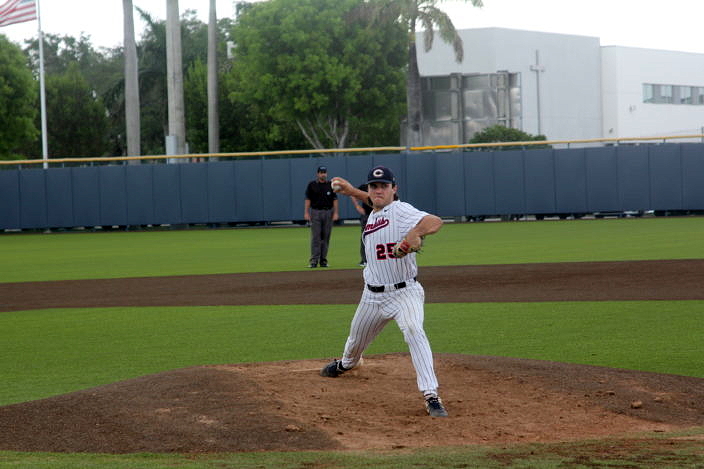 The Explorers and Barracudas have had terrific seasons going into Friday afternoon. For the Explorers, they sat at 24-4 and the Barracudas with a record of 19-7. Both teams went out and threw their aces on the mound, being Kainen Jorge for Columbus and Gilberto Torres-Reyes for Coral Reef.
The Explorers got excellent pitching with Jorge starting the game going four and a third, allowing three hits, one earned run, five walks, and nine strikeouts. After Jorge exited the ballgame, they turned to Eddie Leon to shut the door who went two and two thirds innings, allowing one hit and four strikeouts. Defeating the Barracudas 3-1.
Coral Reef also got good performances on the pitching staff. Although Torres-Reyes went two and thirds innings, he only allowed four hits on two earned runs and five strikeouts. When he was pulled, Johnny Kent entered and was lights out. Going four innings, allowing only one hit, one walk and six strikeouts. Unfortunately, the Barracuda offense just couldn't cash in with runners in scoring position.
"You know, they just played better baseball than us today. We had a lot of missed opportunities," said Barracuda manager Chris Leon. "We battled it out with these guys and we've had a great season thus far, unfortunately things just didn't go our way."
Explorers center fielder Rafael Flores had himself an eventful first inning, making a great play in center and then turning around in the bottom half of the inning and hitting a first pitch fastball over the left field wall for a home run.
"I was sitting dead-red on the pitch waiting for the fastball," said Flores. "I knew the wind was blowing away from right field so i tried to hit the ball the other way and it ended up going over the wall."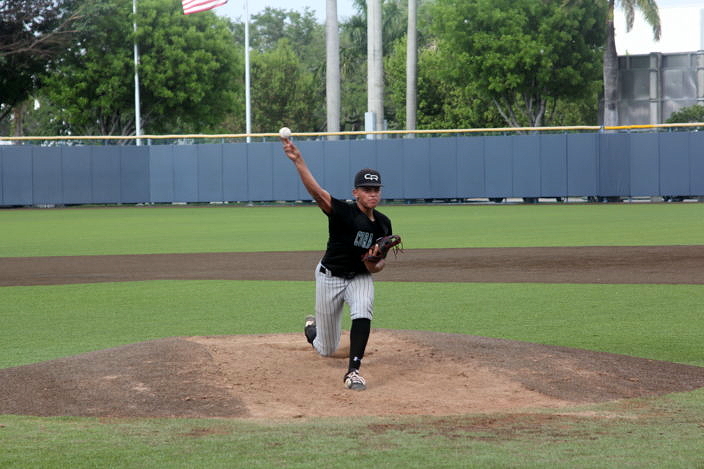 After the home run by Flores, the Explorers loaded the bases up with León at the plate and he was subsequently hit-by-a-pitch forcing in a run to give them a 2-0 lead. In the bottom of the second, after Ariel Garcia reached on a middle infield error, Gabriel Pérez ripped an RBI single into left field scoring Garcia to take a 3-0 lead.
Through four innings, Jorge was dealing and keeping the Coral Reef offense quiet despite allowing base runners vía walks, he was able to pitch himself in and out of jams.
"This team (Coral Reef) has way more experience than we do, a couple years ago they went to the state championship and we knew we were in for a good ballgame," said Jorge. "I thought I could've limited the walks more but fortunately I was able to get myself out of some trouble and help my team to a win."
After Jorge was pulled, Eddie Leon came into the game in the top of the fifth with the bases loaded after three straight walks allowed by Jorge. Ryan García then stepped to the plate for the Barracudas and grounded into a fielder's choice scoring Jake Ogden from third, trimming the lead to 3-1.
Leon settled down after that inning, cruising through the Barracuda lineup with a 1-2-3 top of the sixth and in the seventh, he was able to get the first two batters of the inning out swinging and the crowd was pumped. Leon used different pitching motions to fool the Barracuda hitters and get them reaching.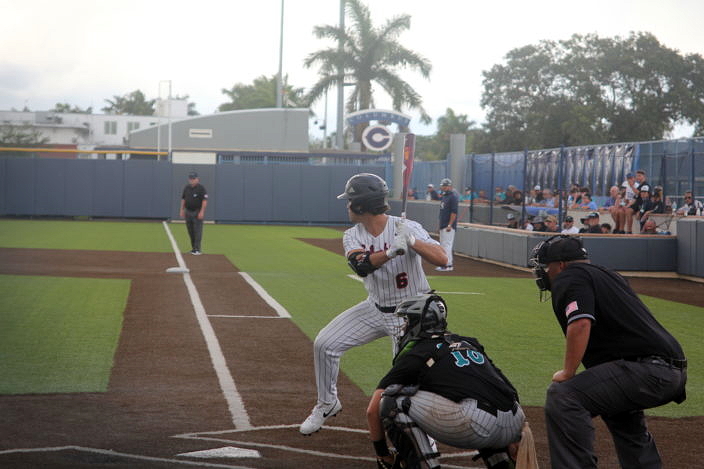 With two outs, and the chance to send his ball club to a Regional Semi-Final game, Nick García worked himself an eight-pitch before promptly lining a base hit up the middle, brining the tying run to the plate in Ryan Scarry. He then put up a fight as well, working himself into a nine-pitch at bat before striking out on a pitch in the dirt ending the game 3–1.
"Every time we set out to play a season our goal is to advance to a state championship," said Explorers manager Joe Webber. "The whole season is basically a pre-season for these games right here. I thought the kids played really solid defense today, we hit the ball well and turned out in a victory for us. So it feels good to be able to be one step closer to our goal."
The Explorers will host Braddock in a 7A reional semifinal game next Wednesday.