Columbus Comes Up Short In Upset Bid Of Douglas
Photo Gallery
The Douglas Eagles continued their magical two-year journey on Tuesday night when they came from behind yet again, this time from a 4-2 deficit, with five runs in the fifth inning to secure a 7-5 7A regional final win over Columbus.
The Explorers gave the Eagles about as much as they could handle Tuesday, as the teams sent their aces, Christian Rodriguez for Douglas, and Columbus' Federico Zapata to the mound.
Douglas scored two runs in the first, but in the Columbus showed that they didn't come all the way to Broward to be pushed around by the defending champs.
After falling behind 2-0 in the first, the Explorers roared back, taking a 4-2 lead into the fifth.
Zapada looked like he would cruise through the fifth, but with two outs, the Eagles turned on the switch at the plate. Christian Arroyo reached, as did Santiago Ordonez. Cameron Harris had an opposite field single through the left side of the infield.
"That Cam Harris at-bat was the key to that whole inning," said Douglas Manager Todd Fitz-Gerald. "If he doesn't shoot one the other way, the rest of that inning doesn't happen. It was a great at-bat, game-changing."
What happened two batters later was Jake Clemente blasting a three run home run to left-center field, putting the Eagles up for good.
"He had made me look bad in my earlier at-bats with his curve ball," said Clemente. "I was focused in after hitting a couple foul balls, and was able to get a pitch that I could drive."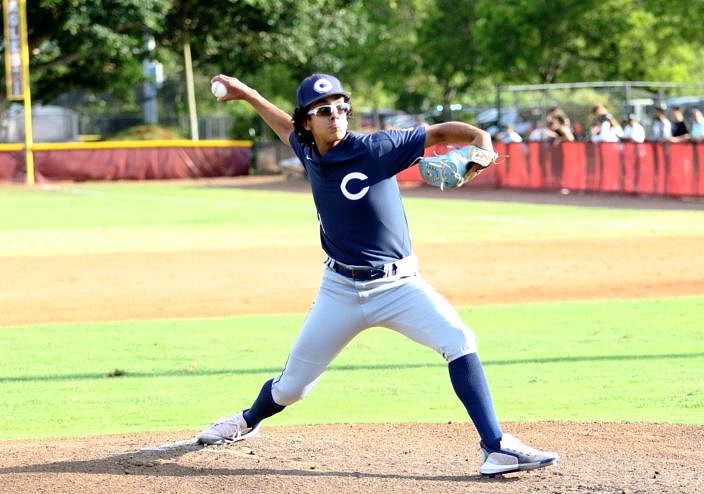 The Eagles have had several games where they have been behind in this playoff run, and each time it seems that a different player has come up big. Ordonez and Arroyo have both played the hero in the past couple weeks, and with Clemente and Harris coming through Tuesday, it further showed the depth of the Douglas lineup.
"We all have faith in each other," said Clemente. "It doesn't matter which one of us gets it done, as long as we do. Today it was my turn, but next game it could be someone else. We have confidence in everyone in our lineup."
Columbus attempted to rally several times, but had two runners cut down at home plate on base hits. The first was thrown out by Arroyo in left-field, and the second ended a sixth inning threat when center-fielder Roman Anthony threw a dart to catcher Santiago.
"Our outfielders coming up with those two throws was just big league," said Fitz-Gerald. "It seems like every game, we come up with a big play or two. That's just the way these guys are wired. They are a really special group, and they continue to come up with big play after big play when we need it."
Columbus manager Joe Weber agreed.
"The difference in the game today was their defense," said Weber. "We had a game plan coming in of being aggressive, and it worked at the plate, as we had some great at-bats. But those two runners getting thrown out at the plate by perfect throws, all you can do is tip your cap to them."
Columbus went down 1-2-3 in the seventh, and the part was on for the second straight year in regionals for the Eagles. Rodriguez picked up the win in the game, but also threw enough pitches that he will be unavailable for Douglas when the state final four takes place this weekend. Still, the junior was not affected.
"I'll just be there for my team in every way I can. In the dugout, at the plate, on the bases, wherever I can make a difference. I may not be on the mound, but I still can be involved in the games, and I have all the confidence in the world of the guys we are sending out there on the mound."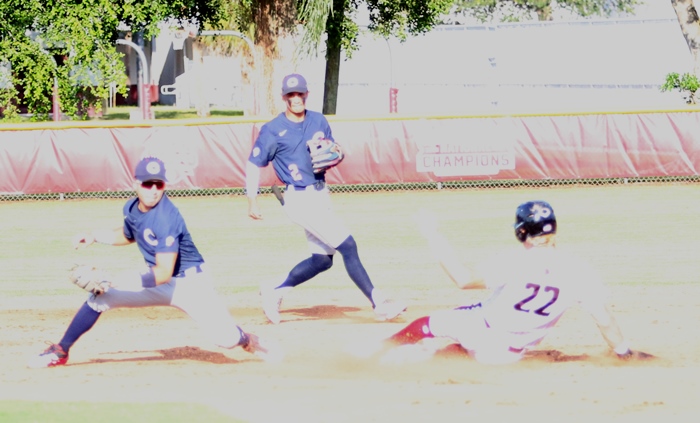 Fitz-Gerald also wasn't concerned with being without their ace this weekend.
"Ideally we would have liked to have gotten him out of there so he could pitch in states, but you have to win today before you worry about tomorrow," said Fitz-Gerald. "We have a stable of arms, so we will still have plenty of confidence in all the guys available to throw."
As for Columbus, their season ends at 22-7.
"I was real proud of how these guys played all season," said Weber. "We were young in a lot of areas, and we came in here and played a good game against a very good team. Things didn't go our way today, but it takes nothing away from how hard these guys played not only today, but all season."