Doral Holds On To Secure 6A State Championship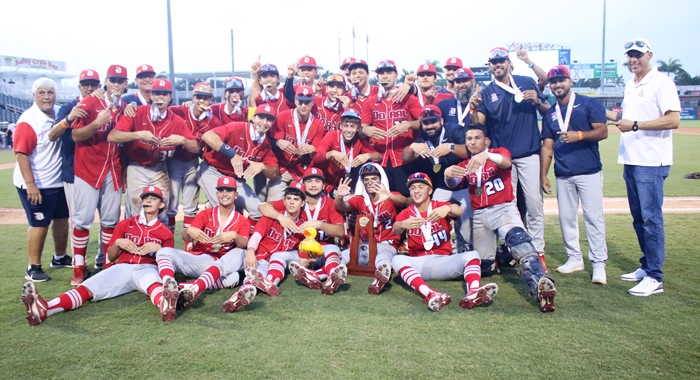 Doral Academy State Championship Press Conference
The new FHSAA state playoff schedule has forced managers to save pitching for the big games, and two electric arms duked it out on Saturday in the Class 6A state final.
Doral Academy's Frankie Menendez and Pace's Walter Ford each cruised through four innings and were pulled after shaky fifths. The Firebirds from Doral struck first doubling up a one-run lead on an error from Pace in the top of the frame. Daniel Restrepo extended his hit streak to 10 games with a three-run homer in the very next at-bat.
"I seen he was struggling a little with the offspeed in the at-bats before, so I was up there sitting fastball," Restrepo said. "I just knew it was coming. It's not a pitch where you can think curveball and hit the fastball when he's throwing hard. Yeah, I sat on that pitch and saw it coming and swung at it."
With a five-run lead in tow, Menendez could afford some command issues, but three straight walks to open the bottom of the fifth was cause for concern. A bunt back to Menendez got the best of him and then Alex McCranie broke it open for Pace with a two-run single to left. The left-hander got back to work and struck out the next two batters before getting out of the innings with a groundout.
It's the kind of gritty performance Doral manager Ralph Suarez has come to expect of his young ace, who only recently took the steps necessary to realize the full extents of his potential.
"Last year, I would tell (Menendez) all the time in meetings 'you're the best arm we have on this team,' and we were super talented," Suarez said. "He took a huge jump this year. He manned up and became the guy."
Tanner Sauls came in for Pace to pitch a 1-2-3 sixth, and then lightning put the game on hold as Keyler Gonzalez warmed up to take over for the Firebirds. Menendez hadn't felt the nerves that come with pitching in a state championship all night, but the delay began to eat at him with the ball out of his hands.
"I was in the game, and I promise you, I was like 'we're good, we're good, we're good," Menendez said. "As soon as I stepped off the mound and gave the mantle to someone else, I was literally there stressing the whole time."
Stress was warranted given the final moments of the game. Landon Rogers singled to give the Patriots a leadoff runner after the break and was moved into scoring position on an Austin Starkie sac bunt. Gonzalez reached back and got two strikeouts to get out of the jam, but that was far from the end of the drama.
Sauls struck out the side to get his team back at the plate and was rewarded with another leadoff runner, this time from Brent Cadenhead. Gonzalez got things down to the last out, but Broc Parmer unloaded an RBI triple to straight-away center that one-hopped the wall. A tricky bounce let him reach third, but Gonzalez got the third and final out to secure Doral's first state championship.
It's a giant weight off the back of the players who fell short with last year's loaded squad and for Suarez, who began to worry that Doral had become South Florida's version of the Buffalo Bills. Ultimately, a tough regular-season schedule proved to be worth it as the Firebirds pushed through adversity and reached the top of the mountain.
"I think winning the Panama City Tournament really pulled them together," Suarez said. "We lost the first game, we're in a tough environment, we got squeezed a little bit and lost to the team who was hosting the tournament. We came back and won the three games, I thought that was a big jump."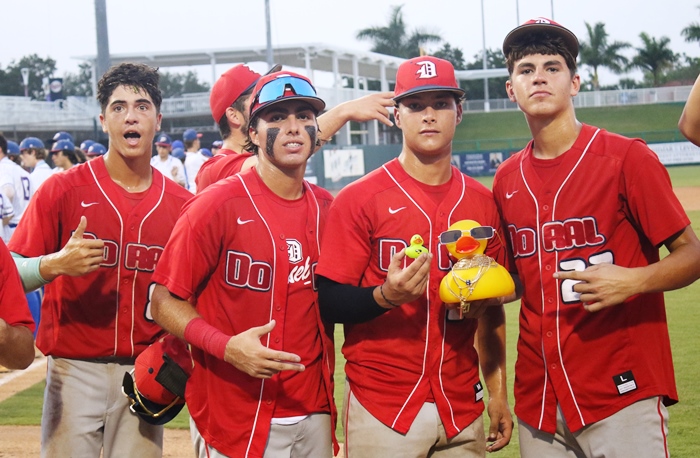 A state title has been a long time coming for Doral and Suarez knows what it takes to build a championship team. He's been to a dozen and half final fours between softball and baseball and is really just getting started with the Firebirds.
"You've got to build a culture," he said. "These guys now, this program now, when we get to the playoffs, we're supposed to win. We might have faced three first-round picks in one year. How many high schools can say that? Hopefully, we get invited to USA tournaments next year. We're not at the level Douglas is at yet, but we're trying to strive to get there."
Pace knows that first-hand and has things in place to get back to the final four in search of their fifth state title. The last came in 2010, but manager Jason McBride has brought the Patriots to Fort Myers in three of the last four years it took place.
"I thought our guys played really hard today," McBride said. "We got down 5-0 and they showed no quit. I felt like they gave us a chance to tie it up at the end and that's all you can ask for. I'm proud of these guys."