Miami Springs Moves On With Big Road Win Over Key West
It didn't matter about the pregame entertainment featuring rap singer Southernmost Trell and introducing former Baltimore Oriole great Boog Powell in the stands. It didn't matter that the stands were jammed to the hilt with everyone decked out in red or even a few insults being hurled their way.
Nope, none of that mattered.
The Miami Springs Golden Hawks, on the strength of a remarkable pitching performance by Brandon Olivera and a towering first inning home run by Jason Torres that stunned and silenced the big crowd, did not flinch on Saturday night.
The Hawks didn't even care that they were the No. 5 seed walking on to the No. 1 seed's field. They stepped into Rex Weech Field and its intimidating atmosphere like they owned it and left on the bus five hours later 4-2 winners over Key West in a Region 4-4A semifinal game before an estimated crowd of 2,000.
A place that has been a graveyard over the years for other Miami-Dade and Broward teams in past postseasons would not be one for the Golden Hawks on this night.
Ranked No. 1 in HSBN's Miami-Dade power rankings at the end of the regular season, they were upset by Mater Lakes in the district championship game only a few weeks ago but that now seems like a year ago. Forced with having to take the road instead of enjoying a No. 1 seeding, Springs has responded in a big way and is now one win away from returning to the state final four in Fort Myers for the second time in the last three seasons.
The Hawks (21-5) are used to hopping in the bus and making a long trek and will do it again on Tuesday when they travel to Cape Coral to take on Island Coast in a Region 4-4A final at 7 p.m. That after Island Coast upset Cardinal Gibbons 5-2 in the opposite semifinal and will make its first-ever regional final appearance.
"Just a tremendous job by our kids tonight to come down here and pull this off," said Miami Springs manager David Fanshawe. "Dealing with this kind of atmosphere and crowd situation was something that I spoke about because we had heard about what Key West baseball was all about. I emphasized to our kids over and over, do not look up into the stands. That was the main priority, that our opponent was the nine other guys on that field, not anybody else. Sometimes that's easier said then done so it says a lot about these kids that they were able to come in here and do that."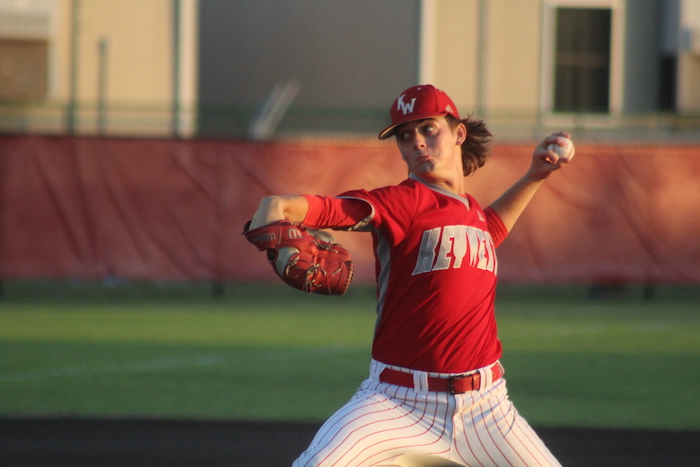 Jumping out of the gate quickly to try and silence the crowd was important and Torres, who is the all-time career home run leader at Springs, did just that. Following a one out walk to Arit Moreno, Key West starter Jacob Burnham left a change up out over the plate that Torres crushed nearly 400 feet over the fence in center field to give the Hawks a quick 2-0 lead.
"I was looking for something up that I could get some good barrel on it and I got it all," said Torres. "It was a big hit because it really helped quiet the crowd and I actually was a little pumped up because right before I swung, I could here some of them chanting 'overrated' so I guess I gave them a little something to remember me by."
As it turned out, it would be the last time Torres would get to swing the bat on this night. Key West manager Ralph Henriquez had seen enough. Torres would go up to the plate three more times and three times, despite twice with first base NOT being empty, Torres was intentionally walked.
Already staked with a two-run lead before he even took the mound, Olivera was brilliant for the next six-plus innings, striking out nine while walking only one batter. The only run he gave up came in the fourth when the Conchs successfully pulled off the old "stumble play."
With runners on the corners and two outs, Kai Smith took off from first to try and draw a throw from Olivera. When Olivera fired to second to try and get Smith who was trying to get in a rundown, Jack Haggard bolted from third for home and just barely beat the throw to the plate making it a 2-1 game.
To Burnham's credit, the sophomore settled down after giving up the early bomb by Torres and pitched well over the next six innings. But then came the top of the seventh when the Hawks, still clinging to that one run lead, plated two huge insurance runs. With Ruben Gandarilla on first with two outs, Torres was due up. Once again Henriquez ordered the intentional walk. At that point, Burnham reached his maximum pitch count and in came Felix Ong who walked Jordan Perez to load the bases. Then came the biggest at-bat of the night as Abdriel Delgado stepped up and lofted a soft line drive to right field that fell in scoring Gandarilla and Torres.
Those runs turned out to be huge as Olivera walked Anden Rady to lead off the seventh before Wyatt Kuhn ripped an RBI double to left center. That was Olivera's last pitch as he reached his maximum count.
Down by just two with a runner on second and no outs, the huge crowd had come to life sensing a big Conch rally as David Davila came in to the pressure cooker for Springs. Then came perhaps the biggest play of the night when a low pitch by Davila got away from catcher Kaber Delgado but only by a few feet. Kuhn took off for third but a great throw by Delgado cut him down for the first out.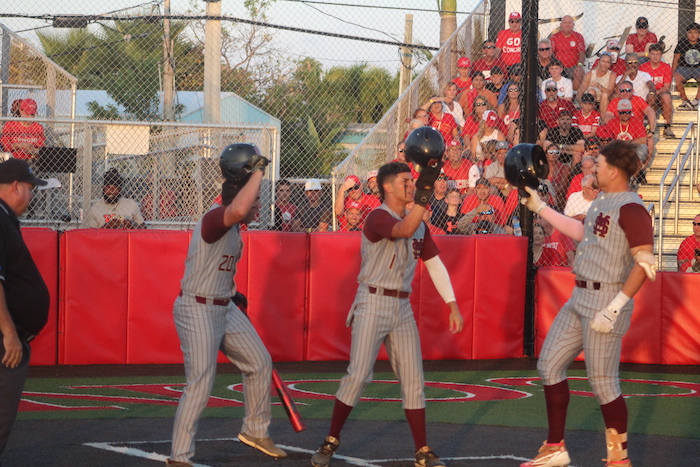 One pitch later Davila struck out Jose Perdigon and just like that, the Conchs were down to their last out which came when pinch hitter Jason Yarbrough struck out swinging to end the game and spark a Hawks celebration on the mound.
"A great game and I've been on both sides of a lot of these over the years," said Henriquez whose young team only had three seniors on the roster and finished 22-7. "Tip your cap to Miami Springs, they're a helluva ball club and did a great job of coming in here tonight in front of our fans and getting it done. They've got a much more experienced squad where we have a lot of young guys and that might've been the difference."
Henriquez did not argue that Torres' early tape measure home run was an important early trend setter for the evening.
"That two run homer in the first inning was big," he said. "Our pitcher made a mistake, he threw a changeup and left it up and you can't leave anything soft up for that kid, he's jut too big and polished and made us pay. I made the decision at that point that he wasn't going to hurt us anymore, it was going to have to be somebody else. I'm proud of our kids, we had a tremendous season and really excited that we will get almost everybody back next year including all of our pitchers."