Senior All Star Game Provides Ernie Padron A Walk-Off Moment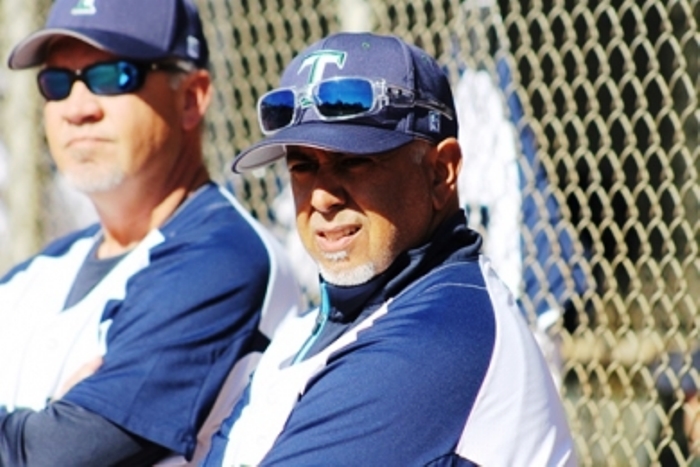 Ernie Padron has been coaching baseball in Miami-Dade County for a long time. A career that started back in 1990, will come to an end in fitting fashion on Wednesday evening, as Padron will manage his final game.
The longtime skipper will go out in style, managing the Miami-Dade Public Senior All-Star team in the HSBN Broward vs. Miami Senior All-Star Game and Awards Event at 7:30 at Florida Christian.
Padron began his coaching career at La Progressiva in 1990-91, before moving to Dade Christian from 1992-'97.
In 1998, Padron made the move that would end up defining his career, when he took over the program at the site of Wednesday's all-star game, Florida Christian. While at Florida Christian, Padron won two state championships, in 2004 and 2005. He also reached the state final four six straight times, from 2001 to 2006.
Perhaps Padron's biggest coaching achievement was when he won three US Gold Medals for the 16U US National team.
His career after Florida Christian included stops at Coral Reef, TERRA (where he won his 500th game), ASA College, and most recently, Coral Gables. His career comes to an end with nearly 590 wins, and it is surely to be emotional as he takes the field for the final time to manage the all-star game.
As he steps away from the game, and his service to the hundreds of players' lives that he has helped mold through the years, HSBN went to some of those closest to Padron to put into words what the coaching legend has meant to them through the years.
Enjoy retirement Coach Padron, and thank you for all you have done for high school baseball here in Miami-Dade County over the past three decades.
"Poppa! There is nowhere else I would have wanted to grow up, than right next to you on the baseball field. The passion for baseball that you've instilled in me is something that will never die. Baseball is something we will always share, and I promise to never stop loving the game. P.S. It's never to late to come out of retirement. Tom Brady!" – Love you always, Kaylee
"Dad, You've coached countless players on the field and have coached me throughout life off the field. I could have never gotten here without your wisdom, sacrifice, and hard work. High school baseball will never be the same. I'm glad I got to watch you through it all next to the dugout. You will always be the GOAT." – Love you, Kat
"Ernie, you've been a great mentor to so many players throughout your coaching career. I am sure those who played for you were blessed and proud to call you coach.I always remember when I played at Pace we always had great games against each other. I was also blessed to have coached against you. Many blessings on your next chapter in life, you know I will stay connected for advice. Thank you EP." – Willie Baez
"Ernie you were a true pioneer to high school baseball! Thank you for all the wisdom you gave us. You will be missed out on the field. – Eddie Bonilla
"Ernie, Thank you for all the heart you put into making South Florida baseball one of the best! First, as someone to look up to, then a colleague, and now as a friend. It's an honor to have experienced it all. Congratulations and enjoy whatever road you choose." – Juan "Butch" Carnicero
"Ernie, you're a great coach and this is a big loss to the baseball community. I hope you enjoy the rest of your time doing whatever else you like to do. You have put a lot of time and effort in, and have made a big difference in a lot of young men's lives." – Ralph Suarez
"I appreciate your longevity in the game of high school baseball, and the banter we had at home plate meetings. Good luck!" – Wesley Morejon
"You gave me and all my teammates the ultimate high school baseball experience! All while making each and every player earn their playing time with how they performed on the field. Appreciate that opportunity to the fullestCoach Piece. Kaizan!!" – Lion
"Ernie I truly enjoyed our battles over all those years. Going to miss those games. I wish you nothing but the best in your future chapters of your life. God bless." – Emil
"Congratulations Ernie on a great coaching career. You will be missed. Best wishes on the new chapter kid." – Humberto Bencomo
"Coach Padron always produced a very competitive team wherever he was at. More importantly, he produced lasting friendships with his players, fellow coaches, and anyone who was involved with the South Florida baseball community. Congratulations on a great career my friend and good luck in all of your future endeavors." – Coach Tom Duffin, Monsignor Edward Pace High School
"I owe you so much for my career. I started coaching with you a long time ago at Florida Christian. You gave me my first high school job and from that moment on you have always watched me, encouraged me, and given me great advise during my career. You have always been in my corner helping me behind the scenes, as a friend, mentor, and brother in Christ, sharpening my walk in this great profession. Thank you Ernie for always being right next to me during the tough times and the bright days. We will miss you out on the field." – God Bless, Your brother, Hernan Adames
"To a great friend & mentor, it was a honor to share the field with you. Thank you for always having a moment to answer a question or listen to an idea. Best of luck on your next chapter." – Rich Benavides
"Thank you for your example." – Nick Quintero
"Congrats on an amazing career to one of the best to do the damn thing. Thank you for your friendship. Over the years, you've proven that you're not only a great coach, but also a great friend, and mentor. I wish you nothing but the best." – Charlie Garcia
"What a cool way to say good bye to one of the good guys, by coaching against him during the HSBN Broward – Miami-Dade Senior All Star Game. If we don't win I hope he does!" – Joe Giummule
"Congrats Ernie on a great career it was always fun competing against you and I wish you all the best in your future endeavors." – Fitz