Lightning Strikes In Seventh, Dr. Krop Walks-Off Beach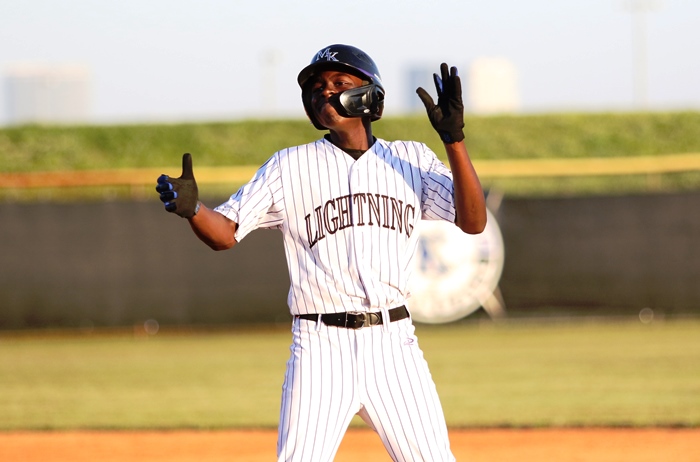 Photo Gallery
It is early in the 2023 season, and sometimes games are played that can set the tone for the entire year. Tuesday afternoon may have been one of those games for Dr. Krop, as the Lightning squared off with Miami Beach.
After falling behind 2-1, Krop stepped to the plate in the bottom of the seventh and delivered a two-run, walk-off rally that gave them their first win of the season.
"We needed that today," said Lightning Manager Paul Barrios. "We have a young team being led by a bunch of juniors, and sometimes you need games like this for the team to see what they are capable of. It wasn't a perfect game, but the guys showed a lot of heart in grinding out that win."
The game began as a pitchers duel between Hi-Tides starter Hernan Caceres and Krop's Josh Krutchik. The pair exchanged zeroes through a swiftly moving first three innings.
In the fourth, the Lightning broke through with the games first run. Abel Profeta led off the inning with a single. After an error, and on a play where Profeta was thrown out trying to advance to third, Joshua Castro ended up on second base.
After Santiago Ramirez singled, Castro scored on a Krutchik fielders choice groundout.
The score remained 1-0 into the sixth, when the Beach offense finally got going. Brody Minick singled, and a Jullian Corniel triple tied the game at one. Corneil would then score on a wild pitch, giving the Hi-Tides the 2-1 lead.
The score remained that way until the last of the seventh. After a lead-off flyout, Krutchik worked a walk, putting the tying run on base.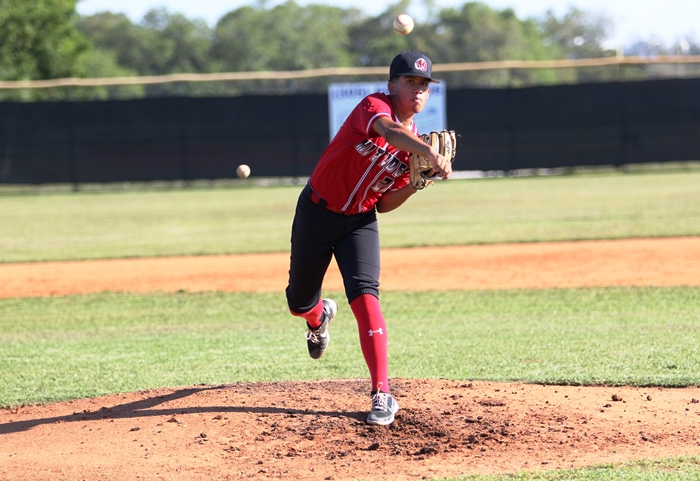 Doug Katz, the Lightning first baseman, who had saved a run with a sparkling defensive play at first to end the top of the seventh, then lined a two strike double to left-field, setting up the Krop comeback.
"I had a lot of adrenaline after making the defensive play, and I just knew I was going to come through in that spot," said Katz, of his double.
"I was focused in on getting on base and keeping the game going."
Next up was Miles Green, and when he lined a hard groundball single to left, the game was tied 2-2.
"I had a good feeling we were going to come through there at the end," said Green. "I got the pitch I was looking for and was able to hit it hard somewhere and get the game tied."
Emmanuel Dominguez followed Green's hit with a hard hit ball to shortstop that looked like it could be a double play, but he beat the throw to first, while Lane Parris, who ran for Katz, came in with the winning run.
The Lightning avoided an 0-2 start, and gained confidence moving forward.
"I knew if I could keep us in the game long enough, that we could scratch out enough runs to win," said Krutchik. "This was a big win for us, with it being so early in the season, and hopefully we keep the momentum going."
His coach agreed, but gave credit to his junior left-hander.
"When he pitches like he did today, and if we can eliminate a couple small mistakes, we can beat anybody," said Barrios. "It's a long season, but this was a good win for us today."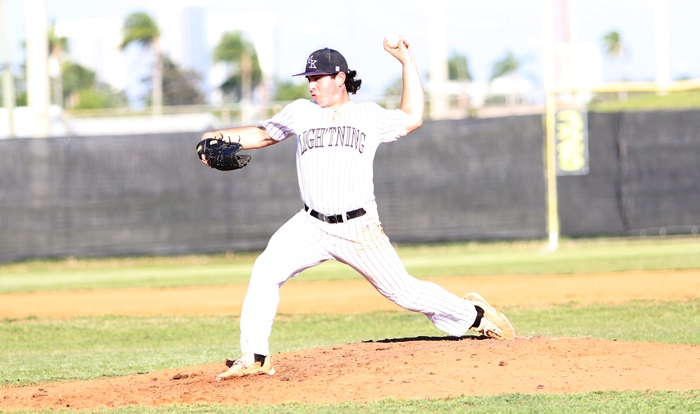 As for the other side, the Hi-Tides, who were coming off an impressive 6-0 win against Coral Park on Monday, dropped to 2-2 on the year. Manager Charlie Garcia knows where his team has to improve.
"We had way too many strikeouts today," said Garcia. "You can't strike out that many times in a game and expect to win. It's a long season, and we have a young team. I expect that we will be playing much better baseball as the season goes on, than we played today. It was a good game, and today it didn't go our way."
Miami Beach will host Homestead Friday, while the Lightning will be back in action Thursday when they travel to face Goleman.