Miami Springs Begins March Towards States Return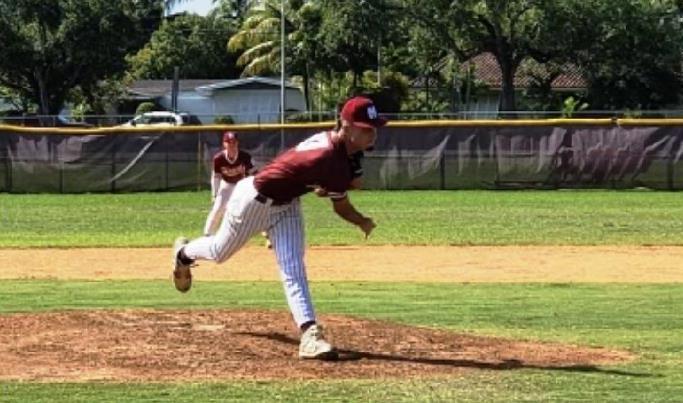 Back in 2019, Miami Springs marched to the state final four, and have since become one of the gold standards of programs in Miami-Dade. Manager David Fanshawe has built the Golden Hawks into a perennial power, but a state title has been elusive.
On Tuesday afternoon, Springs started their journey back to states, with an impressive 5-2 win over Cardinal Gibbons in a regional quarterfinal showdown.
The Hawks showed early on that they meant business when they put up five runs in the first two innings.
After a 1-2-3 top of the first by Springs starter Jordan Vargas, the Hawks bats went to work.
Jordany Gonzalez was hit by a pitch to start the bottom half of the frame, and Jordan Perez followed with a single. Kelven Perrera then doubled, and suddenly the score was 2-0 three batters into the game.
After a ground out, Gio Cutino hit a two-run homer to left, upping the score to 4-0.
"We got some big hits early in the game to set the tone," said Fanshawe. "and then we were able to pull away and hold on."
Vargas threw the first 3.1 innings for the Hawks, and worked out of several jams, giving up three hits and three walks. He was able to avoid any damage, however, as the Chiefs could not break through and score.
David Davila took over in the fourth, and went 2.2, allowing only one hit.
In the seventh, Andy Hernandez was sent out to close out the game, but the Chiefs would not go quietly. Gibbons mustered a rally, and scored their first two runs of the game on a Brenden Trujillo double. Trujillo, a sophomore, had four of the Chiefs seven hits, and finished the game 4-for-4, with two RBIs.
Hernandez then settled in and got the final out to send Springs to the regional semifinals.
"We got a great pitching performance today with some defense and timely hitting," said Fanshawe.
While Miami Springs held serve as one of the top seeds in the region, elsewhere, the region was thrown into chaos. Miami Sunset upset Jensen Beach, and St. Brendan went on the road and defeated American Heritage-Delray.
Key West had a battle on their hands, but was able to get by Somerset.
That leaves Miami Springs to travel down to Key West Friday night, in a prime time match up with the Conchs.
"The boys will enjoy this one tonight, and then we will start getting ready for Key West," said Fanshawe.