Sunset Season Comes To End In Thrilling 4A Semifinal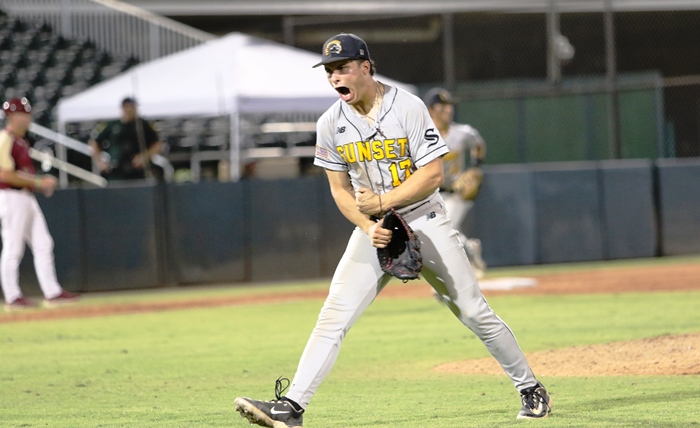 One team was here two seasons ago. The other was suffering through an 0-17 season that same year.
Miami Sunset was at the state 4A Final Four Friday night, completing one of the biggest two-year turnarounds in state history. North Marion was here looking to finish what they couldn't back in 2021.
The two teams put on a show for the large crowd in attendance, with North Marion jumping to early leads of 2-0, and 4-2, then watching as catcher Bobby Gottuso ended the tense affair with a walk-off base hit. The Colts prevailed 5-4.
"I know when the coach goes out to talk on the mound, the pitcher is usually going to throw a strike on the next pitch," said Gottuso. "I went up there saying, I am going to end this game right here. It is just a feeling I can't describe."
Gottuso is no stranger to the big moment for the Colts, as he hit a walk-off home run last week in regionals to help North Marion advance.
"We have guys up and down the lineup that can hit, and tonight it was great that we had it all going against a very good team."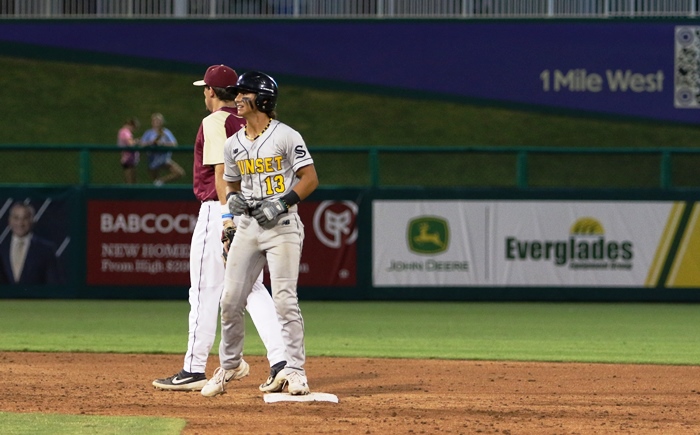 On the mound for the Colts was Hunter Jones, who started for North Marion two years ago as a sophomore in the state championship game. While they lost that game, Jones took what he learned in that game to the mound with him in this semifinal.
Jones gave up four runs early, but settled in and was able to keep the Knights off the scoreboard after the third inning.
"That was a tough lineup over there," said Jones. "It was the best team we faced all year, and they just kept coming at us and battling with their at-bats. It was back and forth all night and we were just fortunate to get the last run and win the game. It was a great game to be apart of."
Sunset's starting pitcher Andres Gonzalez had a similar fate, allowing four runs in the first two innings, and then settling in and shutting the Colts out for the next 4.1 inning.
"He was phenomenal tonight," said Sunset Manager Julio Mendoza. "All you can do in a game like this is ask your starting pitcher to keep you in the game. He did that after giving those runs up early. We made four errors tonight, and if we would have just cut that in half, we may have had a different outcome."
The other story in the game was Cooper Jones. The senior launched two home runs, and kickstarted what was an aggressive Colts offense.
For North Marion, they now get a chance to avenge their 2021 state title game loss to North Broward Prep. Their opponent Saturday will be Bishop Kenny.
"We are just going to enjoy this win tonight, and then come out and play tomorrow like we have been playing all year," said Hunter Jones. "We have been here before, but we want to win the title this time around. It should be a fun game."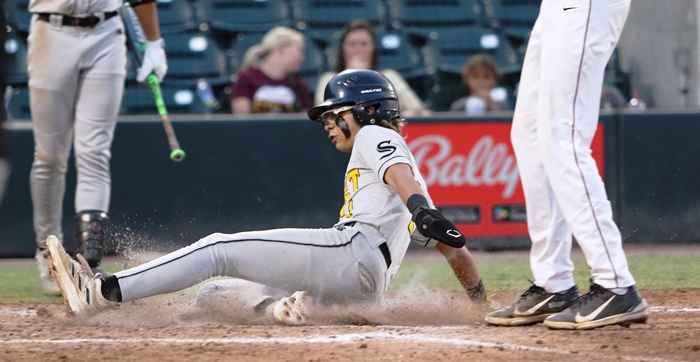 As for the Knights, they will now take some time to reflect on their incredible turnaround. Mendoza expressed to his team to enjoy the moment, even with the semifinal loss.
"I know this one hurts because they felt they could have won this game," said Mendoza. "But I told them, to look around, and recognize that if you have to lose the last game of the season, this is about as good a place as any to do it. We will be back. Our goal this season was to make regionals and maybe win a game there, and we surpassed that. The guys now know what it takes, and they will learn from this amazing experience."
Sunset finished the season at 17-9 after going 1-31 the last two years.
"I don't think what we did has ever been done," said Mendoza. "To go from where they were the past two years, to this, is special."