8A-16 As Tough As Ever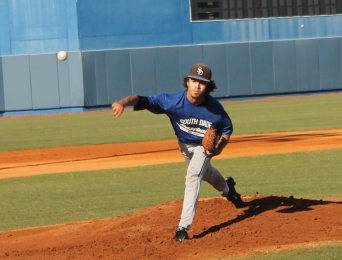 Last year's district tournament was evidence of just how tough this district really is. Games were close and exciting, and the eventual winner of the state title did not even win the district. Things are just that difficult in the District of Death.
"In our district alone we've got some very formidable teams, and this year more than ever," Killian Manager Angel Herrera said. "It's going to be especially difficult because I think there are going to be some teams that are going to take the next step and be a force to reckoned with in our district."
South Dade is the defending state champs, Killian is the defending district champs, and Southridge is as talented as any team in the county. Palmetto and Coral Reef are all deep with experience and more than capable of beating any team in the district. Meanwhile Miami Sunset and Varela continue to thrive in a wild-card sort of role.
"It's very tough and we have very good teams in Killian, South Dade, Southridge, Palmetto, Sunset and even Coral Reef," Varela senior JC Garcia said. "They are all good. We just have to show them who are the new guys in town. This year we're going to have a lot of surprises for people who don't know who Varela is."
It is hard to imagine anyone surprising anybody else, seeing how well these clubs all know one another. But last season proved just how tough it was when Southridge closed the year by beating South Dade to tie for the second seed, only to lose in a coin toss to put them in as the third seed. Then the Spartans lost a tough 2-1 contest to sixth-seeded Palmetto, in a very well-pitched game that typified the quality of play in the district.
"We beat them in the ball game, but we lost the toss of the coin," Southridge Manager Ed Doskow said. "Last year we finished 18-4 and we got beat by a very solid Palmetto team behind an impressive left-handed pitcher named Ian Exposito, who went on to pitch for FIU. It was an unbelievable ball game."
They usually are between these teams.

Coral Reef
2014 Record: 6-16
Manager: Tony Meilan
Key Returners: Sam Sanchez, Jose Rojas, Justin Johnson, Nate Rosa, Anthony Sola, Pedro Sanchez, Jake Sirota, Fernando Marquez, Mike Lopez, Miguel Mora, Alex Hartnett, John Stathopulos
Newcomers: Markel Arnaiz, Dylan Gonzalez, Mike Sanchez
Team strengths: Pitching
With ten starters returning to the Coral Reef Barracudas this season, without a doubt experience is a key strength. But when you look beyond the stats, peer beyond the numbers and look at how this team works, what you'll find is that intangible aspect many teams strive for so mightily…[Keep Reading]

Killian
2014 Record: 24-5
Manager: Angel Herrera
Coaching Staff: Aaron Braithwaite, Tito Romero, Theo Castillo, Chris Abrams
Key Returners: Eddy Arteaga, Keith Stevens, Eddy Demurias, Freddy Zamora, Joey Gonzalez, Sneaky Guzman, Vladimir Nunez, Frank Follaco, Sebastian Gonzalez, Ryan Granda, Freddy Zamora
Newcomers: Brian Ozuna, Herbert Iser
Team strengths: Pitching, Offense, Defense
Killian Manager Angel Herrera has a lot of pride to take the field this season with the team he has playing behind him. It is a veteran and talented group that don the Cougars uniform this season, a squad with all the potential in the world. The mantra this season is to seize the day and make the most of this year, both on and off the field…[Keep Reading]

Miami Sunset
2014 Record: 9-12
Manager: Armando Peleaz
Key Returners: Danny Diaz, Jorge Ricardo, Marc Romero, Frank Melero, Mike Rodriguez, Roberto Hernandez, Alfred Labada
Team strengths: Pitching

Palmetto
2014 Record: 11-13
Manager: Danny Smith
Coaching Staff: Jeff Steiner, Bill Hurst
Key Returners: Michael Gannon, Felix Garcia, Brent Teller, Carter Nash, Kyle Tosier, Michael Roman, Kevin Barbato, Carl Heldt, Nicholas Vizcaino, Sean Hurst, Mike Schwitalla, Erik Largo, Freddy Schafer, Brandon Brookins, Keaton Zargham
Newcomers: Efrain Ruffo
Team strengths: Speed, Athleticism
Danny Smith is finally feeling comfortable with the way his guys follow the program. The Palmetto Manager is now in his fourth season at the helm, and he admits that it was a bit of a rough adjustment when he first transitioned from an assistant coach to the head guy a few years ago…[Keep Reading]

South Dade
2014 Record: 23-6
Manager: Fred Burnside
Coaching Staff: Steve Suarez, Phil Smith, John Manassas
Key Returners: Junior Gorordo, Devin Mead, Gabe Cruz, Alek Manoah, Danny Vaughan, Arturo Paula, Jhan Berrios, Sergio Lopez
Newcomers: Gio Borges, Willy Escala
Team strengths: Offense
Bucs Manager Fred Burnside admits that last year was a real thrill for everybody. Junior catcher Gabe Cruz recalls the amazing feeling it was to bring it all together. Every guy on the squad has their own version of the same epic story. South Dade started 13-0, then went on a short slump and went 6-6 to follow. Then the playoffs came and The Bucs put it all together to go on a historic run that culminated with winning the Class 8A state championship…[Keep Reading]

Southridge
2014 Record: 18-4
Manager: Ed Doskow
Coaching Staff: Steve Rogers, Jim Rogers, David Houtz
Key Returners: Arlain Sesin, Josten Heron, Diandre Amion, Austin Dreher, Ryan Margolis, Victor Feliz, Julian Rivera, Garrett Houtz, Jamar Criss, Erick Lopez, Austin Peterson
Newcomers: EJ Doskow, Javier Casteneda
Team strengths: Pitching, Offense
There is plenty of reason for the Southridge baseball team to be so excited for this season. The Spartans are coming off a strong year in 2014, and they return a very deep and experienced roster with nine seniors and eight juniors. The team pitches, hits and plays strong defense, and it as every bit the contender that they are regarded as. The club is coming off a disappointing loss in the district quarterfinals last season, and they are hungry to erase that memory and write a new history for the program…[Keep Reading]

Varela
2014 Record: 10-10
Manager: John Barbato
Coaching Staff: Eryk Dees
Key Returners: Chris Gomez, Nicholas Leon, Joshua Rosquet, Krystian Negron, JC Garcia, Chris Allende, Tony Mejias-Rivera, Hector Vazquez, Jonathan Bermudez, Franco Velasquez, Ryan Denis, Gerard Sanchez
Team strengths: Pitching
Varela Manager John Barbato reminds his guys that they are only playing the game of baseball. They are playing high school baseball and it does not matter who they are facing; the game is the same all the time. When the guys are on the field they need only to remember that fact and play the game the way they have been taught…[Keep Reading]