Another Tight Chase In 8A-14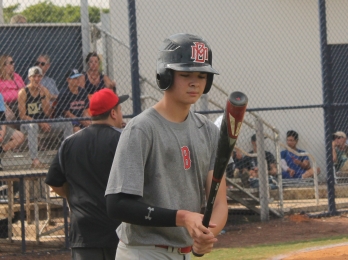 Last season was a great example of the unpredictable nature of this district. Miami Beach came into the district playoffs as the lowest seed, but went on to upset Hialeah Gardens. Then Miami High completed a bounce-back season by taking the district crown, just one year after the team had won only two games. All throughout the year the district games were close and very competitive.
"We knew Hialeah Gardens was tough, but I always thought about Miami Beach being a problem for everybody," Miami Manager Frank Suarez admitted. "Miami Beach was always a tough team for us to beat, and even in the district championship it was a pretty good game. They will still be tough, and I know the other teams are getting better too."
The general consensus is Miami High has only gotten stronger, while Hialeah Gardens remains a solid contender as well. Even though Hialeah is under a new Manager, the Thoroughbreds are always tough and competitive. Miami Beach returns a bit younger, but is scrappy and has the confidence from having done it once before. Meanwhile Dr. Krop is pushing to end its playoff drought
Every team has the same goal, and with that comes the mindset to be hungry and confident to go get it. With all the teams having a realistic shot at the district title, they all need to come with the approach that they are the team to beat.
"We're looking forward to having another good year, competing in our district and hopefully earning the number one seed again," Hialeah Gardens Manager Tino Burgos said. "We want to redeem ourselves after being upset last year."
Dr. Krop
2014 Record: 6-16
Manager: Scott Olsen
Coaching Staff: Henri Thomas, Mitch Adams
Key Returners: Diego Rodriguez, Wes Foster, Manny Talavera, Michael Felder, Gustavo Correa, Emilio Escandon, Elliot Kerr, Ricardo Ruiz, Philip DiMartino, Efraim Vainstein, Jason Girardi, Daniel Utarte, Lenny Bates, Javier Blanco, Jordan Landman
Newcomers: Sam Rier
Team strengths: Pitching
Control what you can control, and don't worry about anything else. This is the mindset that Dr. Krop Manager Scott Olsen has implemented with his team this season. Olsen tries to get his players to live in the moment, to focus on each play as if it is the only thing in the world that matters at that point in time. The Lightning skipper does not want his guys to dwell on the past, not even for one pitch. If a pitcher throws a ball, then they accept the count is 1-0 and they move on to the next pitch…[Keep Reading]

Hialeah
2014 Record: 5-18
Manager: Ozzie Borrell
Coaching Staff: Eddie Montalvo
Key Returners: Erislandy Rivas, Miguel Rodriguez, Brandon Perdomo, Julian Dezayas, Adrian Gomez, Arnaldo Brito, Alexis Figueroa, Damian Iriguyen, Carlos Reyes
Team strengths: Speed

Hialeah Gardens
2014 Record: 14-10
Manager: Tino Burgos
Coaching Staff: Carlos Garcia, Jesus Berrios, Amos Vargas, Omar Torres
Key Returners: Eddy Nodarse, Jose Gaston, Arthur Cordovez, Pedro Revelo, Chris Clara, Max Joseph, Alex Vazquez, Nathan Llanes, Lazaro Morales
Newcomers: Allan Berrios, Raymond Garcia, Alex Garcia
Team strengths: Defense
Hialeah Gardens has done a good job of brushing off last season as a tough learning experience. The Gladiators had a solid season and earned the top seed going into the district tournament, only to fall to underdog Miami Beach. The guys went into the game confident and took an early lead, and then things spun out of control on them. Tough losses like that remind everyone that baseball is funny like that…[Keep Reading]

Miami Beach
2014 Record: 8-13
Manager: Willy Baez
Coaching Staff: Anthony Cutino
Key Returners: Blake Brattain, Trent Bryan, Jonathan Varela, Alex Beer, Franley Romero, Gabriel Cooper, Diego Rodriguez, Themi Pineda, Osmey Diaz, Ernesto Ortiz, Matthew Rodriguez
Newcomers: Manny Alfonso
Team strengths: Defense
This season feels a lot like the first year for Miami Beach Manager Willy Baez. After coming over from Hialeah Gardens in 2012, Baez knew in his first year that he had a good group of players there were going to have good seasons in the years to come. But that first year was going to have its share of struggles, and the same thing could be the case with the young group this year…[Keep Reading]

Miami Senior
2014 Record: 16-10
Manager: Frank Suarez
Coaching Staff: Francisco Suarez, David Rivera, Rafael Diaz
Key Returners: Edgar Aparicio, Andy Escono, Dayron Mallea, Victor Herrera, Argenis Hernandez, Jose Barrios, Gustavo Miranda, Christian Torres, Ray Blanco
Newcomers: Chris Rodriguez, Jordan Ibarra, Oney Pino
Team strengths: Pitching, Defense
Last season was something special for Miami High. The Stingarees were coming off a tough, two-win campaign the previous year, and they bounced back to play some great baseball. The team played hard and was always in the games, and in the end Miami High emerged with the district championship. It was a proud moment for the Stingarees program, one of the oldest in Miami-Dade County…[Keep Reading]
*North Miami also in District. Report Unavailable.