American Feeling The Heat In 7A-16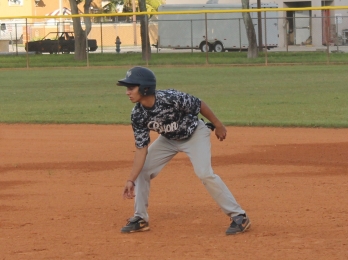 Even though he is the new guy to the district, it did not take long for new Reagan Manager Rafael Mesa to figure out how challenging the district is.
"Our district is going to be tough," Mesa said. "American is the defending state champions and Westland Hialeah has a good junior pitcher that is going to make them pretty competitive. I don't know as much about North Miami Beach, Central and Miami Lakes, but I know from what I saw last year it is going to be pretty tough."
Only the top four teams make the district tournament, and these teams are always battling to make that group. North Miami Beach is working to get into that district playoff, and Manager Alex Rodriguez understands that it's going to take a solid effort on all three phases of the game to make it happen.
"American has been solid for the last few years, so we know we have to always bring our 'A' game and still get a little more help against them," Rodriguez said. "Westland, Miami Lakes and Reagan come from an area where there is a lot of baseball played and there are lots of leagues around, so they are building on what they have. They come from an area that is constantly feeding them baseball players. So we are in a tough district, and we have to go out and play our best during district play."
It is no secret that American is the hunted one, after sweeping the district last season on its way to the Class 7A state crown. The team fought all season last year to go undefeated in the district, and that is the goal again this year. But the Patriots understand just how tough something like that is to really accomplish.
"You have to respect your district; they put their pants on the same way that we do," American Manager Ricky Gutierrez said. "Their coaches are telling them that we are the team to beat and we can't take anybody lightly in our district. We just have to maintain the same focus and try to do it again this year. But it's going to be hard."

American
2014 Record: 26-5
Manager: Ricky Gutierrez
Coaching Staff: Al Torres, Chris Roque
Key Returners: Roman Gonzalez, Michael Rodriguez, Michael Diaz, Gianlucca Borelly
Newcomers: Danger Guevara, John Ham, Johny Jhones, Brandon Abdala, Michael Montes
Team strengths: Pitching, Defense
What the American baseball team was able to accomplish last year was special. Returning to the state tournament for the second straight season and the third time overall under Manager Ricky Gutierrez, the Patriots finally returned home with the state championship. The team had pushed all year long with that goal on its mind, and finally it had realized that dream to bring home to its community…[Keep Reading]

North Miami Beach
2014 Record: 4-11
Manager: Alex Rodriguez
Coaching Staff: Enrique Antonini
Key Returners: Danny Perez, Edwin Medina, Jesus Morel, Eliakin Brown, Jose Abreu
Newcomers: Manuel Santana
Team strengths: Offense
Every time the North Miami Beach baseball team takes a step on the field for a game or practice they take a step forward. This is what third-year Manager Alex Rodriguez preaches to his guys, and they are doing it. They are nowhere near where they want to be yet, but every day they come out to the field is another move in the right direction…[Keep Reading]

Reagan
2014 Record: 14-11
Manager: Rafael Mesa
Coaching Staff: Ossie Alfonzo
Key Returners: Carlos Mancilla, Alex Kowalski, Guillermo Delgado, Hector Avilan, Kevin Feireabend, Arthur Quinones, Benjamin Meza, Nicholas Bolano
Team strengths: Pitching
Being able to overcome challenges made the Reagan baseball team stronger and better last year. The Bison celebrated a milestone achievement in making it to the regional playoffs for the first time in school history. The team accomplished this feat even though there were no assistant coaches on staff and the program does not enjoy the same benefits as others around them. Rather than make excuses, the players rose up and carried each other by being accountable, dedicated and supportive…[Keep Reading]

Westland Hialeah
2014 Record: 7-14
Manager: Jose Lopez
Key Returners: Giovanni Arriera, Ogandys Diaz, Alex Ayala, Kevin Novoa
Newcomers: Brian Lavistida
Team strengths: Pitching, Defense
*Hialeah-Miami Lakes & Miami Central also in district. Reports unavailable.