Teams Are Narrowing The Gap In 6A-15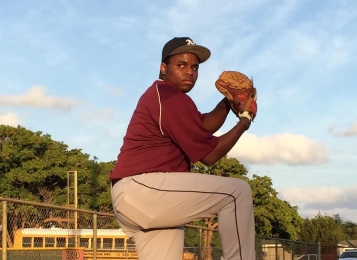 Willie Vazquez may have expressed the biggest sentiment around 6A-15 heading into this season.
"The good thing about this district is that we don't have to face Cleveland Westbrook again," Vazquez joked, referring to the formal Norland ace who graduated last year. "That kid had a great season last year and he carried Norland. I was impressed by the kid and we don't have to face him this year."
Although none of the teams in this group have one overall dominant player, they all have solid squads that can compete in the title chase. Miami Springs and Goleman both have a few hurlers that can dominate, and Norland and Mourning are teams that have made major improvements. While Carol City is still overmatched in district play, the Chiefs are pushing for a district win that could disrupt another team's playoff aspirations.
These scenarios all make for a fun slate of district games.
"Anything can happen in the playoffs," Mourning Manager Edwin Bonilla said. "Last year we battled Goleman until the end, and they pulled away at the end of the game. As long as we get in that district playoff anything can happen."
These clubs play an old-school, passionate and thrilling brand of baseball. The Vikings and Sharks are knocking at the door to contend for the championship, the Hawks are aiming to defend it and the Gators are looking for some payback after a tough championship loss last year. It should be baseball at its finest.

Carol City
2014 Record: 0-10
Manager: Randy Rodriguez
Coaching Staff: Craig Ryles
Key Returners: Wesley Gaines, Ayeobele Randolph
Team strengths: Speed
It has been a welcome home party for Randy Rodriguez this past year. The Chiefs' second-year Manager finds it awesome that he can walk the Carol City hallways and be a familiar face to so many. Only ten years removed from his own high school playing days, many of Rodriguez's former teachers are still at the school. People recognize him and know who he is…[Keep Reading]

Goleman
2014 Record: 14-11
Manager: Jose Lopez
Coaching Staff: Dario Martinez, Roman Suarez
Key Returners: Michael Peleaz, Thomas Hernandez, Erick Delgado, Kevin Perez, Justin Berreneche
Newcomers: Jeremi Garcia, Michael Avandano,
Team strengths: Offense
A loss against the Mater Academy Lions during the regional quarterfinals ended the Goleman Gators season prematurely last year. This year, Manager Jose Lopez and his Gators look to take the next step and put the pieces together for another strong season and a better post-season run. This time around Lopez knows what the missing piece to the puzzle is…[Keep Reading]

Miami Springs
2014 Record: 17-10
Manager: Willie Vazquez
Coaching Staff: Ivan Chavez, Willie Mizrahi
Key Returners: Dylan Carter, David Cervantes, Joseph Fernandez, Bryan Garcia, Alex Iruela
Newcomers: Mario Negueruela, Edrick Gonzalez, Michaelangelo Penas
Team strengths: Pitching
The veterans on the Miami Springs baseball team admit they will never forget being able to pile up after winning the district championship last year. The Hawks came together at the perfect time to play their finest baseball at the end of the season when it mattered the most, and that ultimately led them to a district crown and a playoff run into the regional semifinals…[Keep Reading]

Mourning
2014 Record: 8-17
Manager: Edwin Bonilla
Coaching Staff: Anthony Perez-Cubas, Alex Neely
Key Returners: Jim Varona, Marcel Guadarrama, Brandon Rios, Max Liff, Michael Mendez, Anthony Antigue, Jose Marquez
Newcomers: Brandon Sims, Thomas Blythe, Christian Abreu, Sebastian Nunez
Team strengths: Pitching
When Mourning Manager Edwin Bonilla first met with his young new team this fall, one of the first things he told them was to give him two years and they can win a district title. After losing a large portion of the guys from a season ago, the Sharks will field a younger roster this season. There will be growing pains and guys are going to learn and mature from them, and Bonilla is hopeful by this time next year they will be more mature and ready to chase after a district title. The ultimate goal is a state championship, but the shorter goal is to win the district…[Keep Reading]

Norland
2014 Record: 13-8
Manager: Dave Dresner
Coaching Staff: Andre Payne, Michael Jordan
Key Returners: Brandon Carter, Dillon Belle, Roderick Lucas, Jahmarr Bien-Aime, Jhon Cuz, Tyrone Miller, Ishmiel Bellamour, Mehkai West
Newcomers: Khallil Harris, Dwayne Hickman, Rigoberto Perdomo,
Team strengths: Speed, Offense
It was a special season last year for the Norland baseball team. The program had been down for a while and interest in baseball just wasn't evident at the school. Then last season a young team followed the charge of its senior ace Cleveland Westbrook to post a winning record and play some fine competitive baseball…[Keep Reading]